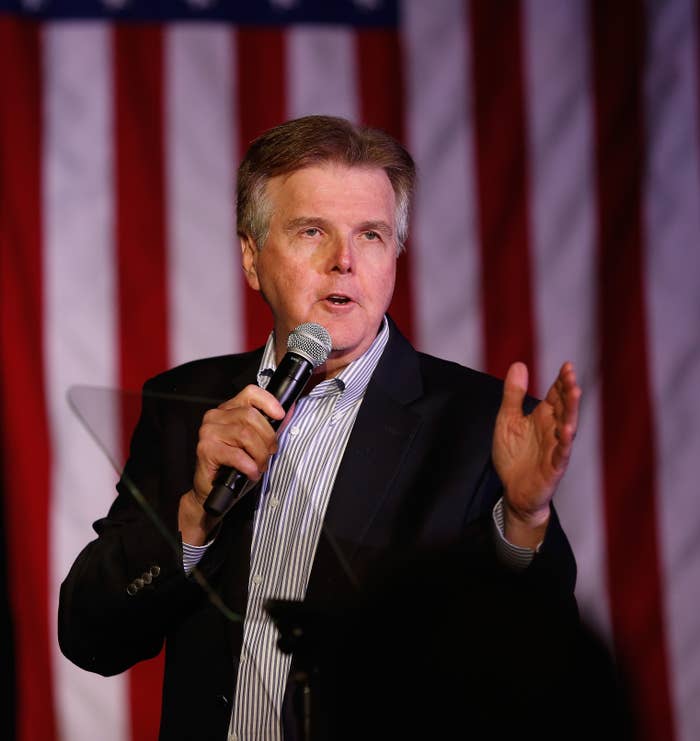 Texas Lt. Governor Dan Patrick told school superintendents not to obey President Barack Obama's transgender bathroom policy, adding that the state will "not be blackmailed by the federal government."
On Friday, the Obama administration sent guidelines to public schools saying they cannot discriminate against transgender students
"When a school provides sex-segregated activities and facilities, transgender students must be allowed to participate in such activities and access such facilities consistent with their gender identity," says a copy of the letter obtained by BuzzFeed News.
The rules apply to restrooms, locker rooms, sports teams, fraternities, sororities, housing, and more.
Patrick called Obama's guidelines a "huge mistake" that will lead to bullying, but "not of the transgender kids, the straight kids."
He added that the new policy would be the end of public education because this will make parents opt to home-school their children or send them to private schools.
"Parents are not going to send their 14-year-old daughters into the shower or the bathroom with 14-year-old boys,' he said. "It's not going to happen."
The lieutenant governor went on to say that not enacting the policy will not affect businesses and the economy.
When asked by a reporter about musicians canceling concerts because of the policy — as was done in North Carolina by Bruce Springsteen — Patrick said "big deal, so some artist doesn't want to come to an area. They'll fill the date with someone else who does."
"This will not impact business," Patrick said. "The business community will figure this out real quick."
Patrick did not confirm whether he plans to file a lawsuit against the federal government but said he's been talking with the attorney general.
"This is very new," he said. "We have to talk through this. Let's be very clear what our position is; we're not going to be blackmailed by the president and we're not going to sell out of children for 30 pieces of silver"