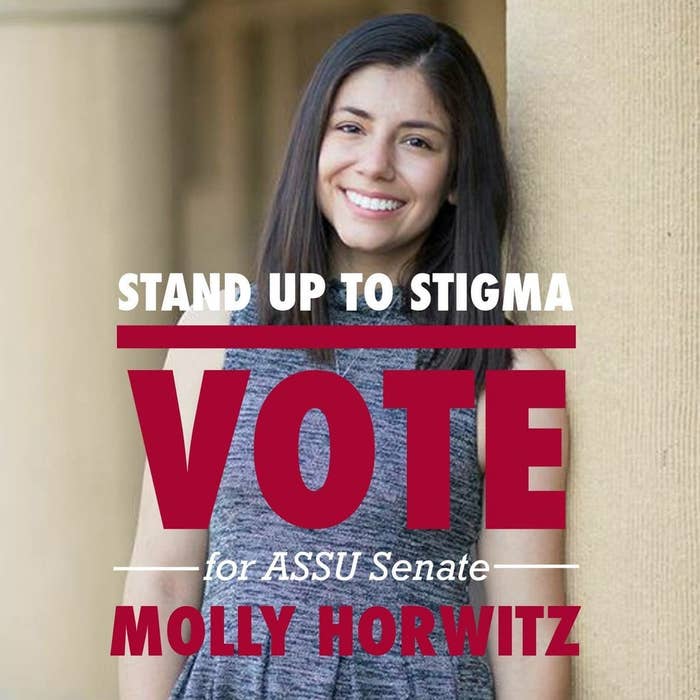 A Stanford University candidate running for student government was asked how her Jewish faith would impact her actions if elected.
Molly Horwitz, a Stanford junior running for student senate, hoped for the endorsement of various student groups, including the Students of Color Coalition, an umbrella organization representing the Asian American Students' Association, Black Student Union, and the Muslim Student Awareness Network among others.
"Candidates can apply for endorsements from various student groups," Horwitz said in a statement to BuzzFeed News. "I applied for the endorsement of the Students of Color Coalition, which has quite a large influence on campus."
During her March interview with the student group, Horwitz says a member asked, "Given your strong Jewish identity, how would you handle divestment?"
Horwitz said she asked for clarification, "because I wasn't sure that the interviewer knew the significance of what she was asking." Horwitz says she questioned why her Jewish identity was relevant and the interviewer referenced her application, in which Horwitz stated she was very connected to her Jewish heritage.
"I was deeply saddened to see my fellow student leaders unapologetically resort to anti-Semitism," she said. "I am running for the Stanford undergraduate senate in order to help foster an inclusive and welcoming environment at Stanford."
Horwitz did not receive SOCC's endorsement but she is still a candidate in the election, which begins Thursday.
Lisa Lapin, a Stanford spokesperson, said the university conducted an initial review when the concerns were first raised in March. The university expanded the review when new allegations were raised in April.
The New York Times reported the university is looking into claims that SOCC asked the endorsed candidates to not affiliate with Jewish student groups. SOCC denied the accusations in the Stanford Daily.
Tianay Pulphus, president of Stanford's chapter of NAACP, said Horwitz's claim was "baseless," according to the Times.
"At no point was she asked whether her Jewish identity impacted her view on divestment," Pulphus, who interviewed Horwitz, told the Times. "We ask all candidates how they would navigate issues that have come up in the previous year. We in no way singled out a candidate based on their ethnic or religious identity."
The Anti-Defamation League sent a letter to Stanford asking for the results of the investigation be made public.
"We have serious concerns about treating individuals differently on the basis of their religion or ethnic affiliation," the ADL wrote in the letter.
In February, a candidate for student government at the University of California Los Angeles was asked how she could remain "unbiased" given her active role in a Jewish sorority. A month later the student council passed a four-page resolution condemning anti-Semitism.