Dozens of students protested outside a respected girls high school in South Africa on Monday, decrying alleged discrimination against black school girls — including officials telling them to straighten their hair — and drawing a response from the local education chief.
A petition began circulating online calling on Panyaza Lesufi, the head of education for the Gauteng province in South Africa, and Pretoria Girls High headmistress to take action so that school's code of conduct "does not discriminate against black and Muslim girls."
"Right now, learners at Pretoria High school are demanding that racist practices at the school are brought to an end," the petition reads. "Girls attending the school have been forced to straighten their hair; are accused of conspiring when standing in groups and face other intolerable comments and actions."
In less than 24 hours, the petition has gathered more than 18,000 signatures.
The students were reportedly told they would be barred from taking their exams if they did not straighten their hair and not wear dreadlocks.
"The sooner we intervene the better," Lesufi told Talk Radio 702 host John Robbie about his visit.

Lesufi is reportedly scheduled to have four meetings on Monday, including ones with students and school leaders. An email to Lesufi was not immediately returned.
"I'm truly sorry and I can assure you that it ends here," Lesufi said according to News24. "You have my support and I will protect you. Your pain will never again continue for as long as I'm still the MEC in this province."
The school's code of conduct handbook lists rules about students' hair but does not specifically require girls to straighten their hair.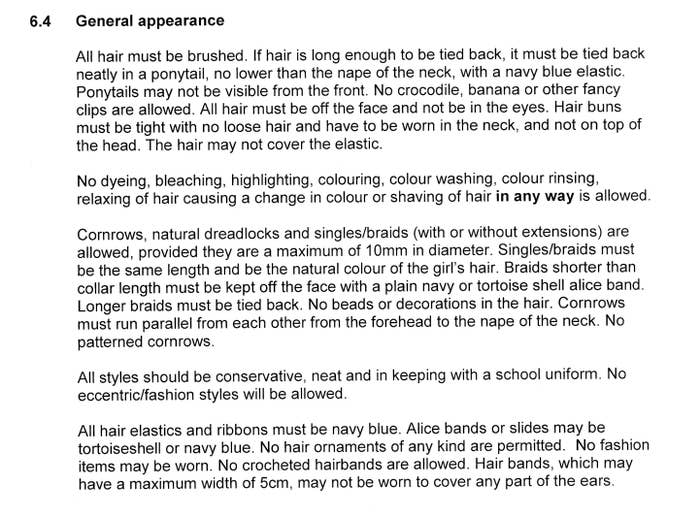 School girls staged a protest on Monday demonstrating against the policies.
Images from the protest were posted on Twitter with the hashtag #StopRacismPretoriaGirlsHigh.
Tiisetso Phelta, a former student at Pretoria said that while it was not officially written in the school's code of conduct, officials would tell girls their hair looked untidy and inappropriate and urged them to "flatten it somehow."

"Why must you be apologetic for being a black African child in South Africa?" Phelta said. "Why do black girls always receive the shortest end of the stick?"
Arts and Culture Minister Nathi Mthethwa tweeted his support for the school girls.
Students also allege that they have been warned to not speak in other languages to each other and that when a group of girls are walking together, they are told to disperse.