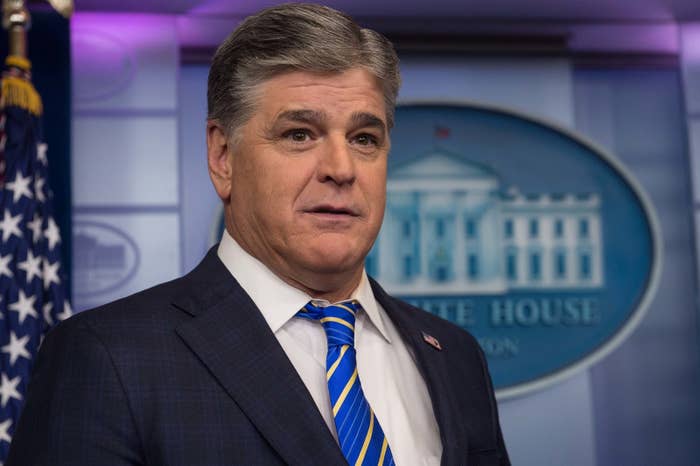 Cars.com, Casper, and several other companies pulled advertising from Sean Hannity's Fox News program Wednesday as the host continued to push a conspiracy theory about Seth Rich, the Democratic National Committee staffer who was killed in Washington, DC, last year.

For days, Hannity has been peddling a theory that Rich's killing was ordered by the Clintons in retaliation for leaking DNC emails to WikiLeaks. Police have said his death was the result of a robbery gone wrong.
"Cars.com's media buy strategies are designed to reach as many consumers as possible across a wide spectrum of media channels," a Cars.com spokesperson said in a statement to BuzzFeed News when asked about Hannity's focus on the conspiracy.
"The fact that we advertise on a particular program doesn't mean that we agree or disagree, or support or oppose, the content. We don't have the ability to influence content at the time we make our advertising purchase. In this case, we've been watching closely and have recently made the decision to pull our advertising from Hannity," the company added.

After learning its commercials ran on Hannity's show, Crowne Plaza Hotels said it terminated its relationship with its third-party ad-buying agency.
"We do not advertise on Fox News, Hannity or any political commentary show. We have a specific do not advertise list for this type of programming. Unfortunately, our expectation to adhere to this list was not met by a third-party agency. Since we learned of the airings, we addressed the issue immediately and terminated our relationship with the agency. We have no plans to advertise on Fox News for the foreseeable future," the company explained.

Ring, a video doorbell company, and Peloton, a cycling studio, announced that they had directed their media agencies to stop advertising on the show.
Mattress companies Casper and Leesa Sleep also said Wednesday that they had pulled ad buys from the show. Casper said it was "reassigning the allocation."
In response to a customer on Twitter, USAA, a financial service for the military community, said it pulled its commercials off Hannity because it was an "opinion show."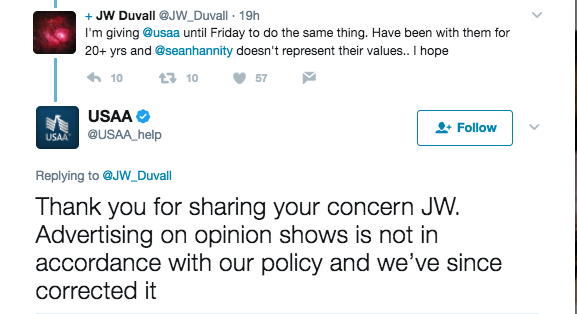 The decisions came after Rich's brother sent a letter to Hannity's executive producer pleading for the show to stop spreading rumors about Rich's death. On Tuesday, Fox News retracted a story tying Rich to Wikileaks and wrote in a statement, "The article was not initially subjected to the high degree of editorial scrutiny we require from all our reporting."

On his show Tuesday night, Hannity said he would stop talking about the conspiracy theory "for now," but later implied he would address it again.
"Please do not interpret what I'm saying tonight to mean anything. Don't read into this," Hannity told viewers. "I promise you I'm not going to stop doing my job. To the extent of my ability, I am not going to stop trying to find the truth."

A spokesperson for Fox News did not immediately respond to a request for comment.
BuzzFeed News has reached out to more than 50 companies that advertise during Hannity's show after he said he would continue to pursue stories about Rich.

Officials at pharmaceutical company Pfizer and battery maker Duracell declined to comment.
My Pillow said it had no plans to pull its ads form the show at this time.
TD Ameritrade said it would review its decision to advertise on the program, explaining that although its commercials run on Hannity's show, "that should not be read as a direct sponsorship of the show or Mr. Hannity himself, nor should it be read as an endorsement of the content that appears on the program."
"In light of this situation we actively doing due diligence to determine what might be scheduled to run in the future," the company added.
A spokesperson for Hyundai said the car company is aware of the "sensitive storyline raised by Mr. Hannity and expect FOX News will use editorial discretion to ensure that all reporting is substantiated."
Hyundai said it will not be making any changes to its advertising at this time, but reserves the right to remove ads if the content of the programming or behavior of those responsible for the show distract from the brand's mission.
The CEO of UNTUCKit, a men's clothing line, said the company is not pulling its ads "though [we] are closely monitoring the situation."
"As a brand that strives to reflect what's best of America, we are ardent supporters of free speech," CEO Aaron Sanandres said in a statement. "That said, we recognize on occasion people say things some find incendiary. And, when someone we advertise with articulates views that prove particularly decisive or particularly incendiary, we take such comments seriously as they can prove distracting, or at worst, damaging, to our brand and our mission."

Reelz told BuzzFeed News that neither "its ownership and management has a position or informed opinion, one way or another, on Seth Rich or Sean Hannity. REELZ, along with its ownership and management, believes in free speech and does not participate in boycotts of any kind."

Mercedes-Benz made a similar statement, saying that its "rule of thumb is that we do not pull our ads based on editorial content. Our feeling is that a variety of viewpoints is part of the natural discourse that takes place in a free media."
AstraZeneca, a pharmaceutical company that owns drugs such as Symbicort, makes advertising purchases based on customer viewership and demographics, a spokesperson said, adding that the shows and networks which air the ads are not reflective of the company's views and values.

"However, as a standard practice, we regularly monitor our media programming to ensure its aligned to our corporate values," the spokesperson said in a statement. "As such, we will continue to assess our advertising purchases regarding the heightened attention surrounding the Hannity Show."
Sanofi Consumer Healthcare and LendingTree said their advertising is not an endorsement or non-endorsement of a television host or editorial content.
Sanofi re-sent its statement in bold when asked if the company will keep its advertisements on Hannity's show if he continues to push the Rich conspiracy theory.
Similarly, a Sleep Number spokesperson said the company buys advertisements on a network, not for a specific show — adding that Hannity is not part of its planned media schedule.
"As we plan our ad buys, we don't take a stance on content or views with programs we advertise on, which is common practice," the spokesperson said. "With that said, we regularly review our advertising strategy to decide appropriate placement."
Visiting Angels, which provides home care to seniors, issued a similar statement.