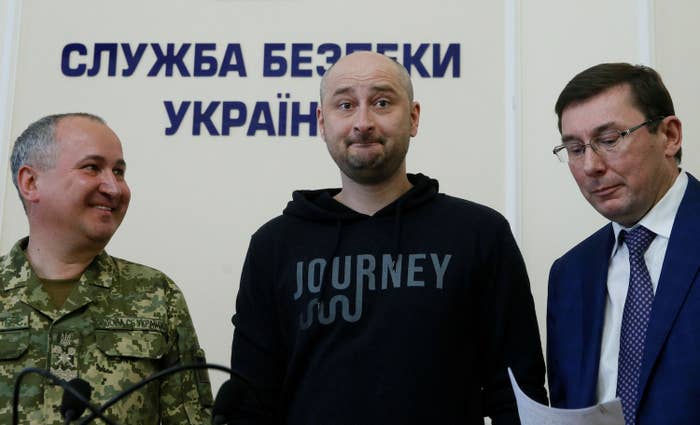 Prominent Russian journalist Arkady Babchenko who faked his own death in co-operation with the Security Service of Ukraine told BBC in an interview that he came back to life in a morgue.
Babchenko's "murder" was reportedly a setup by Ukrainian police officials to catch a would-be assailant, authorities said Wednesday during a news conference in which there were audible gasps and claps in the room when the journalist entered.
His wife, he told the BBC, was aware of the operation and was the one who called the ambulance.

"They put me on stretchers, took me down to the carriage [the ambulance]. The legend was that I was still alive," he said.
"We departed and then I 'died'. The ambulance announced my death. After that they brought me to the morgue. Until the gates closed, I pretended to be dead."
That's where he came back life.
"In the morgue, they brought me to the attendant's room and there I resurrected, took off my t-shirt, and washed my face," he told the BBC. He said the entire operation was done by 5 a.m.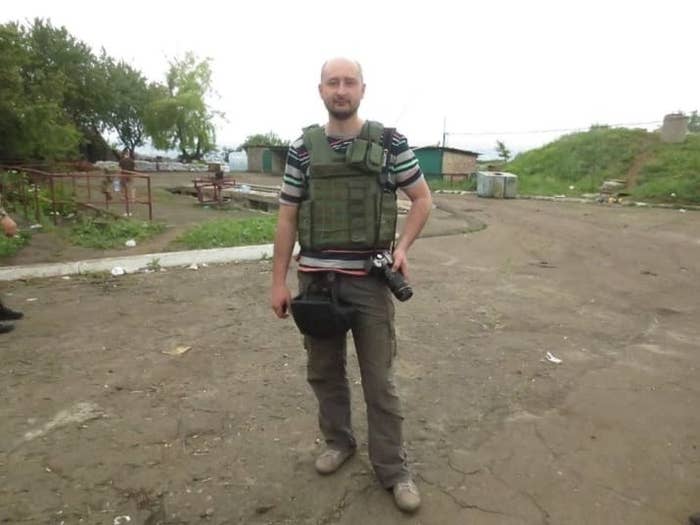 Initial reports indicated that Babchenko, 41, was shot in the back while in his home in Kiev, the capital of Ukraine. Kiev police confirmed on Facebook that a journalist had been killed, saying that the man's wife had initially called after finding her husband covered in blood. That turned out to be false when Babchenko showed up to a news conference, unharmed.
"First of all, I want to apologize for what you had to go through and what you had to live through. I've had to bury friends and colleagues many times and I'm very familiar with the nauseating feeling when you have to bury colleagues. I'm sorry you had to live through this, but there was no other way," Babchenko said when he took the stage.

"Separately, I'd like to apologize to my wife for the hell she had to go through over the last two days. Olechka, please forgive me. Here we had no other options."
Vasily Gritsak, head of the Ukrainian Security Service, thanked Babchenko and his family, saying, "Only people who had to know about this operation knew about it. I think you understand."

The person who allegedly planned on killing Babchenko was identified and arrested by Ukrainian authorities, Gritsak added. The SSU later released a video of the arrest.
"We communicated with people who knew of the planned killing of Babchenko and they helped us prevent this killing, this terrorist act," he said.

The day after coming back to life, Babchenko answered questions from reporters in a second press conference about what he knew, as well as criticism from those who said the operation hurt journalists' and SSU's credibility.
"If you're asking me whether I have proof this isn't an SBU provocation? I don't have that proof. You're asking me for proof this is not not a provocation? I don't have that proof either," he said.
Babchenko said the scariest part for him was being a live target.

"Waiting was scary, being a target was scary," he said. "It's not clear who's watching you or how many people were involved."
Questions about journalistic ethics, since raised by commentators and journalism organizations, were not something Babchenko was thinking about at the time.

"My friends, I don't care if you believe me the next time someone tries to kill me or not," he told reporters. "I will be dead and indifferent. I didn't have a goal of whether you'll believe me or not, I had the goal of staying alive and keeping my family safe. That was the first thing I thought about. Journalistic standards were the last thing on my mind. I'm sorry, but I'm being sincere."
The SSU revealed that the person who planned Babchenko's assassination was a Ukrainian citizen who was paid $40,000 and working with Russia. According to Gritsak, there were 30 other potential targets for assassination, but he did not elaborate on who they were.
Russian services also told Citizen G, the name Ukraine is using for the assailant, to purchase weapons, at their cost, in order to stockpile them in the central part of Ukraine, according to Gritsak.
Among those weapons were 300 AK-47s, hundreds of kilograms of explosives, bullets, and mines. The SSU posted photos of some of those weapons to their official website after the press conference.

"And now I just want to let off some steam and speak emotionally," Gritsak said during the initial, government-organized press conference. "Are there not enough killings? How much longer can this keep going? Please, stop, it will be too late. It will be too late."
In one video, which aired during the press conference, the men planning to assassinate Babchenko are seen exchanging money. The hidden camera seems to be inside the bag. One insists on counting it while the other waits. He counts bills before saying, "That's it."

"Not a bad price for me," Babchenko joked after saying that $40,000 exchanged hands.

The assailant was planning on leaving the country after killing Babchenko. He would travel through a third country to Russia, Gritsak said.

According to Babchenko, the assailants had information about him only a secret service would be able to obtain.
"It became obvious the information was coming from Russia, the information was from government services, because this information would be able to only be available to special services," Babchenko said.
This included a picture of him taken 25 years ago for his passport and, according to the dossier which was later released by the SSU, information about his wife and his service in the army, work as a journalist, and even temporary employment as a taxi driver.

The dossier states Babchenko has "negative attitudes to the current authority and Russophobic views he constantly expresses online."
Highlighted in the dossier were Babchenko's comments about Crimea, in which he says, "Putin is an usurper who got power through force. There are no elections. Because elections are the FREE will of the people."
"There is no Russian region of Crimea. There's only occupied Ukrainian territory," the highlighted comment also says.


"Half the job is done, my part is done," Babchenko said at the end of the press conference. "I am still alive for now. They can keep waiting."

After the revelation that he's alive, Babchenko also sent a tweet saying, "I promise to die when I was 96 years old, after dancing on Putin's grave and taking a selfie on an Abrams and on Tverskaya Street — I will try to do that. I guess that's fate, to die every four years. God, I'm so tired of dying. Good morning."
Babchenko was referring to a previous tweet he sent before news of his faked death and the special operation came out.

In it, he talked about not boarding a helicopter four years ago because there was no more space for him. Two hours later, that helicopter was shot down, Babchenko wrote, and 14 people died.
"I was lucky," the tweet says. "Second birthday, it turns out."
The Russian Foreign Ministry immediately seized on the news as something with "propaganda effect."
The Committee to Project Journalists, which keeps stats on reporters killed around the world, was pleased Babchenko was alive but not impressed with the stunt.
"Ukrainian authorities must now disclose what necessitated the extreme measure of staging news of the Russian journalist's murder," Nina Ognianova, CPJ's Europe and Central Asia program coordinator said in a statement. "CPJ is investigating this unprecedented situation and will have no further comment until we have more details."
Following reports of Babchenko's murder Tuesday, people spent the day remembering him and paying tribute.

Several reporters who had worked with him in the past shared memories, calling him a "firebrand journalist always critical of the Kremlin" and expressing dismay over news of his reported death.

This video shows his colleagues celebrating when they saw he was alive.