Several members of Congress visited airports in their home states on Saturday night, demanding information about travelers detained or refused entry to the US under President Trump's refugee ban.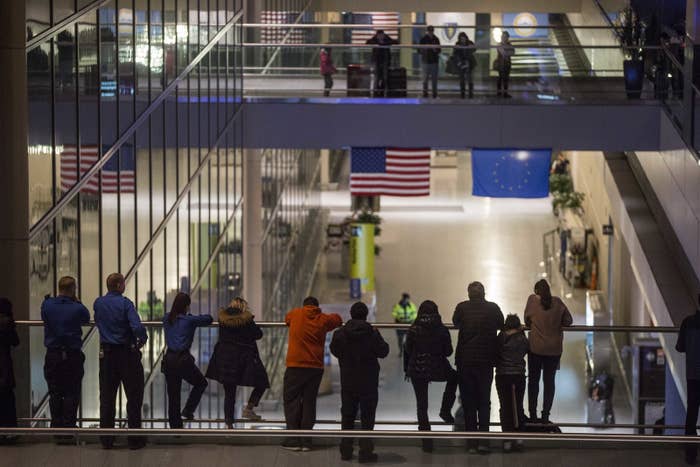 Among them was congressman, civil rights leader, and Trump foe John Lewis, who pledged to "sit down and stay a while" when he wasn't happy with the answers coming from immigration officials.
US Reps. John Lewis and Hank Johnson had arrived at the Atlanta airport demanding to know more about the number of travelers detained there.

According to reporters at the airport, when a US Customs and Border Protection official did not disclose the number of people being held, Lewis responded, "Why don't we just sit down and stay a while."
An immigration official later invited the two congressmen into an office for a private discussion, revealing that 11 people had been detained in Atlanta.
"As far as we can tell there are no written protocols that have been issued to the Customs and Border Protection officers," Johnson said, according to the Atlanta Journal-Constitution. "So they are kind of winging it, like we are winging it. And it puts them at a disadvantage because, of course, they have a job to do to keep up safe under normal conditions."
Several other members of Congress joined protests at airports in their home states, including Sen. Elizabeth Warren who decried the ban from Boston's Logan International airport.
"It is illegal, it is unconstitutional and it will be overturned," Warren said in a video she posted to Twitter.
At New York's JFK airport, Democratic Reps. Jerry Nadler and Nydia Velazquez were there to greet an Iraqi man who risked his life working for US forces and was among the first refugees and immigrants to be blocked at an American airport on Friday.
Meanwhile, Reps. Suzan DelBene and Pramila Jayapal of Washington state were at Seattle's airport...
...and Rep. Nanette Barragan, a democrat from California, was at the airport in Los Angeles trying to get answers from US Customs and Border Protection.