A shooter opened fired on the WDBJ7 news crew while they were conducting a live interview in the town of Moneta, Virginia. The two reporters were a team who worked together daily, according to WDBJ7's Chris Hurst.
Alison Parker, 24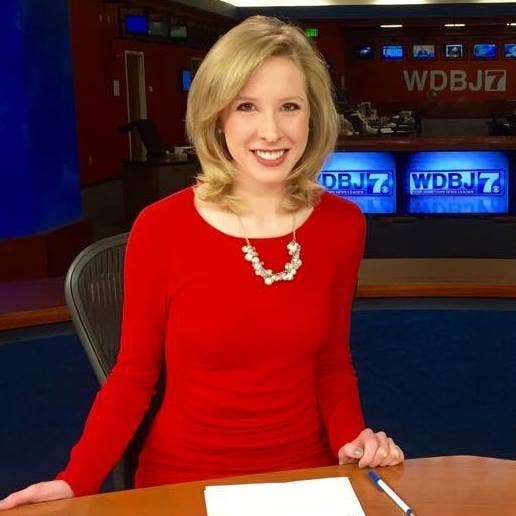 Parker, who had just turned 24 years old, started her career as an intern at WDBJ7. She moved up the ranks to become a morning reporter covering Roanoke, Virginia, close to her hometown of Martinsville, according to her Facebook page.
She graduated James Madison University in December 2012, where she was the news editor for the university paper, The Breeze. While in college, she also worked for WHSV, an ABC/FOX affiliate.
The station's general manager, Jeff Marks, said Parker loved the outdoors, especially whitewater kayaking. She also enjoyed spending time with her parents' dog, Jack.

Parker was dating Chris Hurst, the station's 6 o'clock news anchor, who called Parker "the most radiant woman I ever met." The two were dating for almost nine months and had recently moved in together.
During an interview on Wednesday afternoon with a local ABC News affiliate in Lynchburg, Virginia, Hurst described his girlfriend of nine months as a "hometown girl" who had a penchant for journalism. She and Ward were like "brother and sister," he said.
He said he received a call from the news station this morning about the shooting.
Hurst said he knew the shooter, who has been identified by police as Vester Flanagan but whom Hurst referred to as Bryce Williams, through their work at WDBJ. He added that Parker was an intern during Williams' tenure.
For their six-month anniversary, Parker gave Hurst a scrapbook. The couple had planned to fill the whole album with photos of the two of them.
Her colleagues called Parker a "rock star," adding, "Throw anything at the girl and she can do it." She had just finished a major report on survivors of child abuse, "Childhood Lost," and another on a woman who had grown up in the foster care system, "Hope's Story".
In a statement, Parker's father said his grief was "unbearable."
In an interview with the Washington Post, Parker's 62-year-old father, Andy, said he suspected the worst when he didn't hear from her immediately after the shooting.
"Initially, we had some hope, but I knew in my heart of hearts," he told the Post. "Alison would have called me immediately to say she was OK."
About an hour later, a senior manager at the station called to say Alison had been killed by a former co-worker, Andy Parker said.
"Is this real? Am I going to wake up? I am crying my eyes out," he told the Post. "I don't know if there's anybody in this world or another father who could be more proud of their daughter."
He added that he was appalled footage of the shooting was posted online, and said he would not be watching it.
Adam Ward, 27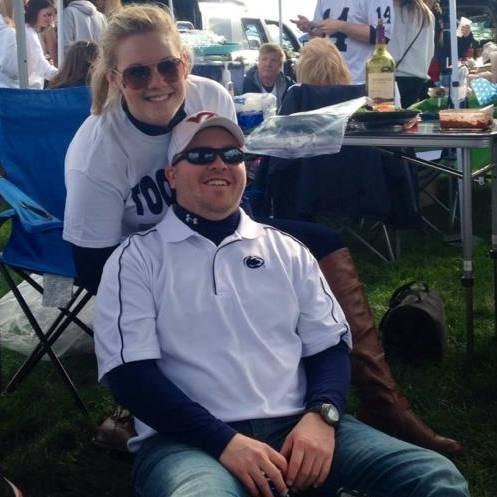 Ward was a photojournalist for WDBJ and he started as an intern at the station. He graduated Virginia Tech in 2011 and, according to the station's general manager, was a big fan of the college's football team.
"It is shocking and deeply saddening for this community to be again struck by gun violence," associate vice president for university relations Larry Hincker said in a statement, referencing the 2007 Virginia Tech shooting that left 32 people dead.
Robert Denton, professor and chair of the Department of Communication, taught Ward and also worked with him at WDBJ.
"Adam was a delightful person. He worked hard – you could tell he loved what he was doing," Denton said in a statement. "He wasn't afraid to pitch in and do whatever was necessary for the broadcast. He did whatever was needed with a smile and with grace. He was simply a very nice young man and very professional."
Ward was engaged to Melissa Ott, the WDBJ morning producer. According to his Facebook page, the two were to be married next summer. Ott was set to start a job in Charlotte in September and Ward was to move there with her. Speaking on air after the shooting, WDBJ anchors said it was Ott's last day at the show, adding that Parker had brought in a cake to celebrate.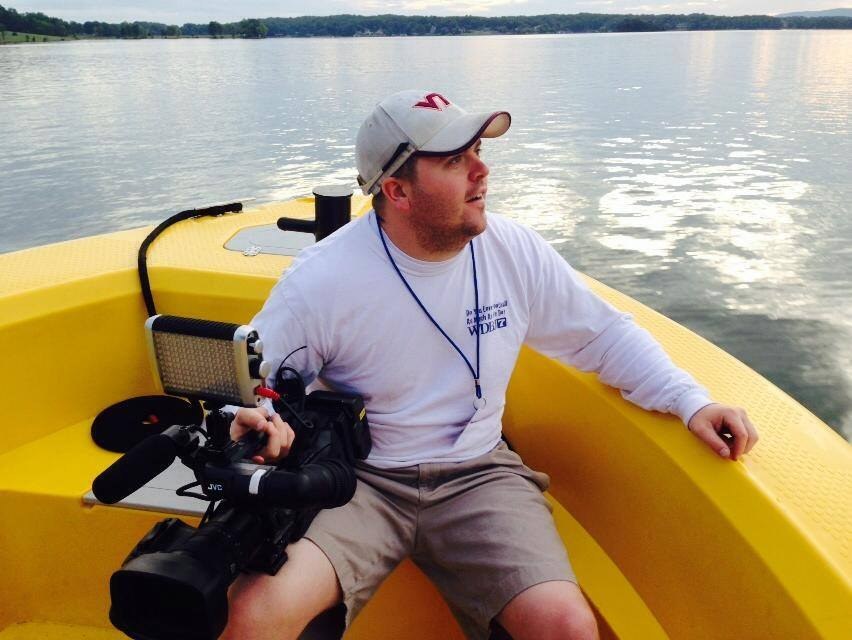 According to CNN's Brian Stelter, Ward's fiancé was at the station at the time of shooting.
As news of the shooting spread, there was an outpouring of condolences on Ward's Facebook page.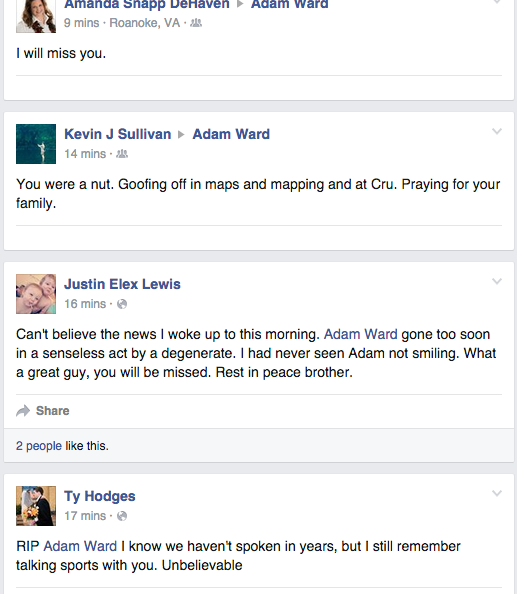 Parker and Ward