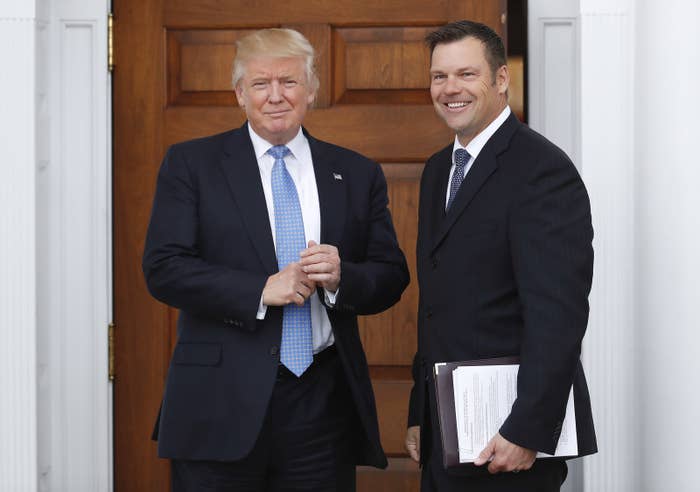 The Kansas secretary of state was photographed holding a "strategic plan" before a meeting with President-elect Donald Trump on Sunday that includes ways of barring immigrants from entering the US, including asking about "support of Sharia law, jihad, equality of men and women, and the United States Constitution" and reintroducing a registry.
Kris Kobach, reportedly jockeying for a position in the Trump administration, is an immigration hardliner reportedly advising Trump and was the author of a now-defunct post-9/11 registry program, called NSEERS, for immigrants from Muslim countries.
Kobach and Trump posed for photographers before their meeting at Trump's Bedminster, New Jersey, golf course. Kobach was holding a stack of papers — the front of which was partially visible.
The document he was holding was titled "DEPARTMENT OF HOMELAND SECURITY KOBACH STRATEGIC PLAN FOR THE FIRST 365 DAYS."
While the front page is partially covered by Kobach's hand and arm, the top portion is visible and mentions questioning "high-risk" immigrants as a way to apparently fight terrorism.
A former homeland security expert told BuzzFeed News that NSEERS would, logistically, be relatively easy to re-implement. The document also called for reducing the "intake of Syrian refugees to zero."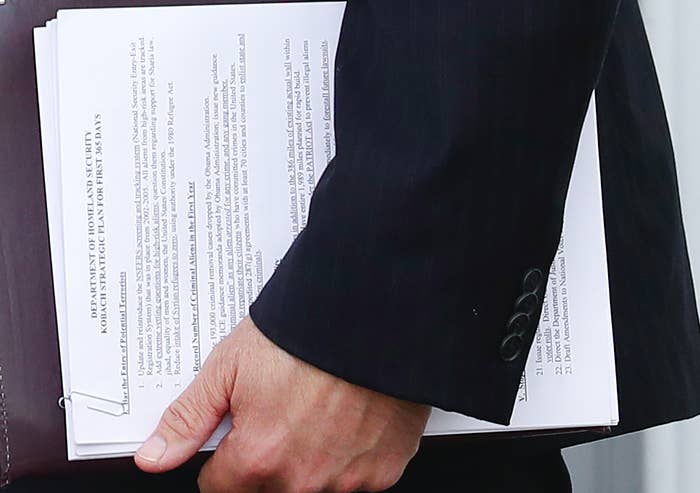 The first three points — under part I, "Bar the Entry of Potential Terrorists" — on the paper read:
1. Update and reintroduce the NSEERS screening and tracking system (National Security Entry-Exit Registration System) that was in place from 2002-2005. All aliens from high-risk areas are tracked.


2. Add extreme vetting questions for high-risk aliens: question them regarding support for Sharia law, jihad, equality of men and women, the United States Constitution.

3. Reduce intake of Syrian refugees to zero, using authority under 1980 Refugee Act.
Part II plans the removal of a "Record Number of Criminal Aliens in the First Year." The plan specifically mentions "193,000 criminal removal cases dropped by the Obama Administration"; recommends issuance of new guidance relating to removal priorities; and references extensive use of section 287(g) of the Immigration and Nationality Act, which allows the DHS to deputize local law enforcement to carry out immigration functions, in "at least 70 cities and counties."

Part III appears to relate to the wall Trump promised to build, and Part IV is completely obscured by Kobach's arm.
Part V of the plan is "Stop Aliens from Voting" and includes recommendations involving a directive for the Department of Justice and amendments to the National Voter Registration Act.
Neither Kobach nor the Trump transition team immediately responded to request for comment.