Police Suspend Investigation Into UVA Rape Allegations Published In Rolling Stone
Regarding a 2014 Rolling Stone article that described a rape at a UVA fraternity, police on Monday said "we have no evidence to support those assertions." At the same time, the police chief added that he can't prove something didn't happen.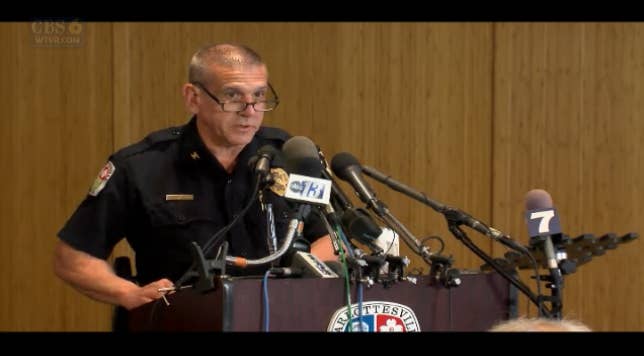 Charlottesville Police Chief Timothy Longo suspended the investigation into a report of gang rape at a University of Virginia fraternity house that was detailed in a November Rolling Stone article.
Longo said no substantive evidence was found to support the claims made in the story, but stressed that it doesn't mean something did not happen on the night of Sept. 28, 2012.
The investigation stems from a widely read — and now discredited — article published in Rolling Stone magazine in November in which a female student, identified as Jackie, claimed to have been raped by seven men at the Phi Kappa Psi fraternity house in 2012. The article also detailed the university's failure to investigate the reported assault.
"I want to be clear, that doesn't mean something terrible did not happen to Jackie," Longo said. "We were just not able to gather sufficient facts on what that event might have been."
Longo said police first became aware of Jackie after she reported being hit in the face with a bottle by four individuals near campus in April 2014. During a meeting with police officers and Dean Nicole Eramo, Jackie stated she had previously been sexually assaulted, but ultimately did not want to pursue a criminal investigation.
At the time, Jackie claimed her roommate helped pull glass from her face, but Jackie's roommate denies that happened. Jackie also reported that she made a phone call to her mother following the attack, but phone records do not show a call being placed.
The description of the sexual act Jackie told police about in April 2014 and what she stated to her friends thereafter is inconsistent with what was described in the article.
"I'm not in a position to say something terrible didn't happen to that young lady that night," Longo said.
Fast-forward to November 2014: UVA president Teresa Sullivan contacted the Charlottesville Police Department to open an investigation following the publication of the Rolling Stone article. Police met with Jackie in December, but she refused to give a statement and pursue criminal charges. Longo said police efforts to obtain records through Jackie's lawyer were denied.
Longo said detectives David J. Harris and Jake Via interviewed nine of the 11 residents of the Phi Kappa Psi fraternity house who lived there in 2012. They had no knowledge of the reported sexual assault and claimed to not know Jackie.
There was also no evidence to support that a party took place on Sept. 28, 2012. Longo said officers checked the social calendar and also obtained a photograph from inside the fraternity house, time-stamped at 11:30 p.m. on that date, that depicts a practically empty house.
The investigation then turned to two of Jackie's best friends, who confirmed that Jackie was supposed to be on a date that night. The friends' recollection of meeting Jackie after the alleged rape does not match what was reported in the Rolling Stone story. The friends told investigators they met Jackie in a different location from what was reported and that they don't recall seeing any physical injuries on Jackie. They do say they believe something happened to her that night.
"We can't say something didn't happen," Longo said. "Even her friends said something happened but there's no evidence to support that."
The investigation is now suspended until more information is gathered or someone comes forward with additional details. Longo added that he is not charging Jackie with false reporting. Longo stressed that if he were to ever arrest someone for making false allegations, he would want to be sure there was evidence for the commonwealth attorney to prosecute.
The Rolling Stone article garnered so much attention, the university suspended all fraternities for the semester.
Two weeks after the story was published, following an investigation of the story by the Washington Post, Rolling Stone issued an apology to its readers and announced that Columbia Journalism School will be conducting an independent review of the magazine's editorial process. The review, led by deans Steve Coll and Sheila Coronel, will be released April 8, a Columbia spokesperson confirmed to BuzzFeed News.
Phi Kappa Psi was reinstated in January.
"These false accusations have been extremely damaging to our entire organization, but we can only begin to imagine the setback this must have dealt to survivors of sexual assault," Stephen Scipione, president of the Virginia Alpha Chapter of Phi Kappa Psi, said in a statement. "We hope that Rolling Stone's actions do not discourage any survivors from coming forward to seek the justice they deserve."
The fraternity is exploring legal options to address "extensive damage" caused by the magazine toward the chapter and its members, the statement continued.
Read the full police statement below.
Download PDF