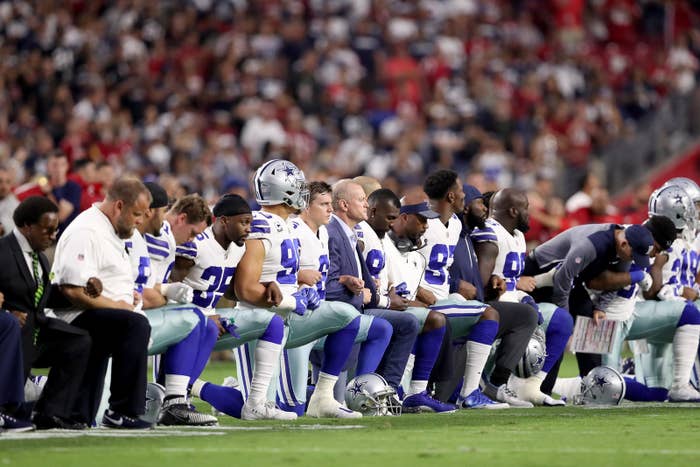 The partisan furor around whether NFL players should take a knee during the national anthem before games — a fire President Trump has relentlessly fueled for five days now — has brought out fierce reactions from people across the nation.
Lawmakers are threatening to introduce bills that pull state funds from teams whose players have knelt; bar owners have vowed to not show NFL games out of disappointment; fans are looking to sell their season tickets — and players are offering to buy them; and at least one local official resigned after going on a racial screed on Facebook. DirecTV reportedly went against their own policy and allowed customers to cancel their NFL Sunday Ticket package subscriptions, and get refunds, if customers cited their anger over the national anthem protests as a reason for cancellation.
In response to it all, Trump tweeted Tuesday morning that the NFL should introduce a rule preventing players from kneeling during the national anthem.
NFL players, coaches, and owners across the league knelt, linked arms, or sat down during the national anthem before this week's games, defying ongoing criticism from Trump. Some teams responses seemed genuine, others a little more calculated.
The protests began last year when the then-quarterback for the San Francisco 49ers, Colin Kaepernick, repeatedly knelt during the anthem as a demonstration against police violence toward people of color.
Trump's comments last week — that any player who did not stand for the anthem was a "son of a bitch" who should be fired — drew national debates about free speech and the right to protest. While a number of NFL players said their silent protest is a statement about racism in the country, Trump has insisted the issue is about respect for the country and the flag.
During a Tuesday press conference with the prime minister of Spain, Trump stood behind his criticism of NFL players protesting and said, "I was ashamed of what was taking place."
"The NFL situation is a very important situation," he said. When asked whether he is preoccupied with criticizing the NFL, the president responded: "I have plenty of time on my hands. All I do is work."
Trump also reiterated his suggesting the NFL create a new rule against kneeling.
"I think it's very important for the NFL to not allow people to kneel. To respect our country and our flag," he said.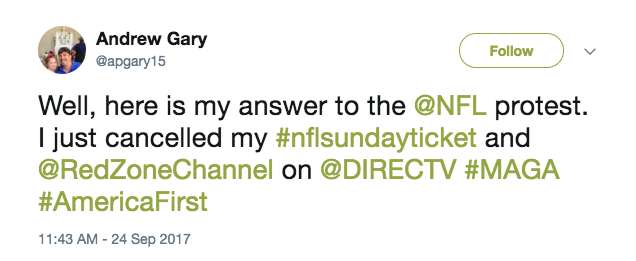 DirecTV allowed some customers — who expressed their anger over the protests —to cancel their NFL Sunday Ticket subscriptions despite a company policy saying cancellations were only allowed before the start of the season — according to a WSJ report and several tweets by customers.
Some customers also said that DirecTV fully refunded them despite the company's policy of not allowing refunds once the NFL season was underway.
It is unclear what the exceptions to the policy were. One customer service representative told WSJ that refunds were only offered to those with certain plans; another said that full refunds were available for all subscribers who complained about the protests; while a third said the company policy had not changed and there were no exceptions.
Representatives for AT&T, DirecTV's parent company, did not immediately respond to BuzzFeed News's request for comment.
In Louisiana, state House Rep. Kenny Havard called on the local government to pull state funding, tax breaks, and other support from the New Orleans Saints, saying that "disrespecting our national anthem and flag in the name of social injustice is the highest form of hypocrisy."
"The very reason [the Saints] have the privilege and opportunity to play professional football while being paid millions is because someone in uniform died protecting their right to do so," he said in a statement. "It is a disgrace to the men and women of this nation and state who have sacrificed so much."
He went on to say that "it is time taxpayers quit subsidizing protest on big boy playgrounds."
"I believe in the right to protest but, not at a taxpayer subsidized sporting event," his statement reads. "Do it on your own time."
Tennessee House member Judd Matheny, who is also running for Congress, said he is working on a bill that would pull funding from the Tennessee Titans.
Matheny said under the proposed bill, teams will have to buy land with their own money and pay taxes like everyone else.
And in Pennsylvania, Republican state Sen. Mike Regan said he will introduce a resolution condemning the protests, saying the players who took a knee are "anti-American."
"It was not a harmless exercise of First Amendment rights," Regan said in a press release Monday. "It was a deliberate, orchestrated effort to disrespect the anthem and flag of the United States of America, and it cannot go unrebuked."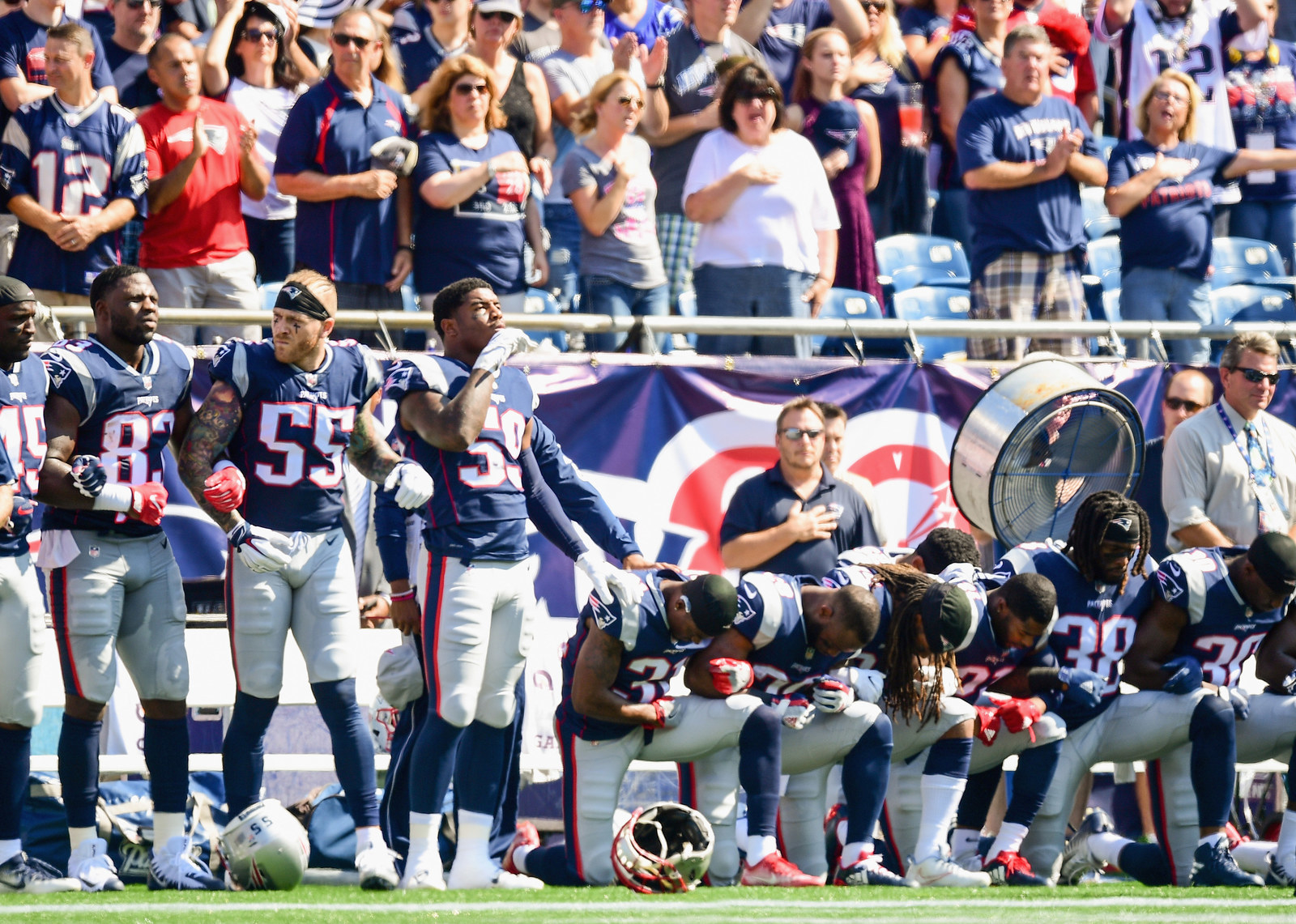 Local business owners have vowed to stop showing NFL games, including a Massachusetts bar owner who said he was "shocked" that players on the New England Patriots took a knee and locked arms before Sunday's game.
Mike Cooley, the owner of Monument Tap in Leominster, told Fox 25 he was "shocked" to see the Patriots players engage in the silent protest, and despite being a Pats fan, vowed to not air NFL games at his bar.
"We're not showing any NFL," he told Fox 25. "It's just my way of a little guy in the country just giving it back and saying forget it."
A South Carolina restaurant owner called the NFL players who protest "entitled" and "arrogant."
"NFL will never be played at Palmetto Alehouse until all players pay respect to our flag and our country!!!" the restaurant posted on Facebook Sunday, which was removed Monday.
"I do not support anyone that thinks that our country or our flag is not worth standing for," David McCraw told Fox Carolina.
A Tennessee restaurant said it will no longer show football games until "the NFL comes to its senses on this National Anthem tragedy."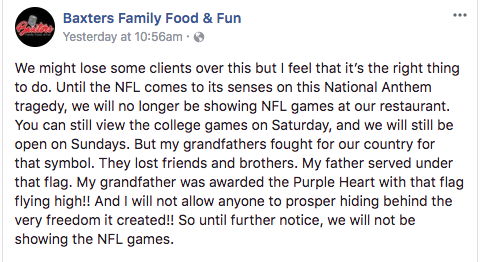 The full statement reads:
We might lose some clients over this but I feel that it's the right thing to do. Until the NFL comes to its senses on this National Anthem tragedy, we will no longer be showing NFL games at our restaurant. You can still view the college games on Saturday, and we will still be open on Sundays. But my grandfathers fought for our country for that symbol. They lost friends and brothers. My father served under that flag. My grandfather was awarded the Purple Heart with that flag flying high!! And I will not allow anyone to prosper hiding behind the very freedom it created!! So until further notice, we will not be showing the NFL games.
Similarly, WOW Cafe & Winery in Louisiana chose not to air the Saints game on Sunday. In a Facebook post, the owners of the cafe said they will not support players who chose to kneel during the national anthem.
"I stand behind my decision and I want to make this clear, the sole reason that I didn't air the game is because I feel the players disrespected the National Anthem and that is something I hold dear to my heart," owner Brook Songy Anastasiadis said in a statement on WOW's website. "That's how I was raised, I have family members who served our great country in the military and I was taught to respect the National Anthem, the flag, the military and people in general."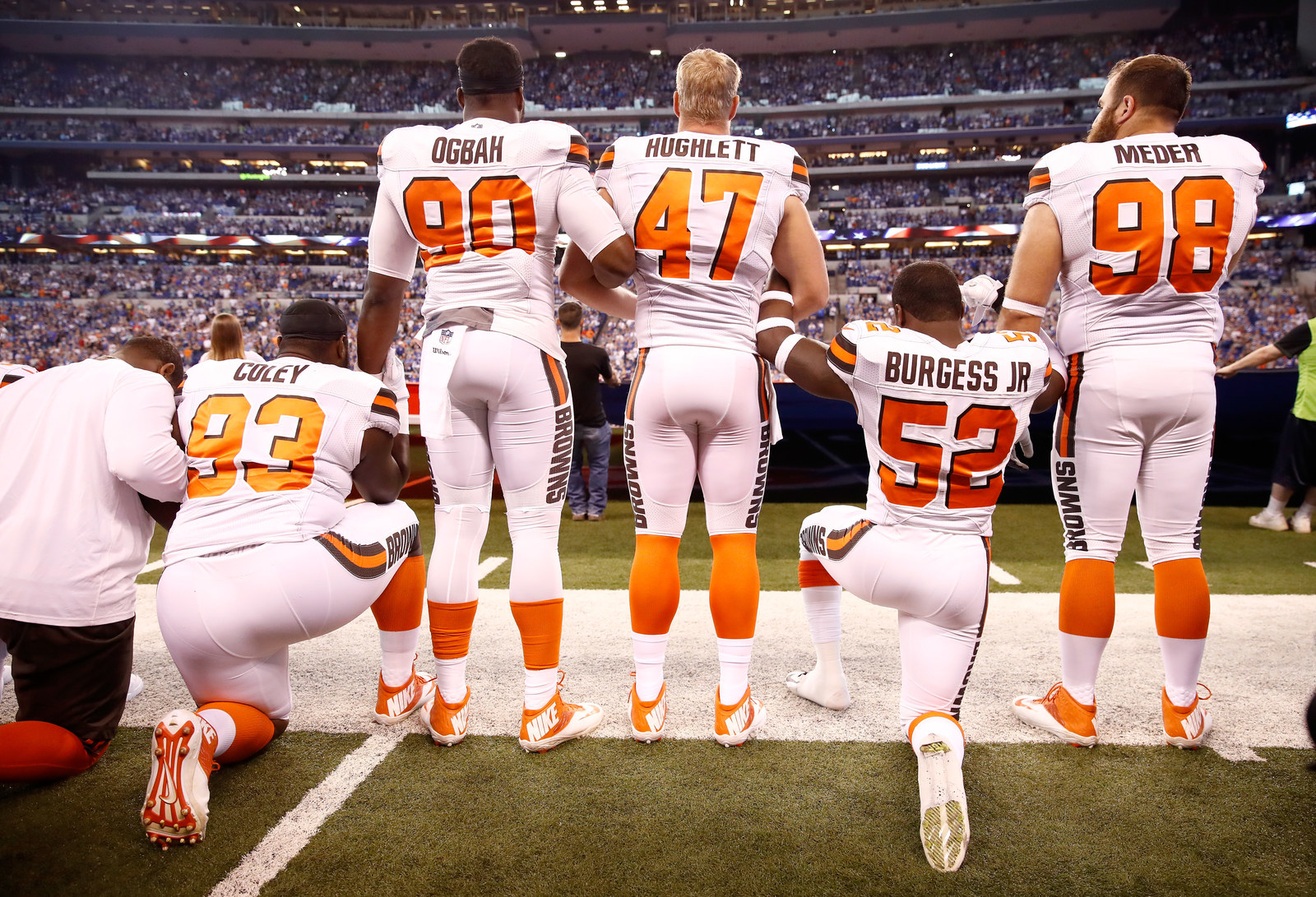 A police sheriff in Ohio issued a statement prohibiting county deputies from working any off-duty details at NFL games.
In a statement, Sheriff Scott A. Hildenbrand said his season ticket seats will remain empty for the rest of the football season.
Yesterday I attended the Browns game in Indianapolis with some friends. The stadium was almost full with 70,000 fans in attendance. During the National Anthem at least 21 Browns players kneeled as the entire stadium, made up of all races, ages, sex, religion and careers stood and removed theirs hats. All the police officers working in uniform were saluting. The fact that the team owners and NFL Commissioner condone this activity very much upsets me. As far as I am concerned almost the entire league disrespected every veteran that ever fought or died for this Country. These protests are not about unity, unity was the other 70,000 fans that stood. I truly believe this is about the Police, Law Enforcement and our government. For that reason, effective immediately any off duty details at NFL Games are prohibited.
Read the full statement here.
In Pennsylvania, volunteer fire chief Paul Smith apologized and resigned from his post after using a racial slur to describe Steelers coach Mike Tomlin.
"Tomlin just added himself to the list of no good Niggers. Yes I said it," Smith wrote in the post.
Smith apologized, telling TribLive.com he was "frustrated and angry at the Steelers not standing for the anthem."
An employee at New Era Field — home to the Buffalo Bills — quit his job after almost 30 years.
"I waited until the National Anthem ended, I took off my shirt, threw my Bills hat on the ground, walked out," Erich Nikischer told Channel 2. "I will never step foot in that place again. I will never watch an NFL football game again until this ends."
In a number of posts on Facebook, Nikischer has called for people to boycott the NFL.
Other NFL fans have reacted to the protests by wanting to distance themselves as fans. One Baltimore Ravens fan did not support the players' decision to kneel before Sunday's game and tweeted that he will be selling his season tickets.
James Ihedigbo, a former Raven, replied saying he'll "buy them and give them away."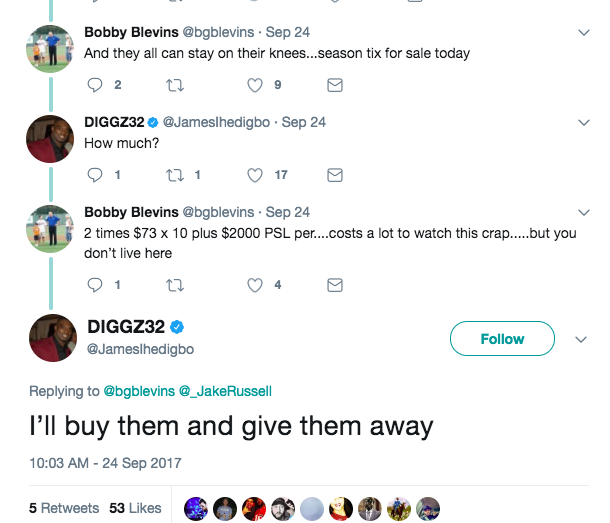 BuzzFeed News has reached out Ihedigbo's publicist to see if he followed through on the offer.
A family in Wisconsin, whose members have been longtime fans of the Green Bay Packers, want to turn in their share of Packers stock following Sunday's protests, according to Fox 11.
Marilyn Limberg, who purchased one $200 share of Packers stock for each of their children in 1977, told Fox 11 that her son wanted to turn it in.
"He is disgusted enough and his principles tell him 'I'm done,' and I think he is just trying to make a statement," Limberg said.
And Rodney Heard, an Indianapolis Colts fan, set his season tickets on fire after some players chose to kneel during the national anthem at Sunday's game.
Heard, who said he served in the United States Marine Corp, filmed himself burning his tickets and posted it to Facebook. As of Tuesday afternoon, the video has been shared nearly 3,000 times.
"There's a lot of people that fought and died for that flag, and to disrespect it yesterday like you did, I'm done," he says in the video.
He says he chose not to give them away or sell them because "those seats will be filled again."
Rather, he says he's "making my own sacrifice and standing up for what I believe and getting rid of these tickets right now."