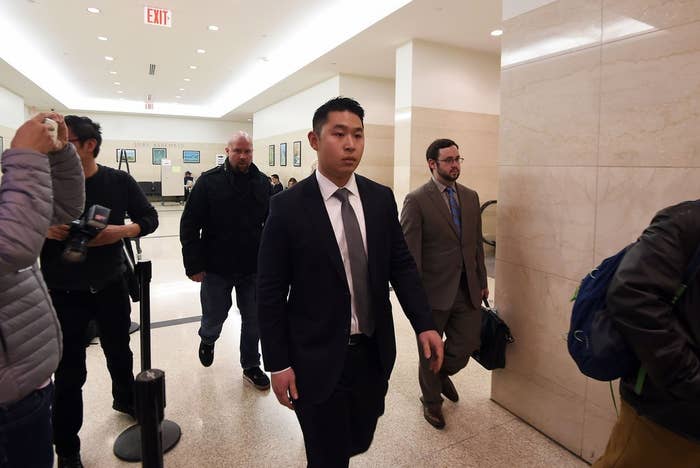 The partner of the NYPD rookie charged with fatally shooting an unarmed black man in 2014 said in court Thursday that officer Peter Liang dialed their supervisor's phone number after the gun went off — but then he yanked the cell phone out of Liang's hand and hung up the call.
Prosecutors accused Liang, 28, of failing to render first aid and alert his supervisors after his gun discharged and a bullet ricocheted, fatally striking Akai Gurley in the chest in the stairwell of a Brooklyn housing project. Liang, who is charged with manslaughter, criminally negligent homicide, assault, reckless endangerment, and two counts of official misconduct, claims his firearm went off accidentally.
The partner, Shaun Landau has been granted immunity from prosecution.
Landau testified Thursday that after the two officers argued over who should call their sergeant — but before they realized the bullet struck Akai Gurley – Liang dialed their supervisor's number but Landau grabbed the cell phone and hung up before the call was completed.
Landau did not elaborate or explain why he hung up the call other than to say he was in shock after the gun went off.
Liang's lawyer, Robert Brown, grilled Landau about inconsistencies in his account of his partner's actions and statements after the fatal shooting in Brooklyn's Pink Houses on November 20, 2014.
There appears to be a discrepancy in Landau's testimony regarding the time that lapsed between the gun firing, the officers entering the stairwell, and the call for an ambulance.
At the trial and during a grand jury testimony in February 2015, Landau said that he and Liang waited approximately four minutes before they inspected the stairwell.
Brown said that during police interrogations the days after the shooting, Landau told investigators he and Liang waited approximately 30 seconds before entering the stairwell.
"At that moment, I was exhausted," Landau said of the 2014 police interrogation. "I was pulled out of the hospital bed to go do the interview and I was still very, very stressed out."
Then, a month later in December 2014, Brown said Landau told assistant district attorneys that they waited 60 to 80 seconds.
Another major point of contention is whether Liang called for an ambulance.
Landau testified on Tuesday that once they descended from the eighth floor to the fifth floor and saw Gurley lying wounded in the stairwell, Liang radioed their location to supervisors but didn't immediately say someone was wounded.
Brown pointed out that in a police interrogation days after the shooting, Landau said that Liang radioed for an ambulance, saying there was an accidental gun discharge, a male was shot, and that an officer was involved.
When asked on Thursday, Landau just said that his partner radioed for an ambulance.
Prosecutors later played a garbled recorded radio dispatch from that night. While much of what Liang said over the radio is inaudible, his voice was recorded in the background of a 911 call.
In a transcript of the call entered into evidence, Liang is heard making no mention of an ambulance.
According to the timestamp of the 911 call, Melissa Lopez, a resident of the Pink Houses, called police at 11:14:46 p.m. Liang's voice, asking for the building's address, is picked up on the call at 11:17:38 p.m., almost three minutes after the call was initiated.
Brown also questioned Landau about telling police interrogators that he could not remember exactly what Liang told him following the shooting. On Tuesday, Landau testified Liang said, "It went off by accident. I'm fired," right after the discharge.
"Is it possible he said "I fired,'" Brown asked Landau.
"He said 'I'm fired'" Laundau responded.
"Eight hours after the incident you can't remember exactly what happened but now, a year and change later, you recall" him saying 'I'm fired,'" Brown said.
"Yes," Landau responded, insisting his memory has gotten better with time.
Despite previous testimonies from Police Academy instructors about how recruits are trained, Landau said at that moment he didn't know what to do.
"I didn't feel qualified to give CPR," Landau said.
The officer said that he passed his training exams in the academy, but that instructors fed the questions and answers to recruits.
The medical examiner who performed the autopsy on Gurley, Floriana Persechino, testified that basic CPR would not have saved his life.
Persechino said after the bullet ricocheted off the wall, it penetrated Gurley's chest, and pierced his heart before it came to rest in his liver.
She said he bled internally, indicating that it's likely he did not bleed profusely on the outside.
"I don't believe just [breathing and chest compressions] would have saved this individual," Persechino said. "He needed more extensive intervention than that."