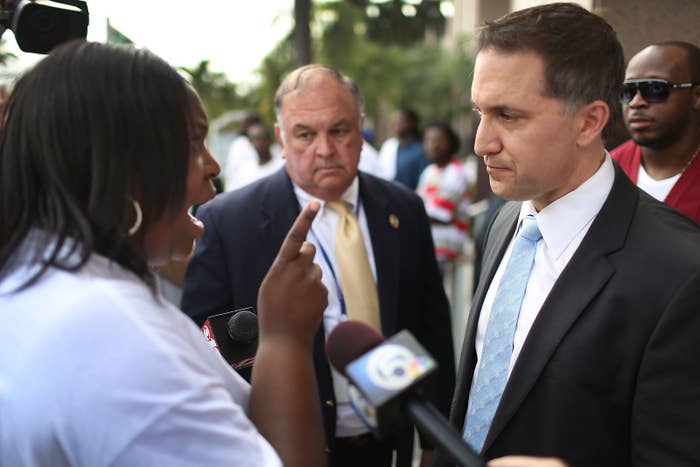 Corey Jones, the musician who was fatally shot by a Florida police officer on the side of the road, did not fire his weapon, Palm Beach County State Attorney Dave Aaronberg said at a rally Wednesday.
Palm Beach Gardens police said the 31-year-old had a handgun and "confronted" officer Nouman Raja when the shooting occurred.
An attorney representing Jones' family said last week the musician's weapon had not been fired, and Aaronberg confirmed that detail during a rally Thursday, where activists were demanding transparency in the investigation of the deadly shooting.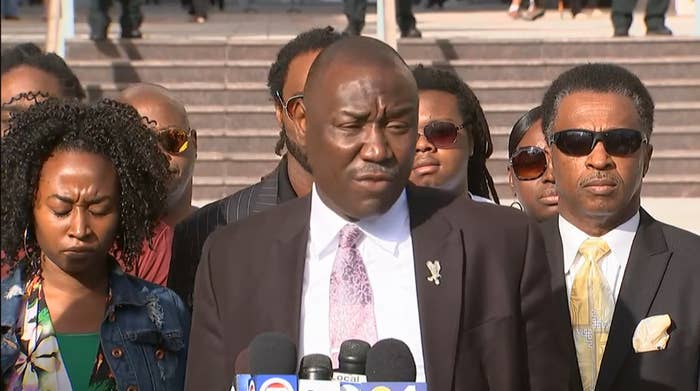 "Our responsibility is to seek justice, our loyalty is to the community, and our commitment is to the truth," Aaronberg said.
Aaronberg said his office would try to make the investigation as transparent as possible, and noted the Palm Beach County Sheriff, and FBI, are also investigating the shooting.
Jones family's lawyer, Benjamin Crump, said at a previous news conference the officer was not carrying his badge at the time of the shooting.

"He went to his grave not knowing if this was a real cop or not," Crump said. "Nobody understands how this could happen to Corey Jones."

Jones, 31, was on the side of the road in Palm Beach County when his car broke down at approximately 3:15 a.m. on Sunday. He was waiting for a tow truck when officer Nouman Raja, who was in plainclothes, arrived in an unmarked van.
Palm Beach Gardens police said Jones "confronted" Raja, who then fired at Jones. A gun Jones had legally bought three days earlier was found at the scene, police said. In a press conference earlier this week, police said Jones was holding the gun as Raja approached, though it is unclear if Jones pointed it toward the officer.
On Thursday morning, Crump said Raja discharged his weapon six times, striking Jones at least three times. Police have remained mum on the details of the shooting. Police have not confirmed wither Raja and Jones got into a verbal confrontation before the shooting.
Crump and Jones' family members called on local police and the state attorney for answers about what happened, including why the officer didn't have a badge, why Jones' body was not found near his car, and why the gun was not hear Jones' body.
Earlier this week, Palm Beach Gardens Police Chief Stephen Stepp said the police department has no video of the incident, as there was no dashboard camera installed in the officer's car, nor does the department issue body cameras.

Raja, who is now on paid administrative leave, was with the Palm Beach Gardens police department for just six months. In his application for the job, he failed to disclose that he had been reprimanded at this previous police job, according to the New York Times.
At this previous job with the police department in Atlantis, Florida, Raja failed to turn over morphine pills recovered from a suspect. Raja never wrote a report or submitted the evidence, according the Times, citing Atlantis police internal affairs file. Due to Raja's actions, prosecutors were forced dropped the case against the suspect.
On his application for the Palm Beach Gardens police department, Raja only listed minor incidents, when asked if he had ever been reprimanded.
When hired, the police department paid him 5% more than other rookies because of his "exceptional experience," according to the Times.
Members of the Florida Legislature's Black Caucus called on governor Rick Scott to start an independent investigation into the incident.
At Thursday's press conference, Jones' sister Melissa, his brother CJ, and his father spoke about Jones and his love for music and drumming.
The family said Jones purchased a gun for his protection, because he often rode in his car with very expensive musical instruments and band equipment.
"Corey always loved the drums," his sister Melissa, said. "Growing up he would make drums out of books, pans, anything and play for hours. He had a gift like no other."
Jones father, Clinton Jones St., called for people to "keep the beat alive for Corey."