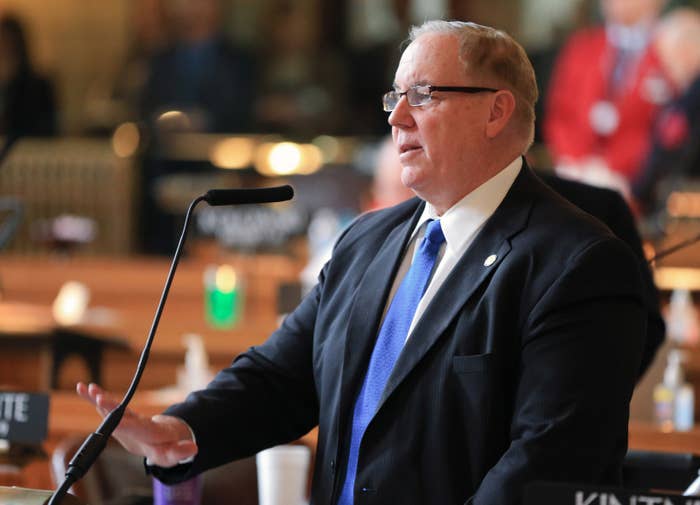 A Nebraska state senator resigned his seat Wednesday following backlash he received after he retweeted a post suggesting the demonstrators at Saturday's Women's March were not attractive enough to be sexually assaulted.
Senator Bill Kintner shared conservative radio personality Larry Elder's tweet, which pictured three women with signs which read "Not This Pussy."
Elder's comment on the photo read, "Ladies, I think you're safe."
Messages to Kintner were not immediately returned, but yesterday his office released a statement to ABC News: "By retweeting a message, I was not implying support for putting women in fear of their personal safety. I took down the retweet as soon as I became aware that it was being misconstrued."
Lawmakers were on Wednesday morning set to consider a motion to expel Kintner, who has since deactivated his Twitter account.
But before the legislature could meet, Kintner posted a resignation letter to his Facebook account. His resignation is effective Jan. 30.
"I hesitate to [resign] as I know my resignation will be hailed as a victory to the progression and aggressive liberal movement," Kintner wrote in his statement.

"To paraphrase Richard Nixon, You won't have Bill Kintner to kick around anymore," he said.
Last year, Kintner paid a $1,000 fine after he admitted to using a state computer to have cybersex with a woman he met on Facebook, according to the Omaha World-Herald.
At the time the senator refused to resign but said he apologized to God and his wife.