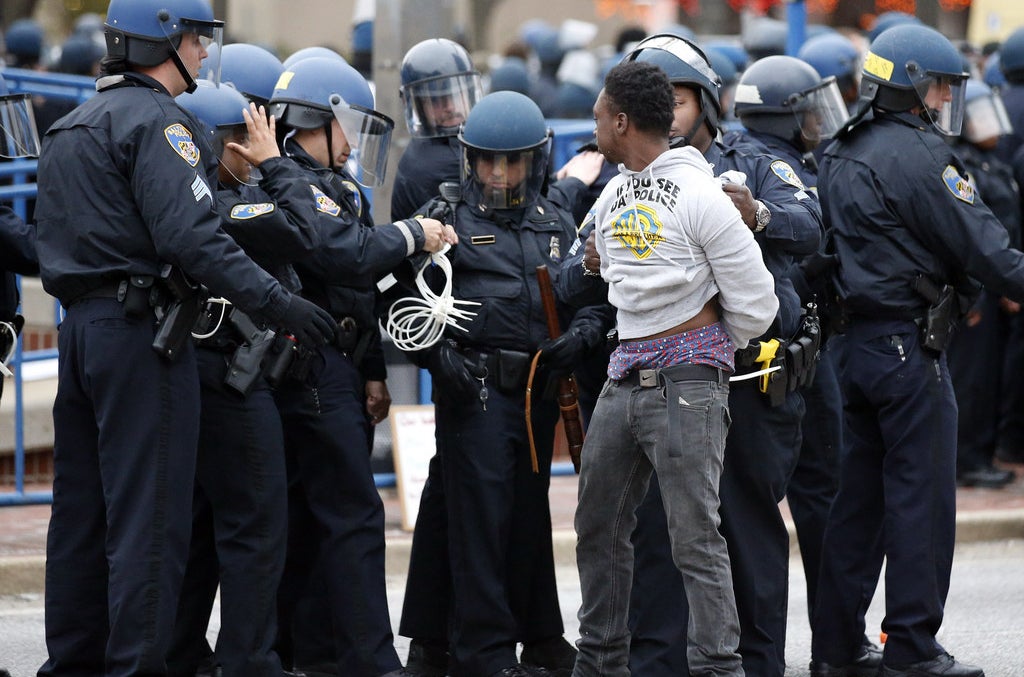 Baltimore public defender Paul DeWolfe told BuzzFeed News that 101 of the demonstrators had been released from custody Wednesday.
Police Commissioner Anthony Batts confirmed during an afternoon news conference that authorities were releasing them "with future prosecution in mind."
Most of the 235 protesters — 34 of them juveniles — who were arrested in Monday night's riots in Baltimore remain in jail as of Wednesday morning, without being formally charged or having a bail hearing, officials told BuzzFeed News.
The court system and state's attorney's office were closed Tuesday due to the violence, leaving nearly all of the demonstrators in Baltimore's Central Booking and Intake Facility, a spokesperson for the facility told BuzzFeed News. One court was open Wednesday.
Katie D'Adamo, a lawyer with the Office of the Public Defender, told BuzzFeed News that the adults are being held in tiny cells and have not been able to shower. The juveniles are being held in a separate facility across the street, she said.
Rochelle Ritchie, director of communications for the state's attorney's office, said only deputies, directors, and the state's attorney worked through Monday night and on Tuesday. She said "some" got formally charged in court on Tuesday but didn't specify how many.
But D'Adamo said that none of the protesters got a court hearing until Wednesday morning, starting at the John R. Hargrove Sr. Courthouse about six miles from central booking. About 93 people so far have been charged, Ritchie said.
At the court, defendants appeared via video link. The court was steadily hearing cases by Wednesday afternoon.
State law in Maryland reads that people who are arrested have to have a court appearance within 24 hours, the central booking spokesperson said. D'Adamo said the relevant law is 4-212 (f): "When a defendant is arrested without a warrant, the defendant shall be taken before a judicial officer of the District Court without unnecessary delay and in no event later than 24 hours after arrest."
Baltimore City Police Captain Eric Kowalcyzk said in a press conference Wednesday afternoon that 111 people have yet to be charged and that the police department has 48 hours to do so before releasing them.
D'Adamo said she believes those laws may have been usurped by the State of Emergency declared by Gov. Larry Hogan on Monday evening. A spokesperson for the governor didn't immediately return a request for comment.
D'Adamo said the Office of the Public Defender is planning on filing a petition on behalf of 50 people who still don't know the charges against them. "We met with 50 or so who have been held since Monday," she said.
Cornell William Brooks, the NAACP's president and CEO, expressed concern over the potential delays.
"While we may be in a state of crisis, what we do know, under the American system of justice, people who were arrested and have not been arraigned, have not been charged, are in fact innocent," Brooks told BuzzFeed News on Tuesday. "The fact that we have 200 people who are sitting in legal limbo is concerning. I know we are in a midst of unrest and potential violence, but we certainly want to see these people processed as quickly as possible."
Mayoral spokesperson Kevin Harris said on Tuesday his office has no say over how the courts handle the cases.
When asked if holding the demonstrators for an extended period of time could breed resentment, he said, "We defer to the courts." He added, "As a result of this, if there are some tweaks that need to be made and we can be helpful, we will work with them to do that."
This alert appeared on Maryland's courts website on Tuesday: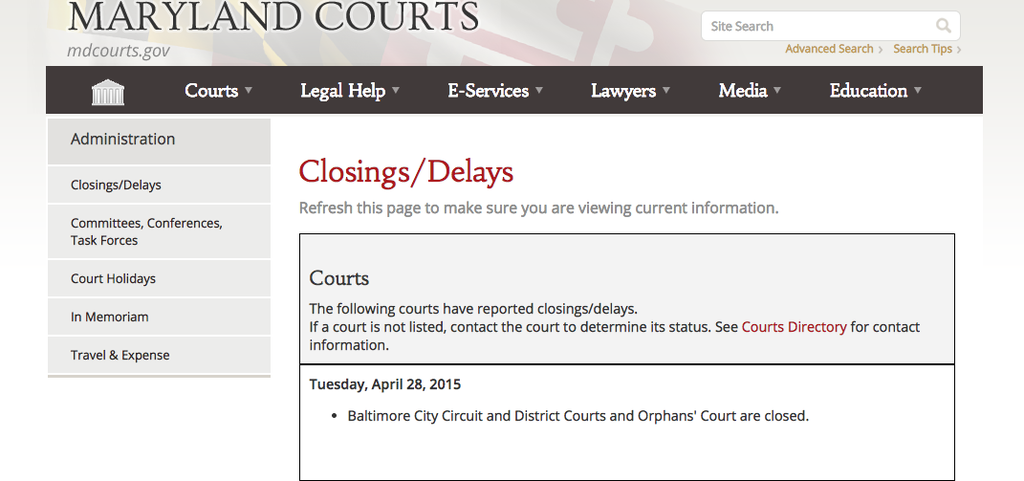 D'Adamo is filing a petition on behalf of 50 people arrested. An earlier version of this post said she is filing a lawsuit.