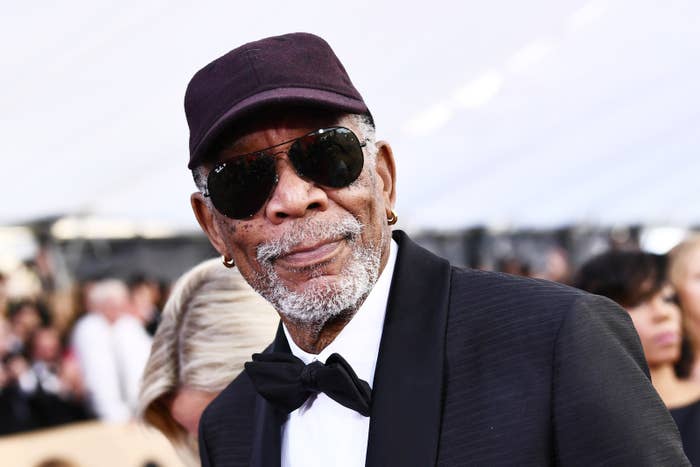 Morgan Freeman is fighting back against allegations of harassment and inappropriate behavior by having his lawyers send a letter to CNN Tuesday demanding an apology and a retraction over the outlet's story accusing the actor of sexual harassment.
Last week CNN reported that eight women have accused the Oscar-winning actor of harassment and inappropriate behavior.
The letter, sent by the law firm Irell & Manella LLP, demanded an immediate retraction and apology.

"Given that Mr. Freeman is a world-renowned actor, and that the article sought to associate him with Hollywood actors and executives who have used their positions to trade sex for career advancement, it will come as no surprise to you that CNN's article attracted explosive attention in newspapers and websites throughout the world," the letter reads. "But no one who read CNN's article about Mr. Freeman was told that it was the product of malicious intent, falsehoods, slight-of-hand, an absence of editorial control, and journalistic malpractice."
One production assistant who worked in 2015 with Freeman on the movie Going in Style told CNN she had been harassed for months by the Oscar-winning actor with comments about her figure and clothing. She said Freeman would also rest his hand on, or even rub, her lower back.

Another woman who worked on the 2013 film Now You See Me said Freeman would comment on women's bodies. "We knew that if he was coming by ... not to wear any top that would show our breasts, not to wear anything that would show our bottoms," she said.
Following the publication of CNN's story, Freeman issued a statement saying "I apologize to anyone who felt uncomfortable or disrespected — that was never my intent."
"Anyone who knows me or has worked with me knows I am not someone who would intentionally offend or knowingly make anyone feel uneasy," Freeman said in the statement.

The actor then issued a follow-up statement the next day, saying that while all victims of assault and harassment need to be heard, it is wrong to equate "horrific incidents of sexual assault" with "misplaced compliments or humor."
"But I also want to be clear: I did not create unsafe work environments. I did not assault women. I did not offer employment or advancement in exchange for sex. Any suggestion that I did so is completely false."
He went on to say that he is devastated that 80 years of his life "is at risk of being undermined, in the blink of an eye," by CNN's report.
CNN issued a statement in response to the letter Tuesday, standing by its reporting.
"The unfounded accusations made by Mr. Freeman's lawyer are disappointing and are difficult to reconcile with Mr. Freeman's own public statements in the aftermath of the story," a spokesperson said in a statement. "CNN stands by its reporting and will respond forcefully to any attempt by Mr. Freeman or his representatives to intimidate us from covering this important public issue."
In a follow up statement, Freeman's lawyer Robert Schwartz said CNN story was "built on fakery."
"We presented CNN with objective evidence, including videotapes and on-the-record denials by the claimed "victims," that the alleged incident that gave rise to the story never happened," Schwartz said in a statement. "We proved to CNN, beyond any doubt, that the whole story was built on fakery. The credibility of the entire CNN attack on Mr. Freeman has now been undermined. And in choosing to ignore all of the evidence that we presented, CNN has confirmed our concerns about its reporters, its lack of oversight, and its gross misconduct in unjustifiably attacking Mr. Freeman."