Mall Of America Wants To Block A Planned Black Lives Matter Protest
The Mall of America is seeking a restraining order that would require protesters to post on social media calling off the demonstrations.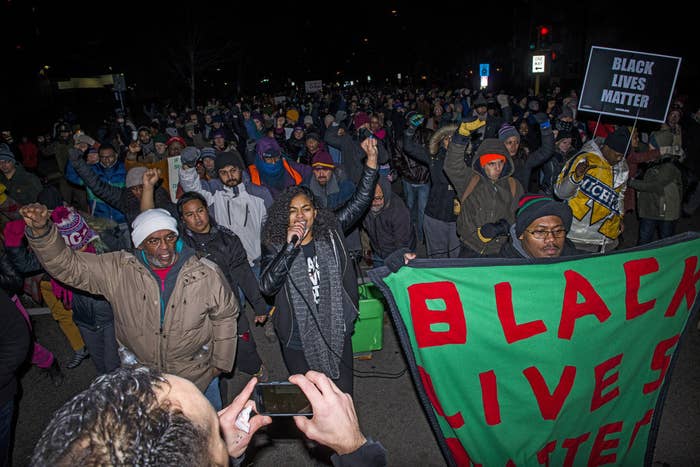 The Mall of America is seeking a temporary restraining order against Black Lives Matter Minneapolis activists, seeking to halt a planned December 23 protest and require the group to remove any social media posts promoting the demonstration.
In a complaint filed the mall is seeking a restraining order that would require Black Lives Matter activists to post on social media calling off the demonstration. A court hearing is scheduled for 2 p.m. local time.
"I think that any corporation that believes it has the right to limit the practices of free speech is indicative of a larger problem in America," Kandace Montgomery, a Black Lives Matter activist and a defendant on the complaint, told BuzzFeed News.
The group announced the demonstration to protest the killing of Jamar Clark, a 24-year-old man shot and killed by a Minneapolis police officer in November. Bystanders said Clark was handcuffed when he was shot. Shortly after the names of the two officers involved were released, protesters stormed and occupied the fourth precinct of the Minneapolis Police Department.
Black Lives matter Minneapolis said some of their demands include the release of the tapes of Clark's death, to prosecute the police officers involved without going to a grand jury, and to institute a safety plan to protect the community from police violence. Organizers said they will not cancel the planned protest unless their demands are met.
If the restraining order is approved by a judge, the eight activists could face jail time for not posting on social media to call of the protest, according to CBS Minnesota.
Last year, five days before Christmas, almost 3,000 protesters shut down part of the Mall of America denouncing the deaths of black men by police officers.
"It was a powerful day," Montgomery said of that protest, adding that demonstrators sang chants in support of Eric Garner, Michael Brown, and Tamir Rice. "We just felt like all of these families don't get to celebrate the joyous holiday season. Santa wasn't coming for Tamir."
In the filed complaint, the Mall of America claims last year's demonstrations "caused irreparable harm" including a decreased number of guests and reduced sales. According to the complaint, the mall is private property and not a public forum, and therefore without permission, the protesters are trespassing.
Montogomery said that the Mall of America's request for the group to delete social media posts promoting the demonstrations as "obscene and disgusting."
"We are not going to be intimated because black lives matter more than profit," Montgomery said.
Read the proposed restraining order:
Download PDF
Read the complaint:
Download PDF