Jury Selected For Trial Of NYPD Officer Accused Of Fatally Shooting Akai Gurley
A jury of 7 men and 5 women was selected. The trial begins on Monday.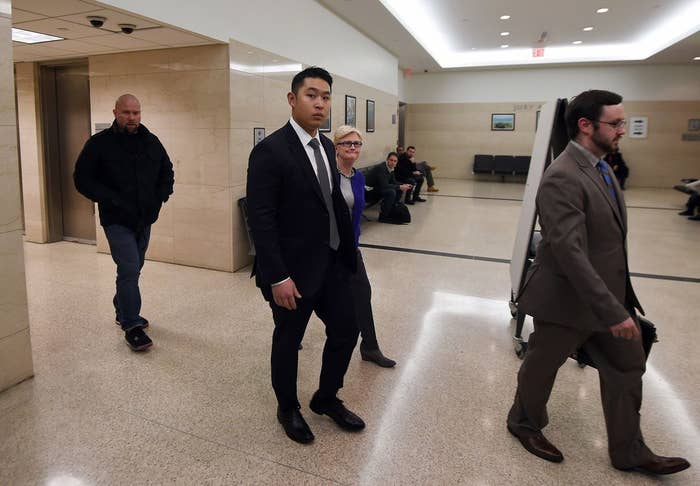 Seven men and five women will serve on the manslaughter trial jury for New York Police Department office Peter Liang, who fatally shot unarmed black man Akai Gurley in 2014.
The jurors are predominately white and young, with only two men appearing over the age of 45. Of the five females, four are white. Most appear to be in their 20s and 30s. There is only one black male on the jury.
Four alternate jurors were chosen – one man and three women. Jury selection began Wednesday and ended Thursday.
Similar to Wednesday's proceedings, Judge Danny Chun dismissed potential jurors due to hardships such as anticipated loss of income during what is expected to be a four-week trial.
Others were dismissed for expressing bias toward police officers and Liang.
"He's a young man, he's in his 20s, a son of Brooklyn," Assistant District Attorney Joe Alexis said. "Some people when they look at Mr. Liang say, 'I can't do this, It's heavy-handed that he's here. It's unfair that he's here.'"
At that point, a woman spoke up saying the defendant reminded her of her significant other, who is Asian, and her half-Asian son.
"I just feel like I have sympathy toward him," she said of Liang.
She was not selected to be on the jury.
Two other jurors broke down crying when questioned by the attorneys. One said she is extremely sensitive to graphic violence due to an incident in her past. Another potential juror said she "feels for people," because she heard defense attorney Rae Koshetz describe the Nov. 20, 2014 shooting as "an accident" on NPR.
One potential male juror – the only native New Yorker in his pool – was dismissed because he works for the New York City Housing Authority, which oversees the residences where Gurley was shot.
Judge Chun announced to the court that he excused a juror, who was not in the box, for passing a sympathy note to a woman who was crying.
Opening arguments are set to begin Monday and the trial is expected to last four weeks.