A Teen Was Stabbed To Death When A Gang Thought He Leaked A Sex Tape Of A Gang Member's Relative
Lesandro "Junior" Guzman-Feliz was stabbed to death with a knife and a machete. His family says a gang sent a note saying it was a mix-up.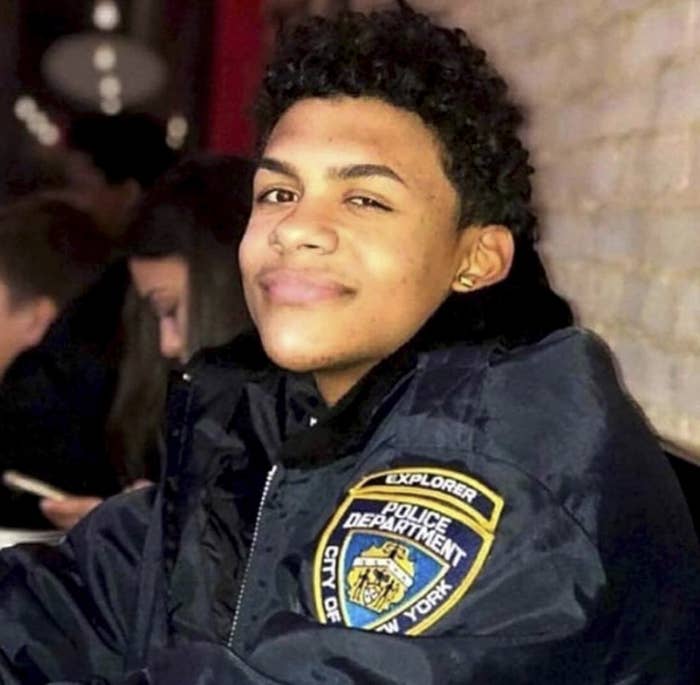 A 15-year-old New York teen was dragged out of a bodega and fatally stabbed with a knife and a machete in what his family says was a case of mistaken identity.

Eight men are in police custody in connection to the fatal stabbing of Lesandro "Junior" Guzman-Feliz, who was killed last week when suspected gang members reportedly mistook him for another teen who shared a video of a girl believed to be a gang member's relative having sex.
As the suspects fled in two cars, Guzman-Feliz, a student at the Dr. Richard Izquierdo Health and Science Charter School in the Bronx, was able to walk toward a nearby hospital, but collapsed on the street. He was pronounced dead at the hospital.

Six men were arrested Monday in New Jersey in connection to the killing and are awaiting extradition to New York. They were identified by police as Danel Fernandez, 21, of the Bronx; Joniki Martinez, 24, of Freeport, New York; Jose Muniz, 21, of Paterson; Manuel Rivera, 18, of the Bronx; Santiago Rodriguez, 24, of the Bronx; and Jose Taverez, 21, also of the Bronx.
Their arrest came one day after Kevin J. Alvarez, 19, was taken into custody in New York and charged with second-degree murder, manslaughter, and gang assault.
NYPD Chief of Detectives Dermot Shea on Tuesday announced an eighth man, Alvin Garcia of the Bronx, had also been arrested in connection to the attack.
"We will leave no stone unturned," Shea said at a news conference. "If you flee to Paterson [New Jersey], if you flee to Wyoming, we will get you."
Police released video footage of the moments leading up to the attack.
Guzman-Feliz's family members told the New York Post "top leaders" of the Trinitarios gang had apologized for the killing, saying they had got the wrong person.
"I know it doesn't mean a lot. It wasn't supposed to be him," the message from the gang to relatives reportedly said.
Police sources told the Post they're investigating whether the suspected assailants mistook Guzman-Feliz for the person who posted a sex tape involving a gang member's female relative on Facebook.
Shea told reporters on Tuesday that the NYPD is familiar with the Trinitarios and how they operate. He added that investigators believe the stabbing is connected to the attack of a 14-year-old boy in the Bronx last week.
"We are very committed to reducing gang violence in New York and we are getting very good at it," Shea said.

Guzman-Feliz's mother told the New York Times that her son wanted to be a police detective, having participated in the NYPD's Explorer program — a group for teens interested in careers in law enforcement.

"Since he was 5 years old, he used to love to play with the police toy cars and always said he wanted to be a detective," she said.

NYPD Chief of Department Terence Monahan tweeted, "The stabbing murder of this young man is among the most brutal crimes I've seen in my 36yr career."

Guzman-Feliz's death sparked outrage online as the hashtag #JusticeForJunior caught the attention of celebrities such as Cardi B, Rihanna, Carmelo Anthony, and CC Sabathia.

Cardi B, who is from the Bronx, made an $8,000 donation to a GoFundMe page set up for Guzman-Feliz's family. Rihanna also shared a photo of Guzman-Feliz with the caption, "can't stop thinking about this poor baby boy, and how his family must feel right now! I'm sincerely praying for your healing and #justiceforjunior."
And former New York Knicks player Carmelo Anthony visited a memorial site set up for the teen in the Bronx Monday.