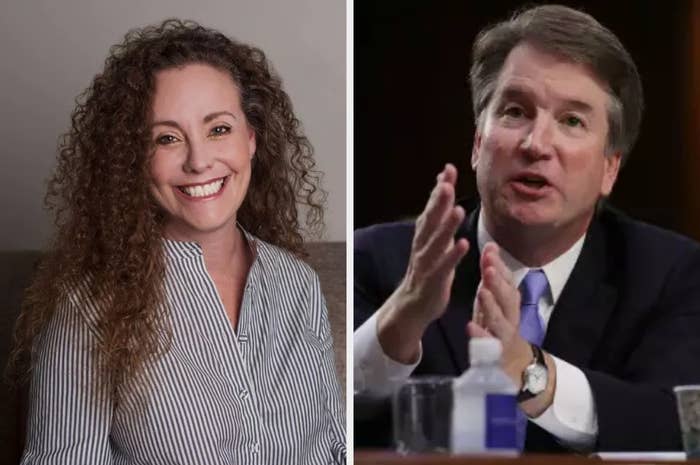 A third woman has come forward to accuse Brett Kavanaugh of sexual misconduct, and said in a sworn declaration that the Supreme Court nominee was present when she was gang-raped at a party in 1982.
Julie Swetnick said in the declaration, submitted to the Senate Judiciary Committee, that Kavanaugh and his friends, including Mark Judge, helped spike the drinks of girls at high school house parties to "cause girls to lose inhibitions and their ability to say 'no.'"

"I also witnessed efforts by Mark Judge, Brett Kavanaugh and others to cause girls to become inebriated and disoriented so they could then be 'gang raped' in the side room or bedroom by a 'train' of numerous boys," she wrote.
"I have a firm recollection of seeing boys lined up outside rooms at many of these parties waiting for their 'turn' with a girl inside the room," she said, adding that "these boys included" Kavanaugh.
"This is ridiculous and from the Twilight Zone. I don't know who this is and this never happened," Kavanaugh said in a statement sent by the White House.
In response to the new allegations, the White House released a letter signed by 60 of Kavanaugh's high school classmates calling the accusation "nonsense" and the tumultuous confirmation process "a disgrace." They say they "never witnessed any behavior that even approaches what is described in this allegation" nor did they ever meet Swetnick. The letter is similar to one written in response to the first allegations against Kavanaugh attesting to his character and signed by 65 women who said they knew him.
Swetnick's description of events is similar to what Judge's ex-girlfriend, Elizabeth Rasor, told the New Yorker. She recalled Judge telling her about an incident from high school involving him and others taking turns having sex with a drunk girl. Rasor said Judge viewed it as consensual.
"Mr. Judge vehemently denies Ms. Swetnick's allegations," lawyer Barbara Van Gelder told BuzzFeed News.
Swetnick wrote that she was gang-raped by a group of boys at a party in 1982 — and that Kavanaugh was present.
"During the incident I was incapacitated without my consent and unable to fight off the boys raping me," she wrote. "I believe I was drugged using Quaaludes or something similar placed in what I was drinking."
Swetnick is a Washington, DC, resident who has worked for the federal government — including in jobs with the Treasury Department, the Internal Revenue Service, and the Department of Homeland Security — and holds a security clearance. She said she first met Kavanaugh and Judge in the early 1980s when she was introduced to them at a house party in the DC area.
She estimated that she attended approximately 10 house parties at which Kavanaugh and Judge were present, and where she says she saw him drink excessively and act aggressively toward girls including "not taking 'no' for an answer."
She said their conduct included "the fondling and grabbing of girls without their consent."
Swetnick said she witnessed Kavanaugh pressing girls against him, "grinding" against girls, and attempting to remove or shift girls' clothing to expose their body parts.
Swetnick's lawyer, Michael Avenatti, told BuzzFeed News that Swetnick reached out to him for representation — making her the third woman to publicly accuse the Supreme Court nominee of sexual misconduct.
Kavanaugh was also verbally abusive to women, Swetnick alleges. She said she observed him making crude sexual comments "designed to demean, humiliate, and embarrass" the girls.
On Monday, when Fox News asked Kavanaugh about Avenatti's general allegations — before Swetnick came forward — the judge called it "totally false and outrageous." "I never done any such thing, known about any such thing," he said. "And yes, people might have had too many beers on occasion and people generally in high school — I think all of us have probably done things we look back on in high school and regret or cringe a bit."

A spokesperson for Sen. Chuck Grassley, the Republican chair of the Senate Judiciary Committee, confirmed receiving Swetnick's declaration.
"Committee lawyers are in the process of reviewing it now," the spokesperson said.
Grassley later tweeted that approximately 20 committee investigators are tracking down all allegations, talking to all witnesses, and gathering all evidence. He added that experienced federal agents are working alongside congressional investigators.
Avenatti told MSNBC he first approached the Senate committee on Sunday with his client's allegations. After supplying "detailed correspondence" to them on Monday, he said he never heard back, prompting him to release his client's sworn statement to the public on Wednesday.
Avenatti said that, like Kavanaugh's other accusers, Swetnick wants an FBI investigation into her claims.
"The allegations in this declaration are shocking. They are also detailed, and my client stands behind them 100%," Avenatti said.
"She has been fully vetted time and time again, and she is an honest and courageous woman," he said.
He also cautioned Republicans, and Kavanaugh himself, not to attack his client.
"If they try to come after my client or engage in some smear campaign, they better pack a lunch because we're going to respond twofold," he said. "We are going to respond double as it relates to force. So they better be very careful before they start spewing nonsense and trying to call my client a liar."
A judiciary committee hearing is set for Thursday to hear the testimony of Christine Blasey Ford, now a professor at Palo Alto University, who has said Kavanaugh sexually assaulted her at a high school party when he was 17 and she was 15.
Deborah Ramirez, who attended Yale University with Kavanaugh in the 1980s, told the New Yorker in a piece published Sunday that Kavanaugh exposed his penis to her at a college dormitory party when he was 18 years old.

President Trump has defended Kavanaugh, calling him "an absolute gem." The president had previously referred to the allegations against Kavanaugh as "false accusations."
Trump tweeted on Wednesday that Avenatti — Swetnick's lawyer and a prominent critic of the Trump administration who represented Stormy Daniels — "is a third rate lawyer who is good at making false accusations, like he did on me and like he is now doing on Judge Brett Kavanaugh."
President Trump has previously admitted to reimbursing his former lawyer Michael Cohen $130,000 for a 2016 hush agreement negotiated by him in relation to Daniels' alleged relationship with Trump.
Sen. Chuck Schumer called on Republicans to suspend Kavanaugh's nomination and for Trump to order the FBI to open Kavanaugh's background check investigation. And Democratic members of the Senate Judiciary Committee said Trump should withdraw the nomination.