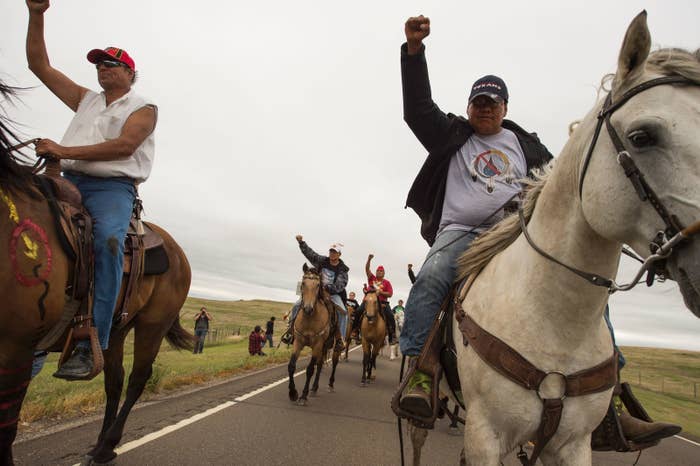 A federal judge denied Friday a Native American tribe's attempt to halt construction on part of the Dakota Access Pipeline, which would transport millions of gallons of crude oil from North Dakota to Illinois each day.
But the US Government issued a statement Friday saying they are voluntarily stopping construction until the land under a lake near the tribe's reservation is assessed because "important issues raised by the" tribe remain.
The Standing Rock Sioux Tribe filed a lawsuit against the US Army Corps of Engineers in July attempting to stop the construction, arguing that the pipeline "crosses areas of great historical and cultural significance," and "crosses waters of utmost cultural, spiritual, ecological, and economic significance."
The tribe argued that the US Army Corps violated regulations with it approved the pipeline and therefore construction should be stopped.
The court "concludes that the Corps has likely complied with the [National Historic Preservation Act] and that the Tribe has not shown it will suffer injury that would be prevented by any injunction the Court could issue," the judge's opinion reads.
A major concern for the tribe was the fear than an oil spill would contaminate drinking water since the pipeline would run beneath a lake near the tribe's reservation.
On Friday, the US government said it will not authorize construction of the pipeline bordering or under Lake Oahe until "it can determine whether it will need to reconsider any of its previous decisions regarding the Lake Oahe site under the National Environmental Policy Act (NEPA) or other federal laws."
"The Army will move expeditiously to make this determination, as everyone involved — including the pipeline company and its workers — deserves a clear and timely resolution," a joint statement from the Justice Department, the Department of the Interior, and the Department of the Army reads. "In the interim, we request that the pipeline company voluntarily pause all construction activity within 20 miles east or west of Lake Oahe."
Intense protests have been going on for more than six months and on Thursday, Standing Rock Sioux Chairman David Archambault II called for peaceful protests ahead of Friday's ruling.
"Out of an abundance of caution," North Dakota Gov. Jack Dalrymple activated the National Guard no Thursday.
"This court does not lightly countenance any depredation of lands that hold significance to the Standing Rock Sioux," the judge's opinion reads. "Aware of the indignities visited upon the Tribe over the last centuries, the court scrutinizes the permitting process here with particular care. Having done so, the court must nonetheless conclude that the Tribe has not demonstrated that an injunction is warranted here."
This is a developing story. Check back for updates and follow BuzzFeed News on Twitter.