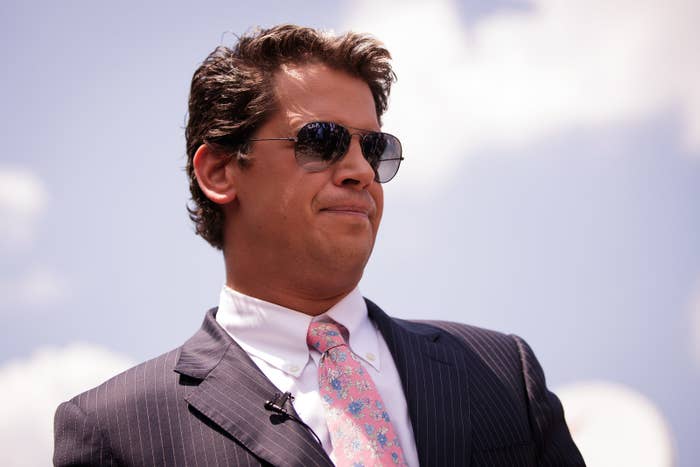 Milo Yiannopoulos denied defending pedophilia after a video surfaced showing him discussing sexual relationships between younger boys and older men.
In the video, which was shot in January 2016 but surfaced Sunday night, Yiannopoulos discusses sexual relationships between people in their 20s and 13 year olds, and says older men can benefit young gay men who are not supported by their families.
"We get hung up on this sort of child abuse stuff to the point where we are heavily policing consensual adults," Yiannopoulos says in the "The Drunken Peasants" podcast video.

"In the homosexual world, particularly, some of those relationships between younger boys and older men – the sort of 'coming of age' relationship – those relationships in which those older men help those young boys discover who they are and give them security and safety and provide them with love and a reliable, sort of rock, where they can't speak to their parents," he says.
The podcast's host tells Yiannopoulos that his comments "sound like Catholic priest molestation."
"I'm grateful for Father Michael," Yiannopoulos responds. "I wouldn't give nearly such good head if it wasn't for him."
CNN anchor Jake Tapper fired off a series of tweets Sunday night slamming Yiannopoulos for "normalizing" child sexual abuse and asking how the Conservative Political Action Conference can defend its decision to invite him to speak at its conference.
"Preying on children is the definition of evil," he wrote in one tweet. "Justifying it in any way is sick and disturbing. Has everyone lost their minds?"
Soon after Tapper's tweetstorm, a board member for the American Conservative Union — which plans the CPAC conference — tweeted that board members were not consulted about whether to invite Yiannopoulos to the conference.
"There's nothing about this that's amusing," he said in second tweet. "This isn't about free speech. This is about basic decency."
In a statement posted to Facebook Sunday night, Yiannopoulos called pedophilia "a vile and disgusting crime, perhaps the very worst."

He defended himself by saying that he should not have used the word "boy" when discussing those type of relationships because he was actually referring to "consenting adults."
"I shouldn't have used the word 'boy' when I talked about those relationships between older men and younger gay men. (I was talking about my own relationship when I was 17 with a man who was 29. The age of consent in the UK is 16.) That was a mistake. Gay men often use the word 'boy' when they refer to consenting adults. I understand that heterosexual people might not know that, so it was a sloppy choice of words that I regret," he wrote.

Despite that, he also called out people for "selectively editing videos" in an effort to discredit him.
"There are selectively edited videos doing the rounds, as part of a co-ordinated effort to discredit me from establishment Republicans, that suggest I am soft on the subject," he wrote. "If it somehow comes across (through my own sloppy phrasing or through deceptive editing) that I meant any of the ugly things alleged, let me set the record straight: I am completely disgusted by the abuse of children."
On Monday, following the controversy surrounding Yiannopoulos' comments, ACU Chairman Matt Schlapp released a statement saying the invitation has been rescinded.
"We realize that Mr. Yiannopoulos has responded on Facebook, but it is insufficient," the statement reads. "It is up to him to answer the tough questions and we urge him to immediately further address these disturbing comments. We initially extended the invitation knowing that the free-speech issue on college campuses is a battlefield where we need brave, conservative standard-bearers."