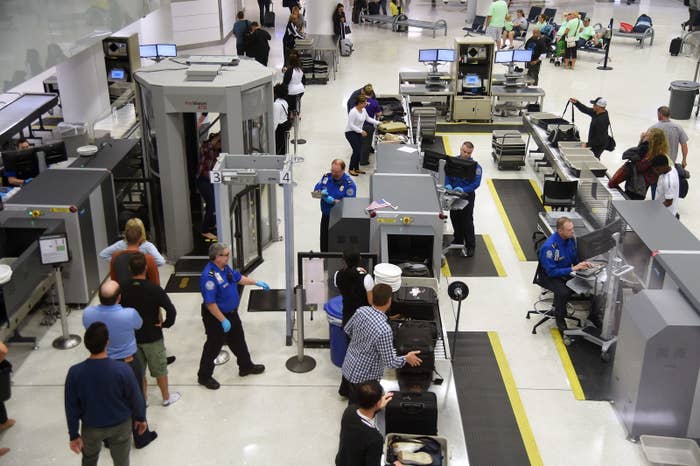 Approximately 180 airlines flying more than 300,000 people into the United States every day will have to comply with new "enhanced security screenings" from the Department of Homeland Security and TSA.
International and domestic airlines flying into the US from 280 airports across 105 countries will be required to implement the screenings — and if they don't, passengers on those flights will be barred from carrying any electronics larger than a cell phone on the aircraft, including in their checked luggage, a senior DHS official said.

"It is time we raise the global baseline of aviation security," DHS Secretary John Kelly said in a press conference on Wednesday. "We cannot play international whack-a-mole with each new threat. Instead, we must put in place new measures across the board to keep the traveling public safe and make it harder for terrorists to succeed."
Kelly said some measures will be noticeable by passengers, while others will be unseen. Measures will include enhanced screening of electronic devices and more thorough passenger vetting.
"We are telling passengers, for the most part right now, they may want prepare for a bit more extensive screening process," a senior DHS official said, adding that passengers will likely never see or notice a number of the measures TSA is implementing. The official also described the measures as "intensive."

DHS declined to detail exactly what the new security features will be — but said they are "intelligence based and threat driven."
"Will they [passengers] see more K9 dogs and more new generation technology? Perhaps," the official said. "Intensive doesn't always mean slower. It could be, but in some cases, in some overseas locations" carriers have already implemented the measures, they said.

In March, the US barred passengers from bringing laptops, tablets, and other devices as carry-on items on flights from 10 airports in the Middle East and North Africa, including in Dubai, Abu Dhabi, Istanbul, Amman, Cairo, and Morocco.

DHS released a statement in March citing the "2015 airliner downing in Egypt, the 2016 attempted airliner downing in Somalia, and the 2016 armed attacks against airports in Brussels and Istanbul" as examples of why increased security was needed.
The new security measures announced on Wednesday could lead to those bans being lifted, a senior DHS official said.
DHS officials did not provide a timeline by when airlines must comply with the new security enhancements.
If an airline refuses the new measures, a complete ban of electronics larger than a cell phone on the aircraft may be enacted, a senior DHS official said.
"With this announcement, we send a clear message that inaction is not an option," Kelly said on Wednesday. "Those who choose not to cooperate or are slow to adopt these measures could be subject to other restrictions, including a ban on electronic devices on aircraft or even a suspension of their flights into the United States."

Kelly said he believes most airlines will adhere to the measures.
A DHS official said Homeland Security and TSA expect less than 1% of carriers to not implement the security directives.

The DHS officials said it would be "a mistake" that puts "passengers at risk" if airlines don't comply.
DHS will be giving carriers "sufficient time to implement the measures in an orderly fashion," the official said. It will be up to each carrier to communicate with passengers — like they did in March — to alert them to changes of procedure.