Gawker's Lawyer Implies Government Possibly Altered Hulk Hogan Sex Tapes
Meanwhile, in a separate court hearing Thursday, the July 6 sex tape trial pitting the wrestling legend against the media site was postponed. No new date was set.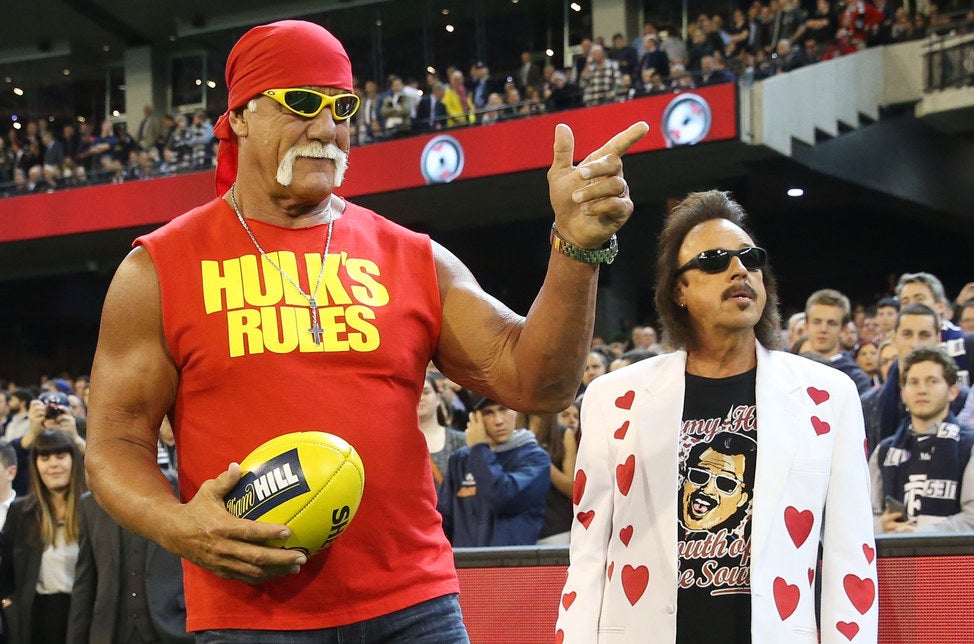 Lawyers for Gawker — which is in a legal battle with wrestler Hulk Hogan over its publication of his sex tape — implied in a federal court in Florida on Thursday that the federal government may have altered one of three DVDs of the encounter.
Hogan, whose real name is Terry Bollea, is suing Gawker for $100 million in damages in Pinellas County court for publishing a portion of the sex tape between him and Heather Clem, the wife of his friend, Bubba The Love Sponge Clem.
The alteration issue came up in a separate federal court hearing on Thursday discussing Gawker's obtaining three videos shot before and during the encounter through Freedom of Information laws.
Hogan appears to have asked the FBI to investigate how his sex tapes were made public, according to the transcript.
Gawker lawyer Seth Berlin said he recently viewed the three tapes and compared them to transcripts of the tapes created while they were supposedly in FBI possession. When Berlin watched the tape later, a portion didn't match up to the transcripts, he told the judge.
"There is something that is particularly of sensitive and of interest to us in the case and
that is the portion that has been overdubbed," he said, "So we have two CDs with two different video and for a portion of it the audio is the same."
"I want to understand how it is that between that moment when the FBI took possession of those DVDs and when I saw those tapes...on Tuesday, that audio
got changed," Berlin said, adding that "it smells like bad fish."
When Berlin said he wasn't trying to "impugn anybody at the FBI or in the U.S.
Attorney's Office," the judge shot back "you are."
Berlin then implied that Hogan may have worked with the FBI in some way.
"In my judgment Mr. Bollea has used the arms of the federal grand jury to try and suppress [evidence]," Berlin said. "I didn't know that the FBI was in the business of doing that."
"Of doing what?" the judge asked.
"Of trying to — of essentially trying to use arms of the federal government to help people," Berlin said. "I didn't know you could down to your local FBI office and say hey, can you prosecute this or investigate this to try and keep that from coming out. And that is what I think is going on here and that is wrong."
The judge replied, "Well, I would be very surprised if that's what's going on here. I realize why it's in your best interests to say something like that, but I would be very surprised to say that's going on."
Hogan's lawyer, Charles Harder, told BuzzFeed News, "Gawker accused Mr. Bollea today of being 'in cahoots' with the FBI. Nothing could be further from the truth. The accusation is 100% false and outrageous. Gawker clearly is desperate and making up lies to try to cover up its own illegal activity."
The FBI didn't immediately return a request for comment.
The federal prosecutor, Kenneth Stegeby, explained that there were two different types of video files, and that officials has a hard time redacting one of those types of files in order to comply with privacy laws.
In one video, he said, officials' "only option was to redact both the video and the audio and that is why the FBI left one minute and I believe 14, 15 seconds or so, and it's only of the bed, there are no people there."
"We have inquired of the FBI for more information about it, so we're pushing hard to figure out what's going on with this," Stegeby said.
"OK. All right," the judge said, adding it seemed like something they could "work out."
Here's a transcript of today's proceedings:
Download PDF
Meanwhile, an appeals court in Florida ruled in a 3-0 decision on Thursday to postpone the scheduled trial.
The trial was set to begin on Monday, July 6. No replacement date has been set.
The issue appears to stem when notice was served about the trial's start. From the opinion filed Thursday: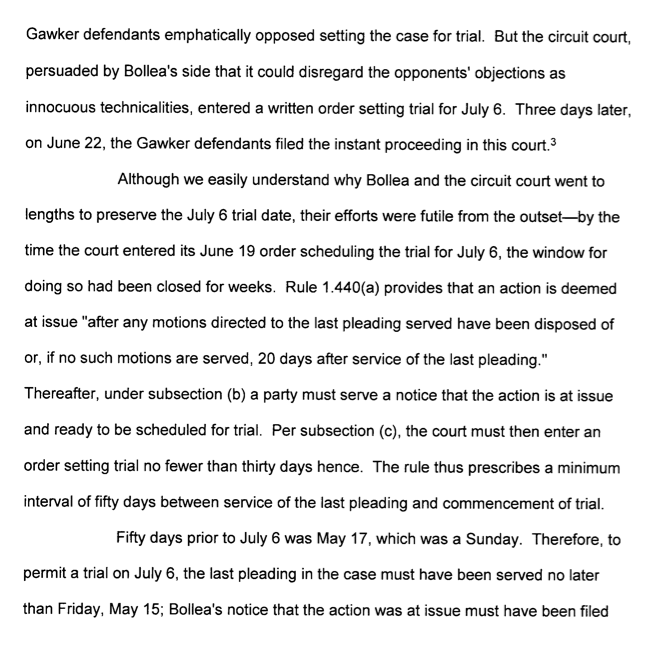 "The delay of the trial provides us the important opportunity to find out more about the three Hulk Hogan video recordings obtained by the FBI that appear highly relevant to the facts of the case," Heather Dietrick, Gawker's president and general counsel told BuzzFeed News. "We have the right to know the full story and are concerned because one of the tapes produced by the FBI today is incomplete while there is a serious irregularity in another tape."
Read the full opinion here:
Download PDF