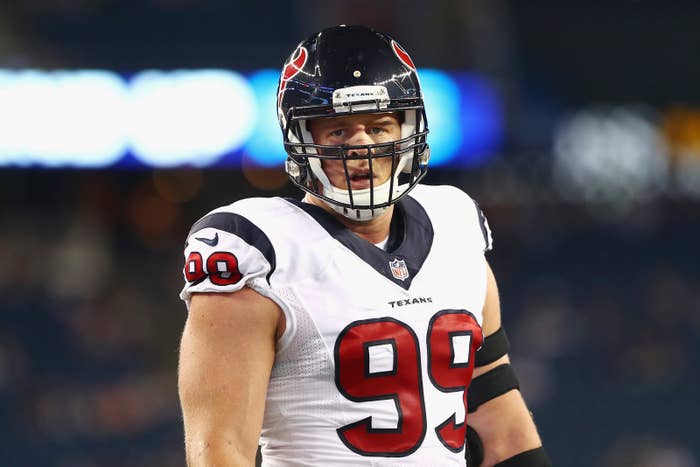 J.J. Watt, a defensive end for the Houston Texans, has raised more than $28 million for Harvey flood victims — an amount much higher than his initial goal.
Watt started his online campaign Sunday with the modest goal of raising $200,000 after Harvey made landfall in Texas leading leaving entire communities underwater.
On Thursday morning, Watt tweeted that the fundraiser had surpassed $28 million.
"I can't say thank you enough — celebrities, musicians, athletes, kids with their lemonade stands, people hosting fundraisers, businesses donating — I cannot thank everybody enough," the NFL player said in a video posted to Twitter.

Watt said that the money will go directly back to the people of Houston and that trucks are currently being filled with supplies that will arrive in Houston this weekend.

"We have things like water, food, clothing, generators, baby supplies, cleaning supplies," he said in his Twitter video. "But if there's something I'm not thinking of, please leave it in the comments, because we want to make sure we get these people exactly what they need so we help rebuild as quickly as we can."

More than 102,000 people have donated to Watt's fundraiser. Many donated $10, others $100, while others contributed larger amounts. Watt donated $100,000 himself and has been increasing the fundraiser's goal amount as more donations come in.
Watt has received the support of some celebrities including Ellen DeGeneres who, along with Walmart, donated $1 million to the fundraiser. Amy Adams Strunk, the owner of the Tennessee Titans, gave $1 million. The Green Bay Packers organization donated $100,000 to Watt's campaign.
On Thursday Drake donated $200,000 and left a comment on the fundraiser website saying Houston is "like [his] second home."

On Sept. 6, Jimmy Fallon donated $1 million.
"Houston has always been like a second home to me showing nothing but unconditional love and boundless support — and it's now my time to reciprocate," Drake wrote.
Watt said he will leave the link open to "see how high we can get it." BuzzFeed News has reached out to Watt for additional comment.
"Humanity is incredible," Watt said in one of his Twitter videos. "Houston, we're all thinking of you. ... Stay strong. We've all got your back."