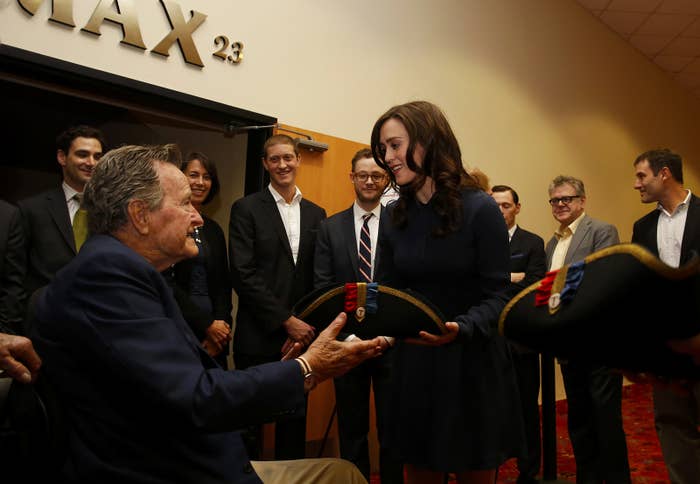 Former president George H.W. Bush apologized Wednesday for patting "women's rears" after an actor accused him of touching her from behind while they posed for a photograph in 2014.

In a subsequently deleted Instagram post, actor Heather Lind wrote that she met the former president while promoting a television show she was working on, AMC's Turn.
According to People magazine, Lind wrote that "he sexually assaulted me while I was posing" for a photo and allegedly told her a "dirty joke."
"He didn't shake my hand. He touched me from behind from his wheelchair with his wife Barbara Bush by his side," Lind wrote on Instagram. "He told me a dirty joke. And then, all the while being photographed, touched me again."
The 34-year-old actor wrote the former first lady "rolled her eyes as if to say 'not again,'" and that Bush's security guard told Lind she should not have stood next to the former president for the photo.

She added:
We were instructed to call him Mr. President. It seems to me a President's power is in his or her capacity to enact positive change, actually help people, and serve as a symbol of our democracy.

What comforts me is that I too can use my power, which isn't so different from a President really. I can enact positive change. I can actually help people. I can be a symbol of my democracy. I can refuse to call him President, and call out other abuses of power when I see them. I can vote for a President, in part, by the nature of his or her character, knowing that his or her political decisions must necessarily stem from that character.
Lind said she was speaking now about her experience following "the bravery of other women who have spoken up and written about their experiences."
Former president Bush's spokesman, Jim McGrath, issued a statement saying, "President Bush would never — under any circumstance — intentionally cause anyone distress, and he most sincerely apologizes if his attempt at humor offended Ms. Lind."
Hours later, Bush's office released another statement and apology saying that the former president, now 93, has been in a wheelchair for five years and "his arm falls on the lower waist of people."
Bush's office said the "joke" was something Bush "routinely tells" in order "to put people at ease." The statement acknowledged that Bush "has patted women's rears," although it was "intended to be a good-natured manner." The former president "apologizes most sincerely" to anyone who was "offended."
The full statement reads:
At age 93, President Bush has been confined to a wheelchair for roughly five years, so his arm falls on the lower waist of people with whom he takes pictures. To try to put people at ease, the president routinely tells the same joke — and on occasion, he has patted women's rears in what he intended to be a good-natured manner. Some have seen it as innocent; others clearly view it as inappropriate. To anyone he has offended, President Bush apologizes most sincerely.

Late Wednesday night, a second woman, Jordana Grolnick, an actor based in New York, came forward to say she had a similar story as Lind, according to Deadspin.
"I got sent the Heather Lind story by many people this morning," Grolnick said to Deadspin. "And I'm afraid that mine is entirely similar."

In 2016, Grolnick said she was working on a Maine production of Hunchback of Notre Dame, which Bush saw when he visited the theater over the summer.
During an intermission, he came backstage and the cast gathered for a group photo. Grolnick said she had been warned by other cast members that the former president was handsy, but she didn't think much of it because he's in a wheelchair.

"We all circled around him and Barbara for a photo, and I was right next to him," she said to Deadspin. "He reached his right hand around to my behind, and as we smiled for the photo he asked the group, 'Do you want to know who my favorite magician is?' As I felt his hand dig into my flesh, he said, 'David Cop-a-Feel!'"
Grolnick said everyone laughed "out of discomfort" when he made the comment and former first lady Barbara Bush "said something along the lines of, 'He's going to get himself put into jail!' to which we laughed harder."

Grolnick said she did tell people about the incident at the time, but also brushed it off because "I just thought, 'Whatever. He's a dirty old man.'"

Now, she said she felt it was important to speak up.

"I don't want to belittle Heather Lind for feeling violated," she said. "Now that the #metoo movement has brought this all to light, I think I should have been a little more alarmed to be touched so inappropriately by a man who was once the leader of the free world. He knows the power he has, and the reverence he deserves, even while sitting perhaps somewhat senile in a wheelchair. What I've come to realize is that if we tolerate these small comments and grazes from men on the street or former presidents, they might assume that it's ok with us, and they may take it as permission to do who-knows-what else. I realize that making light of the situation was the wrong move. It wasn't ok for him to do that to me. He wasn't able to give me a job or a movie deal, so I didn't feel compromised or pressured to do anything more, but the comments and assumptions about our bodies must stop, at all levels."
Deadspin also said they had received a tip about the alleged incident with Lind more than a year ago. They said the "joke" Bush told her while he groped her was the same joke: his favorite magician is "David Cop-a-Feel."

Deadspin also noted two Twitter users who had shared the line in tweets around a 2014 event and used the hashtags #ladieslunch and #GOPfail.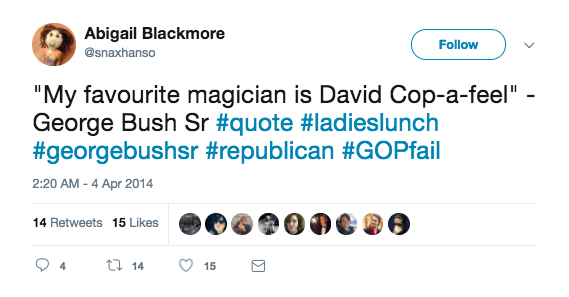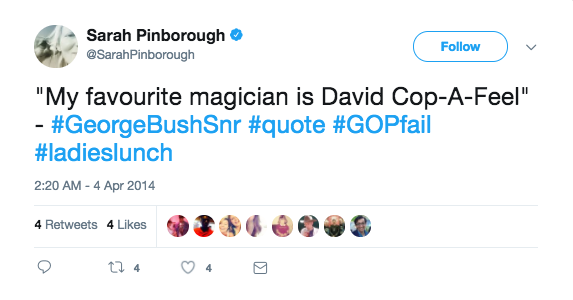 Monday, a third woman, Roslyn Corrigan, came forward to say that the former president groped her when she was 16 — and Bush was 79 — in 2003.
The incident took place at an event in The Woodlands, Texas, office of the Central Intelligence Agency, according to Time, where Corrigan's father and other family members had their pictures taken with Bush.
"The first thing I did was look at my mom and, while he was still standing there, I didn't say anything," Corrigan told the magazine. "What does a teenager say to the ex-president of the United States? Like, 'Hey dude, you shouldn't have touched me like that?'"
Corrigan said her initial reactions were horror and confusion.
"As soon as the picture was being snapped on the one-two-three he dropped his hands from my waist down to my buttocks and gave it a nice, ripe squeeze, which would account for the fact that in the photograph my mouth is hanging wide open," Corrigan said. "I was like, 'Oh my goodness, what just happened?'"

The allegations come after dozens of women have come forward in the past few weeks accusing movie producer Harvey Weinstein of sexual assault and harassment. Weinstein has denied any allegations of non-consensual sex.

Since the allegations of assault were first reported in The New York Times and the New Yorker, many more women have shared stories of assault and harassment against other influential people in Hollywood and other industries.
BuzzFeed News has reached out to Lind and Grolnick, as well as the two Twitter users, for additional comment.