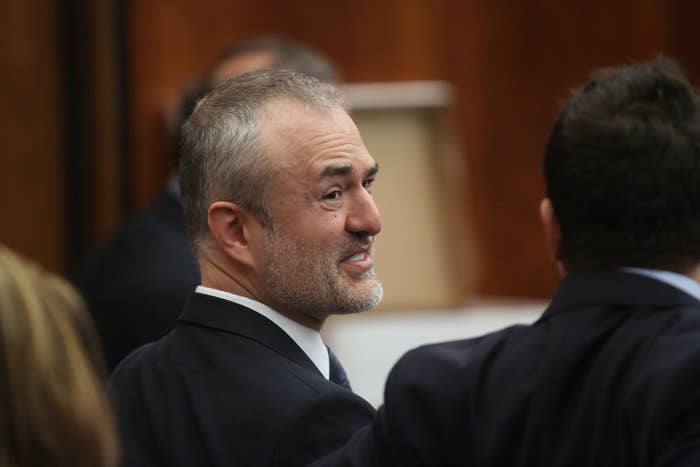 Gawker Media founder Nick Denton filed for Chapter 11 bankruptcy Monday in Manhattan federal court to prevent Hulk Hogan from seizing his assets.
A Florida jury ordered Denton to personally pay Hogan $10 million in an invasion of privacy lawsuit.
The former professional wrestler sued Gawker Media after the website published a 90-second excerpt of Hogan's sex tape.
In March, a Florida jury awarded Hogan a total of $140 million. Denton was ordered to personally pay $10 million of punitive damages.
The bankruptcy petition filed Monday lists Denton's assets as $10 million to $50 million and liabilities of more than $100 million, including Hogan's lawsuit and other pending litigation.
"I'm in a positive frame of mind, because our influential brands will soon be free to thrive under new ownership, and our very existence as an independent entity has been a triumph," Denton wrote in a memo to Gawker Media staff Monday. "For once, the journalistic cliché is appropriate: We've spoken truth to power. Sometimes uncomfortable truths. Sometimes gossipy truths. But truths. There is a price to pay for that, and I am paying it now. But we never gave up our souls in the pursuit of an easy life."
After the trial, it was revealed that tech billionaire Peter Thiel bankrolled Hogan's suit against Gawker.

"Peter Thiel's legal campaign has targeted individual writers like Sam Biddle, editors such as John Cook, and me as publisher," Denton wrote in Monday's memo. "It is a personal vendetta. And yes, it's a disturbing to live in a world in which a billionaire can bully journalists because he didn't like the coverage."
Gawker is appealing the verdict — a process that may not be resolved for several more months. Until the appeals court rules on whether to uphold the jury's judgement, Hogan is allowed to seize Gawker's — and Denton's — assets, according to Politico.
Gawker Media filed for bankruptcy in June.