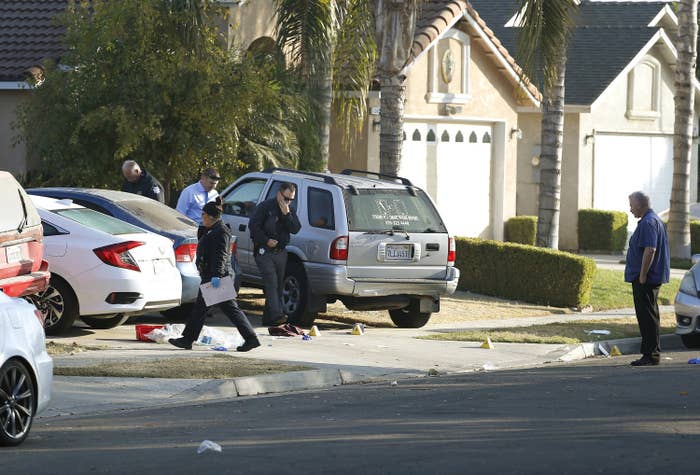 Four people were killed and six others injured Sunday night when at least two gunmen opened fire on a group of family and friends who had gathered to watch football in Fresno, California.

About 30 people were at the house when the suspects entered the outdoor area through an unlocked gate, Fresno Police Chief Andy Hall told reporters Monday.
The suspects began firing into the crowd with semiautomatic pistols around 8 p.m., Hall said. Approximately 16 men were in the backyard when the gunfire erupted.
The shooters later fled on foot. No arrests have been made as of Monday afternoon.
Hall said some of the people at the party were involved in a disturbance last week, but declined to elaborate. He said officials are investigating whether the two cases are related.
"This was not a random act. It was a targeted act of violence," Hall said Monday, adding that none of the victims have gang affiliations.
When officers arrived on the scene, they found three men dead and several others injured. A fourth man later died at the hospital. All of the victims were Asian men, Hall said.
The victims were identified by the Fresno County coroner's office on Monday as Xy Lee, 23, Phia Vang, 31, Kalaxang Thao, 40, and Kou Xiong, 38, all residents of Fresno. Xiong, authorities said, lived at the house where the shooting occurred.
Police said two of the people killed were well-known singers in the Fresno Hmong community, including 23-year-old Lee.
Six people were taken to the hospital with non-life-threatening injuries. None of the children who were at the party were injured.

Hall said everyone at the house is cooperating with the investigation.
"These are good people. They were just simply having a party," he said.