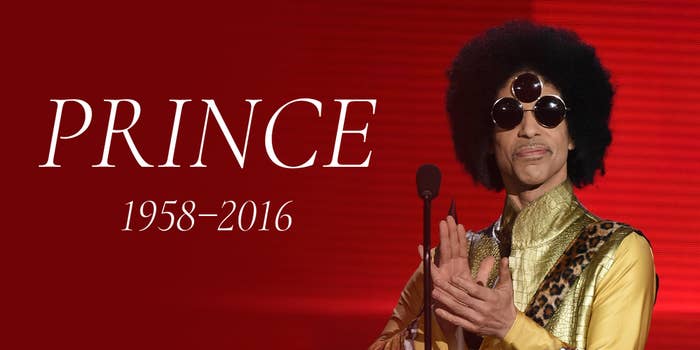 Prince, the legendary pop musician and pioneer who maintained a broad cultural impact for more than three decades, died Thursday at 57.
"It is with profound sadness that I am confirming that the legendary, iconic performer Prince Rogers Nelson, has died," his publicist, Yvette Noel-Schure, said. "There are no further details as to the cause of death at this time."
The Carver County Sheriff's Office deputies responded to a call at 9:43 a.m. and found Prince unresponsive in an elevator, according to a statement from the department. First responders performed CPR but were unable to revive him. He was pronounced dead at 10:07 a.m.
The sheriff's office said it is investigating the circumstances surrounding Prince's death. An autopsy to determine the cause and manner of his death will be performed on Friday, the Midwest Medical Examiners Office said in a statement.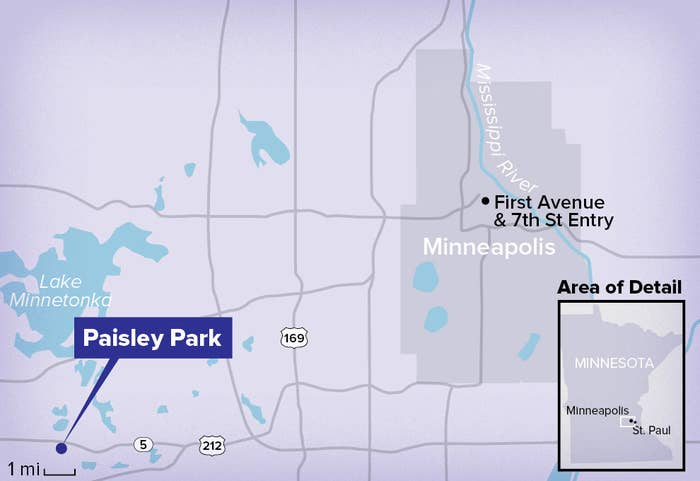 Prince is credited as one of music's most influential artists who largely shaped and reimagined dance music by transcending the boundaries between traditional pop and funk, rock and R&B.
Born in Minneapolis, Prince released 39 studio albums — which were entirely self-produced — and launched himself into international superstardom. Known as a trendsetter and advocate for musicians' rights, Prince launched into stardom with the 1984 semiautobiographical movie Purple Rain.
He won seven Grammys, sold more than 100 million records, and won an Academy Award for Best Original Song Score for Purple Rain in 1985. He was inducted into the Rock and Roll Hall of Fame in 2004.
His performance at the Super Bowl halftime show in 2007 was regarded as one of the best ever.
This past Saturday, Prince hosted a party at Paisley Park — the compound where he lived, recorded music, and hosted parties and concerts — and he posted photos of the dance party on Twitter. He reportedly didn't perform.
A representative for Prince's ex-wife Mayte Garcia referred a request for comment to a statement she gave to People, in which she said she was "beyond deeply saddened and devastated."
The couple, who divorced in 2000, experienced tragedy in 1996 when they lost their son a week after he was born to a rare genetic developmental disorder.
"I loved him then, I love him now and will love him eternally," Garcia told People. "He's with our son now."
There was also an outpouring of sadness and condolences from celebrities on Twitter.
"And just like that...the world lost a lot of magic," Katy Perry tweeted.
Celebrities including Billy Idol, Boy George, Shaq, Ellen DeGeneres, and Wyclef Jean called Prince a visionary, a legend, and larger than life.
"It is impossible to imagine him not being here," Sheena Easton, a frequent collaborator with Prince, said in a statement to BuzzFeed News. "The world of music was forever changed the day he picked up his guitar. His talent was breathtaking, his heart was kind, and all of us have been blessed to have a glimpse into this sweet and magical soul."
Prince's protégé, Sheila Escovedo or "Sheila E.," told CNN on Friday that she is "going to miss my friend."
"It's as simple as that," she said. "I'm going to miss my friend."
In a statement to BuzzFeed News, Carmen Electra, who dated Prince, said she will always love him.
"I was so shocked and heartbroken to hear about the loss of my mentor, Prince," she said. "The world has lost a truly incredible spirit and musical genius. What a blessing it is to be one of the chosen ones who had the chance to work so closely with him."
President Obama said in a statement on Thursday that he and Michelle join fans around the world in mourning the loss of Prince, who he called "a virtuoso instrumentalist, a brilliant bandleader, and an electrifying performer."
"Few artists have influenced the sound and trajectory of popular music more distinctly, or touched quite so many people with their talent," Obama said. "'A strong spirit transcends rules,' Prince once said — and nobody's spirit was stronger, bolder, or more creative."
Minnesota Governor Mark Dayton released a statement praising Prince's contributions to the state.
"Prince, and his music, defined an era," Dayton said in a statement. "His tremendous talent was matched only by his generosity and commitment to improving his community. Minnesotans and our nation mourn the loss of a great artist today; one who has left an unforgettable mark on music history, and whose contributions to the betterment of our state will be remembered for years to come."
Prince self-produced his first hit, the 1978 self-titled Prince, which put the artist at the helm of a new age of dance pop music. Over the course of Prince's career throughout the '80s and '90s, he gained notoriety for his musical range and overtly sexual performances where he upended masculine gender stereotypes by wearing low-cut tops and tight, sparkling costumes.
He sang out over the bass-heavy title track of his 1981 album, Controversy, "Am I black or white? Am I straight or gay?"
Prince's music defied categories by blending pounding upbeat drumbeats with funky bass twangs over layers of electric guitar, as in "Let's Work" off Controversy, while also producing heart-wrenching love anthems like "Purple Rain."
"Just because I don't like categories, all I can think of is inspirational," said Prince in an interview with Larry King in December 1999. "Music that comes from the heart falls into that category. People will really feel what it is they're doing. Ultimately all music can be inspiration, and that's why it's so important to let your gift be guided by something more clear."
Prince's plane was forced to land last Friday and he was hospitalized for a short time, WCCO reported. His representatives said he was recovering from the flu, which caused him to cancel two shows earlier in April.
On Thursday, the Carver County Sheriff's Office confirmed a death was being investigated at Paisley Park in Minnesota.
Here is the scene outside Prince's home:
And in Minneapolis:
Read some of BuzzFeed's coverage of Prince here: