Dangerous NYPD Assignment In The Spotlight At Officer's Trial After Bronx Shooting
NYPD Officer Peter Liang is charged with fatally shooting Akai Gurley during a "vertical patrol." On Thursday night, two NYPD officers were shot and injured while performing the same task.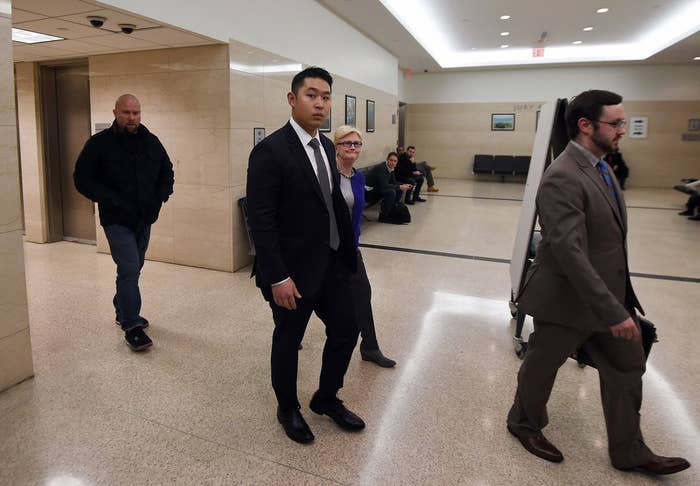 Prosecutors and defense lawyers in the manslaughter trial of rookie NYPD officer Peter Liang argued Friday about whether to mention a shooting that occurred Thursday night in a Bronx housing development that injured two police officers conducting a what is known as a vertical patrol.
On Thursday night, two officers with two years on the force were shot in the sixth floor stairwell of the Melrose housing complex in the Bronx. Both are in stable condition.
In November 2014, Akai Gurley was fatally struck in the stairwell of a Brooklyn housing development when a bullet fired from Liang's gun ricocheted off a wall and tore through his chest. At the time, Liang and his partner were conducting a routine vertical patrol – where officers ascend to the top floor of a building and walk down the stairs, checking every floor – of Brooklyn's Pink Houses.
On Friday, assistant district attorney Joe Alexis requested that Judge Danny Chun not allow the defense to reference the Bronx shooting in any way, claiming the two incidents are unrelated.
But Liang's lawyer, Robert Brown, disagreed, saying the Bronx shooting demonstrates the dangers a young officer faces patrolling a New York City Housing Authority Building, and referenced the remarks Mayor Bill de Blasio made last night.
"It's another example of what our officers confront every single day keeping us safe, not only in the streets of New York City but in the stairwells and the hallways of our public housing developments," the mayor said at a press conference Thursday night.
Patrolmen's Benevolent Association president Patrick Lynch said the dangers of vertical patrolling is why officers, like Liang, heave their weapons drawn while performing the job.
"The simple truth is that there is nothing 'routine' about 'routine vertical patrol' in our city's housing projects," Lynch said in a statement.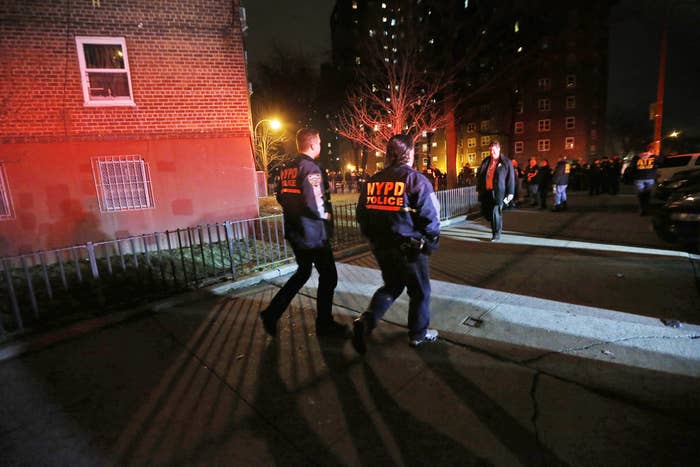 David Moskowitz, a NYPD officer who retired in 2006, testified that he was trained to conduct vertical patrols in stairwells and roofs with his gun out and pointed in a safe direction.
"Stairwells are inherently dangerous places," Moskowtiz said. "Things happen quickly."
He also said that stairwells tend to have poor radio reception – a point defense lawyers tried making, claiming Liang did in fact try to call for an ambulance.
"You can be pressing the microphone button and speaking over the radio, calling for assistance and nobody hears you," Moskowitz said.
Ultimately, Judge Chun urged the jurors to "exercise prudence and caution" in reading the news, because Liang's case may be mentioned and jurors are not permitted to read outside material about the case. Chun didn't explicitly tell the jury that two officers were shot on Thursday.
"What starts as an other article may have parts of this case intertwined in it," Chun said. "You are the triers of facts and I would not want you to be influenced by any media coverage of this case that is out there."
During a short day in court Friday, the defense lawyers called on police officers to testify on police training and firearm safety.
Robert Lamonica, who retired from the force in 2012 and is an expert in firearms analysis and operability, testified that all NYPD issued guns require 12 pounds of trigger pull pressure to discharge.
Last week a Police Academy trainer in firearm safety testified that the acceptable range for police service weapons is 10 to 12 pounds.
"Is a range [of pounds] acceptable," Brown asked Lamonica on Friday.
"Not to my knowledge," Lamonica responded, adding that he does not know where, if at all, the 10 to 12 pounds range is in writing.
Lamonica testified that the average trigger pull on Liang's gun – calculated by readings from testing the tip, middle, and back end of the trigger – was 11.5 pounds, arguing it was less than the required amount.
Liang is expected to testify on Monday.