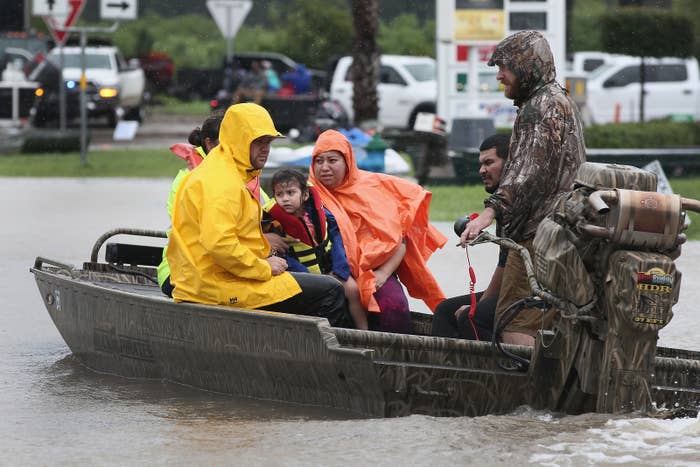 Jessica Decker woke up Friday morning at her San Francisco home, having the day off from work, and began reading the news about the hurricane set to make landfall in Texas that night.

Decker, who has a background in science visualization, saw several tweets regarding relief efforts, including where shelters will be located and information about food drives.
She put a call out on Twitter, tagging people she has worked with previously, asking if they'd want to map resource information. She was involved in open-mapping projects in the past, and wanted to see how it could help with what promised to be — and became — a historic, devastating, and deadly storm.
Danny McGlashing, a coder, responded and the two paired up to create a map of resources. They called their project Harvey Relief.
Since Friday, Harvey Relief teamed up with another group — Harvey Rescue — that was searching and mapping rescue requests on Twitter from people who were stranded. Harvey Rescue was organized online by a group of people who had previously formed a private Twitter DM.
The groups have received the technical support of a mobile data collection app and have hundreds of volunteers working around the clock, scraping Twitter to log and map the information Houstonians are disseminating online.
"This community of complete strangers has come together, and we are literally saving lives," @RogueEPAstaff, who helped create Harvey Rescue, told BuzzFeed News.
The group doesn't have a scientific methodology when it comes to collecting the data and mapping it out. The volunteers collect the SOS tweets and vet them "as much as we can" by calling and texting the phone numbers provided, Brooke Binkowski, who serves as the group's spokesperson, told BuzzFeed News.
"We're allowing for a certain margin of error," Binkowski said, adding that she knows there will be duplicate entries in the data and that some might be submitted from pranksters — a small price to pay if it means rescue teams will reach people in need, she said.

The group is working to fix the duplicate entries, but could not provide a timeline for when they expect that to be completed.
Harvey Rescue is comprised of about 25 people and was formed in November 2016 after the US presidential election. On Twitter, the users — who met by tweeting with the hashtag #AltGov — created a private DM group where they talk about everything from politics to their families and send each other funny memes.
They're located all across the country, and many have never met in person — or even know each other's real names. They refer to each other by their Twitter handles and call each other friends.

"It's obvious what we're about," Twitter user @alt_noods told BuzzFeed News when asked about the group's politics. "But this action has nothing to do with that. We're 100% country over party."
"We have a lot of people who were in government when Katrina happened," @alt_noods added. "We didn't want that to happen again."
On Sunday morning, one user suggested they collect and map out the tweets with people asking for immediate help.
"We were having a conversation as Harvey started coming in and initially wanted to make sure some of our people in Texas were safe," @RogueEPAstaff told BuzzFeed News. "The conversation turned to how the 911 system was not able to keep up with the volume of calls."
At the time, local law enforcement agencies were urging people not to use social media to report their whereabouts and instead call 911.
Several people reported on Twitter and in several news outlets that their 911 calls were not going through and that they waited on the phone for a long time.
"People need to be rescued, they're desperate, of course they're going to connect on social media," @RogueEPAstaff told BuzzFeed News.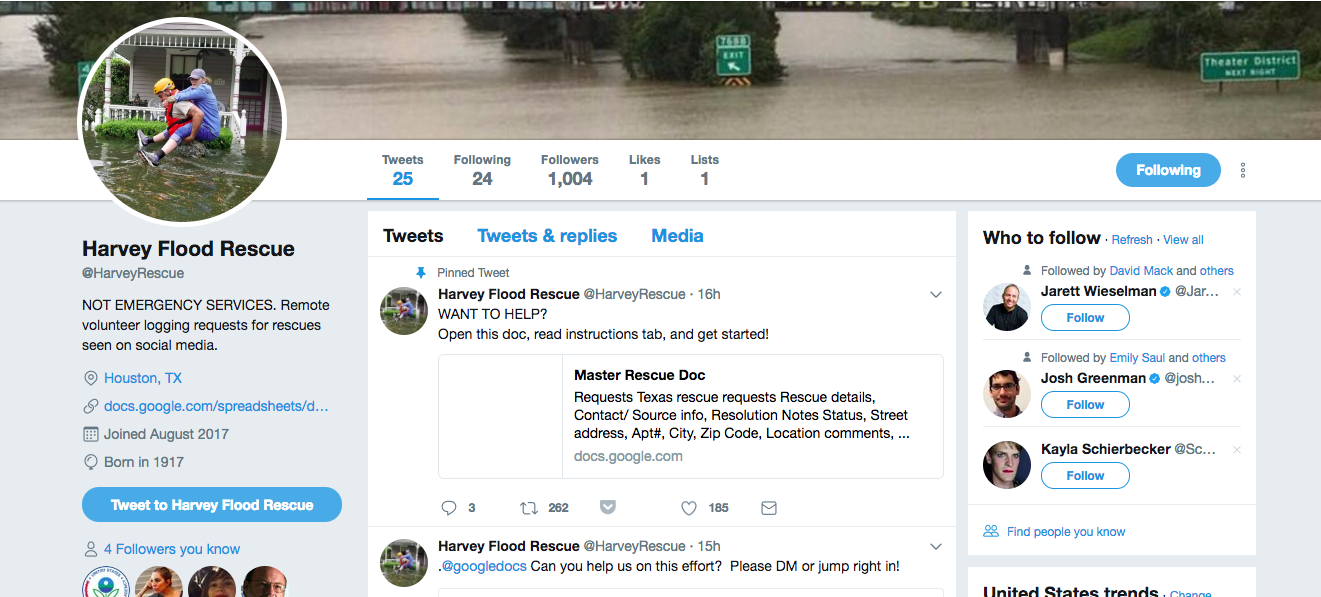 As the need for help grew, Harvey Rescue started to bring in more people including their family and friends who had data and mapping experience, Binkowski, who is also the managing editor for Snopes.com, said.

Binkowski said she estimates there are about 200 volunteers involved.
"Everybody is working around the clock," @RogueEPAstaff said, adding that the work was overwhelming. "I've done emergency responses at the federal level, and they say, if it feels like you're drinking from a firehose, you're doing it right."
By Sunday evening, Harvey Rescue and Harvey Relief joined forces. While they're providing similar services, they're still operating as two distinct groups.

"We paired up with [Harvey Rescue] on Sunday and we have just volunteers mapping and updating both of these lists day and night," Decker said.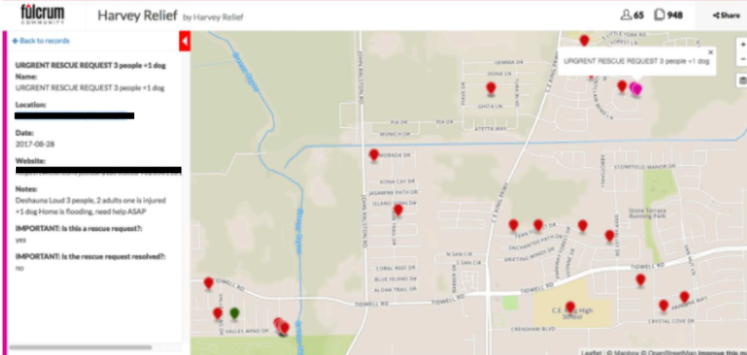 Decker also reached out to Fulcrum, a data-collection app, and requested to use the company's Community initiative — free and open data-collecting crowdsourcing project specifically created for natural disasters such as earthquakes, tornadoes, and hurricanes.

Anthony Quartararo, CEO of Spatial Networks, Fulcrum's parent company, told BuzzFeed News that through this tool, people on the ground in disaster areas are able to collect data that are relevant to their humanitarian work.
Quartararo said that Fulcrum Community — which launched earlier this year — approved Decker's request and anybody with access to Fulcrum's website or mobile app is able to view the map created by Decker and her team.
About 1,000 entries have been put into Fulcrum related to Harvey rescue and relief efforts, Quartararo told BuzzFeed News.
Volunteers from Harvey Rescue and Harvey Relief told BuzzFeed News their work has identified a service that's needed and was missing.
@RogueEPAstaff told BuzzFeed News that she hopes relief organizations such as FEMA and Red Cross "can take up this work and make it to something that's usable long term."
"I genuinely thought I'd log on and help out for a few hours on Friday," Decker said. "I had the day off, so I was going to donate some time. All of a sudden you realize nobody is on this, so we just had to do it."
If you've been impacted by the storm in Texas or have a tip about rescue, relief, government, or aid efforts, call the BuzzFeed News tipline at (646) 589-8598. You can also find us on Signal, email, and SecureDrop here.