Teen Turns Himself In After On-Air Sexual Assault Of Belgian TV Reporter
Esmeralda Labye had her breast grabbed and neck kissed while reporting from a festival in Cologne, Germany.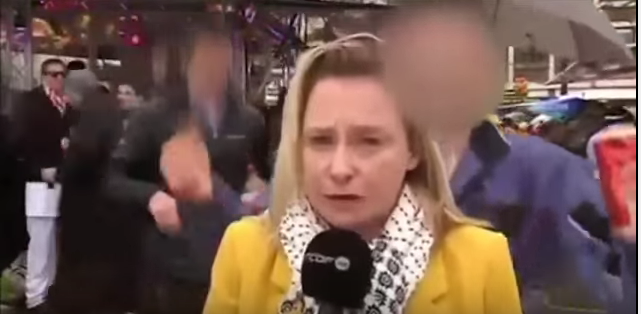 A 17-year-old man has turned himself in to police in Cologne, Germany, after a Belgian journalist covering a city carnival was sexually assaulted during a live television report.
Esmeralda Labye, a reporter for Belgium's RTBF, had her breast grabbed and neck kissed while reporting from Cologne's Carnival celebrations.
In a statement released Friday by Cologne police, authorities said the teen, who was accompanied by his mother, told officers he appeared in the images taken of the incident.
Police said the teen denied having approached the journalist with "sexually motivated intentions."
It is unclear if he has been charged in the incident. Police said the investigation is still ongoing.
According to the BBC, there were 22 incidents of sexual assault on the first night of Carnival.
In a piece published on the station's website, Labye recounted Thursday's assault.
"Two or three men gathered behind me and attempted to make themselves the center of my attention," she said. "I was focusing on the broadcast, and then I felt a kiss on my neck."
She continued to say that a young German man then sang in her ear, "voulez-vous coucher avec moi ce soir? [Would you like to sleep with me tonight?]"
"Then, I feel two hands rest on my shoulders," she said. "I see the person behind me mime an obscene gesture, a sexual practice that has no place on camera."
Cologne has been on high alert after hundreds of women filed complaints of having been sexually assaulted on New Year's Eve.
RTBF News Director Jean-Pierre Jacqmi said this week's incident is unrelated to those of December 31, 2015.
"For those who still have doubt after having seen the images, our journalistic analysis and testimony of our colleagues allows us to confirm that what happened in Cologne with our crew is not linked to the events that happened in the same city on December 31." Jacqmi said in a statement. "Except of course, the non-respect of women which is evident here by men from all walks of life."
The station has removed the video of the assault.
"We do not have to cause a sensation with animated images that repeat these attacks," Jacqmi said.