Brock Turner's Lawyer Asked The Stanford Victim About Her Drinking Habits
The lawyer focused his questions on the woman's behavior the night of the assault.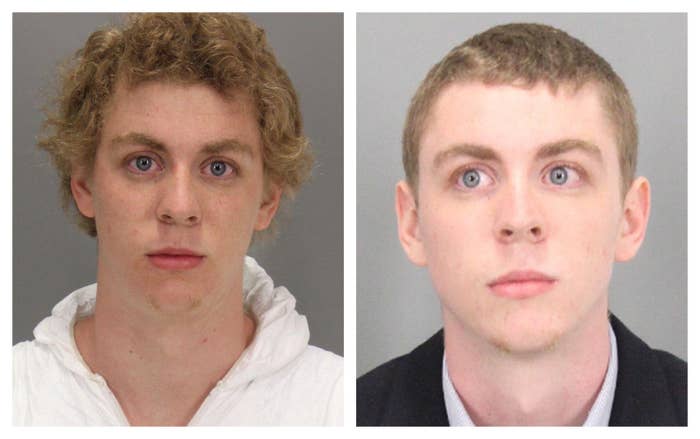 A lawyer representing Brock Turner, the former Stanford student convicted of sexually assaulting an unconscious woman, focused his questions for the victim during the trial on her behavior leading up to the assault — such as her being "silly" and about her "chugging" alcohol.
Turner, 20, was sentenced in June to six months in county jail for sexually assaulting the woman at a Stanford fraternity party in 2015. The woman, now 23, was found unconscious behind a dumpster, half naked, with dirt and pine needles on her body by two graduate students, who restrained Turner and called the police.

The defense attorney, Mike Armstrong, told BuzzFeed News Tuesday the woman "stated earlier" that she had no memory of either the assault or of Turner so "any questioning would have been useless."
A transcript of the woman's testimony was released Tuesday afternoon by the Santa Clara County Superior Court. Here's a portion of the cross-examination:
Q: You also talked about, fairly shortly after you got to the Kappa Alpha house, pretending to welcome people and singing and embarrassing your sister. That's what you decided to do at that time; right? That was an intentional thing.

A: Intentional to welcome people or to be silly?

Q: To be silly.

A: Yes.

Q: Okay. And it would be the same thing when you drank the quantity of vodka in the red cup. You drank it all down at once; right?

A: Yes.

Q: Like, chugged it.

A: Yes.

Q: Okay. And that was a decision you made; right?

A: Yes.
Armstrong then asked the woman whether she had ever before blacked out from drinking.
"And you did a lot of partying in college; right?" Armstrong asked.

"I did a decent amount," the woman responded. "I would not consider myself a
party animal."
He concluded the cross examination by asking, "And your dinner consisted of broccoli and rice." The woman responded, "yes."

Armstrong didn't reference Turner or the sexual assault during the cross-examination. After redirect examination by the assistant district attorney, Armstrong did not have any further questions, the transcript shows.
The woman slammed the defense's "twisted logic" in a powerful statement she read during Turner's sentencing hearing. The woman's lawyer didn't immediately return a request for comment.
"To listen to your attorney attempt to paint a picture of me, the face of girls gone wild, as if somehow that would make it so that I had this coming for me," the statement reads.