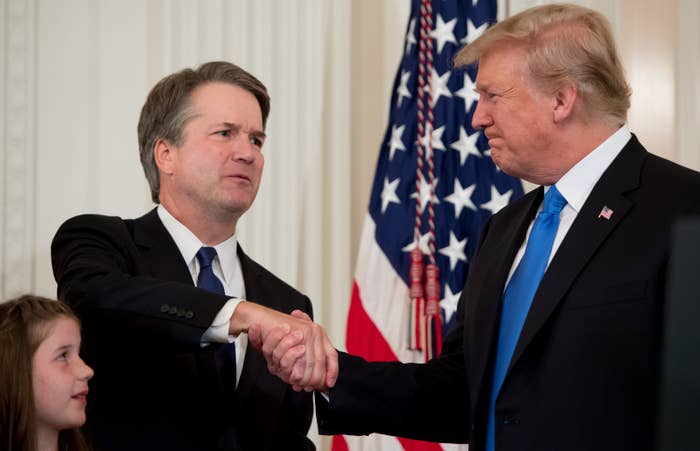 President Donald Trump directly attacked the second woman to accuse Supreme Court nominee Brett Kavanaugh of sexual misconduct, using her memory gaps and the fact that she was drunk at the time of the alleged incident as a way to discredit her allegations.
Deborah Ramirez, who attended Yale University with Kavanaugh in the 1980s, told the New Yorker in a piece published Sunday that Kavanaugh exposed his penis to her at a college dormitory party when he was 18 years old.

"And she said well it might not be him, and there were gaps, and she was totally inebriated and all messed up," Trump said of Ramirez shortly after his address at the United Nations General Assembly Tuesday. "She doesn't know it was him but it might have been him and 'Oh gee let's not make him a Supreme Court judge because of that.'"
"This is a con game being played by the Democrats," Trump added.

Despite Trump's dismissing Ramirez, earlier in the morning, Press Secretary Sarah Huckabee Sanders said the White House is open to having Ramirez testify before the Senate Judiciary Committee.
Appearing on Good Morning America on Tuesday, Sanders was asked whether Ramirez should also be allowed to testify.

"Certainly we would be open to that, and that process could take place on Thursday," Sanders said.
"Again the president has been clear. Let them speak but let's also let Brett Kavanaugh speak and let's let him tell his side of the story before we let allegations determine his entire future."
When posed the same question Tuesday, Trump seemed less open to having Ramirez share her story before the committee.
"The second accuser doesn't even know, she thinks maybe it could have been him, maybe not," Trump said. "This is a person, and this is a series of statements that is going to take one of the most talented intellects from a judicial standpoint in our country – keep him off the U.S. Supreme Court? He has the chance to be one of the greatest justices in the United States Supreme Court. What a shame."
Ramirez's lawyer, John Clune, tweeted that he and his client have been in touch with the Senate Judiciary Committee to determine the best way to provide additional information.
"We remain adamant that an FBI investigation, where all witnesses are questioned under threat of perjury, is the only way to get the truth," Clune tweeted. "Our client remains willing to cooperate with such an inquiry."

A committee hearing is set for Thursday to hear the testimony of Christine Blasey Ford, who has said Kavanaugh sexually assaulted her at high school party when he was 17 and she was 15.

While Democrat senators on the Judiciary Committee will question Ford directly, the Republicans on the panel, who are all white men, have hired a woman lawyer to question Ford and Kavanaugh on their behalf.
The woman, who Sen. Chuck Grassley refused to name out of concerns for her safety, has experience in sex crimes prosecutions.
Grassley's office did not immediately respond to a BuzzFeed News request for comment.
Former Senator Dennis Deconcini, an Arizona Democrat who participated in Anita Hill's hearing in 1991 when she accused then-Supreme Court nominee Clarence Thomas of sexual harassment, told BuzzFeed News he believes Republican senators should question Ford.
He said that if there was a formal investigation into the allegations underway, then there would be merit in hiring an outside professional — such as a former prosecutor or a trial lawyer — to ask questions.
He said he sees how 11 men asking a woman questions about her allegations "doesn't look good, particularly if there's any severe doubt or an accusatory statement made about the woman alleging misconduct."
Deconcini added that the Hill hearing "could have been handled much better, I must say."
Ultimately, Deconcini said he stands by his choice to vote for Thomas. He was the only Democrat on the Judiciary Committee who voted to send Thomas to a full Senate vote with a "favorable recommendation" — which ultimately failed. Thomas was then sent for a full vote "without recommendation."
On Tuesday, the New York Times reported that Republican senator Lisa Murkowski — who is not on the Judiciary committee but is one of the two women Republican senators who supports abortion rights — said it was important that Ford have her say.
"We are now in a place where it's not about whether or not Judge Kavanaugh is qualified," Murkowski said. "It is about whether or not a woman who has been a victim at some point in her life is to be believed."

Asked if she believes there should be an FBI investigation into Kavanaugh, Murkowski responded, "It would sure clear up all the questions, wouldn't it?"

Meanwhile, attorney Michael Avenatti — a prominent critic of the Trump administration who represented Stormy Daniels — has tweeted that he has "credible information" related to Kavanaugh from another woman, though he hasn't made public any of that alleged evidence.

On Tuesday the lawyer tweeted that it is up to his client to decide when to reveal her identity — but that it is expected to happen within the next 36 hours.