Betsy DeVos's Commission Says A Way To Prevent School Shootings Is To Drop Disciplinary Protections For Minority Students
The Trump administration's school safety commission report also recommends adding "highly trained armed personnel" if schools choose to do so.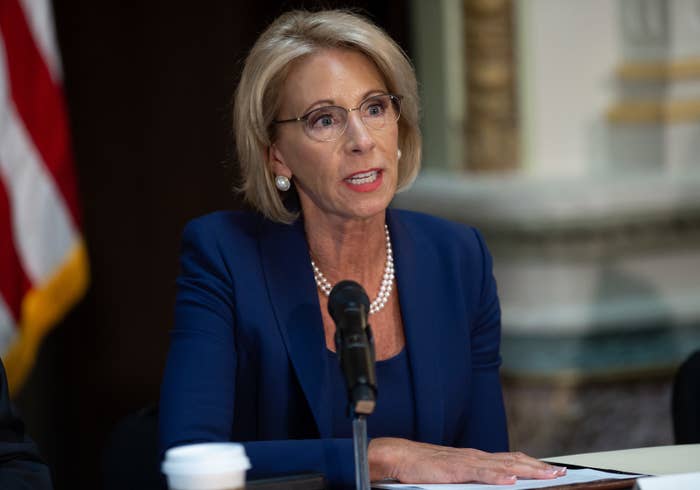 Federal officials who examined school safety in the wake of the Parkland high school massacre concluded that a top recommendation to prevent mass shootings is to rescind policies protecting black and other minority students from being disciplined at disproportionate rates.

The Federal Commission on School Safety — formed after 17 people were killed at Marjory Stoneman Douglas High School in Florida — was tasked with evaluating best practices to keep schools safe and compiling its recommendations in a report.
The nearly 200-page report looked at various aspects of school safety — including expanding mental health care — and largely avoided the issue of guns, claiming most school shooters get firearms from family members and not by purchasing them.
The report does not make any recommendations on changing state or federal gun laws and does not directly recommend arming teachers. Instead, it offers guidelines on arming "highly trained school personnel" if a school chooses to do so, particularly in rural areas where police officers are miles away from campuses and can take longer to respond.
"Through the Commission's work, it has become even clearer there is no single policy that will make our schools safer. What will work for schools in Montana will be different than what will work for schools in Manhattan," Secretary of Education Betsy DeVos said in a statement.

An administration official told reporters on Tuesday that the report recommends rescinding the existing discipline guidance because "the commission was concerned with ... the recurring narrative that students were afraid because individuals who had a history of anti-social or in some instances aggressive behavior were left unpunished."
The existing guidance, issued by the Department of Education and the Department of Justice in 2014, under then-president Barack Obama, alerted school districts that they could be in violation of civil rights if minority students were disciplined, including being suspended or expelled, at higher rates than white students.
The deadliest school shootings in recent history have been committed by white students.
The Broward County School District in Florida started a program in 2013 — prior to the Obama administration guidance — that aimed to reduce the number of times students were referred to police, after data showed the district had the highest arrest rates in the state, and black students were disproportionately ending up in handcuffs. The program sent kids to alternative education settings designed to provide increased mentoring and intervention to correct their behavior.
The student charged in the Stoneman Douglas massacre was referred to the program in 2013 when he was in middle school for vandalism, but he never attended. He had an extensive list of school infractions ranging from 2012 to 2017, resulting in multiple suspensions, detentions, and temporary bans from the school bus.
An administration official told reporters Tuesday morning that the report recommends that schools review the security of their infrastructure — including windows, hallways, and doors — and, in some instances, have someone on school grounds armed with a firearm, who would collaborate with law enforcement.
The official said the report encourages more coordination between schools and local law enforcement, adding that some communities may benefit from hiring military veterans or retired law enforcement officers into school roles.
The report also includes recommendations aimed at reporters, saying news outlets should "be more responsible in how they cover" school shootings and should not publish pictures of the perpetrator.
The commission also recommended ensuring that students have better access to mental health services at school, enhancing social and emotional learning for students, and also suggested that states consider adopting "extreme risk protection orders" that would temporarily withhold guns from those who post a risk to themselves or others.
On Tuesday afternoon president Trump hosted the commissioners as well as people affected by school shootings at the White House and called the report "a very important thing."
"Nothing is more important than protecting our nation's children," Trump said.

Andy Pollack, whose daughter Meadow died in Parkland, called the report "the most comprehensive report by any administration on a school shooting."
"This is a huge step towards making our schools safe for our country," Lori Alhadeff, the mother of 14-year-old Parkland victim, Alyssa, told BuzzFeed News Tuesday morning, in response to the commission's findings.

Fred Guttenberg, whose daughter Jaime Guttenberg, 14, was killed in Parkland told BuzzFeed News that the work survivors of the Marjorie Stoneman Douglas shooting have done so far really contributed to the quality of the report.
But, he said, "this commission by refusing to consider the role of guns in these incidents of gun violence, was missing the most critical piece," Guttenberg told BuzzFeed News Tuesday.
"It is my hope that in the days and months ahead that this administration will change course and work with me on the issue of gun safety," he said. "Only then, will this be a school safety report that I can fully embrace."
Mark Barden whose son Daniel was one of the 20 first-graders killed at Sandy Hook Elementary School in Newtown issued a statement saying that the report correctly points to the need for all students to have access to mental health ersources.
"While we agree with several of the recommendations, we are deeply concerned with the Department's continued support for putting more firearms in our schools," he said. "We believe that teachers and school administrators should be focused on education, not weapons training. Much more bipartisan work and leadership is needed from this White House and the new Congress to save lives and protect our children."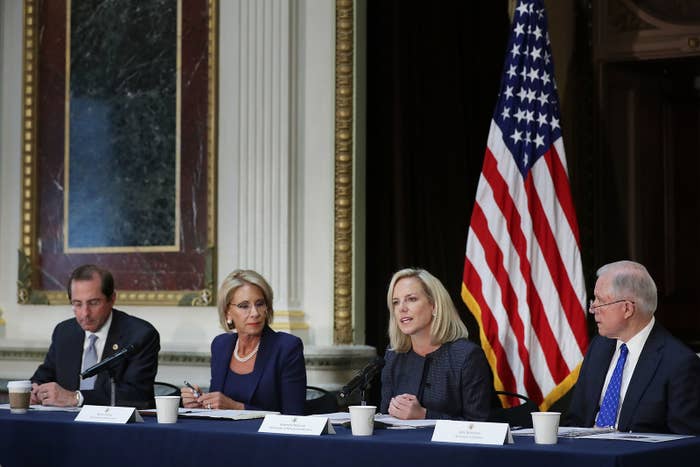 From May through August, the commission traveled across the US to visit school districts that have deployed successful security and emotional and mental health programs and hosted public listening sessions on the contentious issue of how to protect students. Each meeting had a theme and a purpose, such as physically hardening schools, how to handle student privacy, how educators identify and handle signs of emotional instability and violence, and the importance of robust, diverse mental health services.
Although DeVos, then-attorney general Jeff Sessions, Secretary of Homeland Security Kirstjen Nielsen, and Secretary of Health and Human Services Alex Azar were in charge of creating recommendations as to how to bolster school safety nationwide, they did not attend every visit or hearing.
"I know they are extremely busy people, but I think not having the secretary of education there, for the public who might be watching and particularly families directly impacted by incidents, it might say to them, 'How seriously are you taking this?'" Myrna Mandlawitz, who spoke at the June listening session on behalf of the School Social Work Association of America, told BuzzFeed News.
During the first listening session in June, the committee heard from mass shooting survivors as well as activists, school counselors, and other professionals, who each had five minutes to speak to the panelists.
Mick Zais, the deputy secretary of education, did not take questions and did not respond to any of the speakers. If someone exceeded their allotted five minutes, Zais asked them to wrap up, before announcing the next speaker.
Many of the speakers shared similar thoughts on school safety, including increasing mental health resources and agreeing that school staff should not be armed with guns.
"The unanimity in that room about what needs to happen was striking," one of the speakers, who wished to remain anonymous, told BuzzFeed News after a listening session. "The unanimity of the recommendations and the warnings to the commission was astounding when you think this was a completely open call. The education world showed up. The civil rights world showed up and we had a very clear thing to tell them."
Critics have slammed the leaders for avoiding the issue of gun control by not including witnesses or experts on the topic or discussing it with parents and members of the public.
Scarlett Lewis, whose 6-year-old son, Jesse, died in Sandy Hook, testified at the first commission meeting in May, which delved into reports on past school shootings. The mother turned advocate said that while she was hopeful that the panel was headed in the "right direction," she found it discouraging that they were "taking a reactive approach."
"I was sitting there saying the same things that the [Sandy Hook] report found three years ago," Lewis told BuzzFeed News at the time. "We had a Sandy Hook Advisory Commission report and we know what to do. This is not a scratch your head and figure this out. We need more social and emotional learning across all schools to help prevent school shootings."
Mary Kusler, the senior director for the Center for Advocacy at the National Education Association, said that DeVos not attending these public hearings "sends a strong message" to the experts, teachers, and parents who came to share their personal and professional relationship with school shootings.
She, like many other educators, slammed the education secretary and the commission for not confronting the gun issue.
"It's not a commission interested in real solutions and answers," Kusler told BuzzFeed News after the hearing. "This is not just about the mental health of students but also about stopping easy access to weapons. If you're not looking at the whole picture it's not going to change."
During one hearing on Aug. 7 in Wyoming — which allows districts to arm specific school staff members — educators, students, and members of the public voiced their frustrations and concerns over arming teachers.
"Asking school personnel to do the job of law enforcement and military personnel is nothing short of asking your plumber to cut your hair. It's just not the job you'd want them to do," Brian Cox, the principal of Johnson Junior High School in Cheyenne, where the event was held, told the panel.
A week before, in Pearcy, Arkansas, Sessions led a hearing in which several educators made the case for arming staff members because of their isolated, rural location.
That meeting drew criticism because the commission only heard from backers of arming school staff and did not invite any groups against the practice.