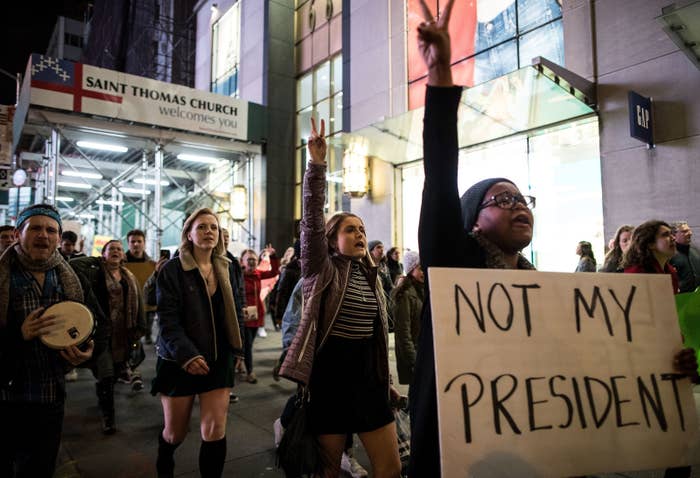 Protest groups from both coasts told BuzzFeed News they've formed an alliance under the name #NotMyPresident, aimed at pressuring the Electoral College to vote for an alternative candidate when it meets on Dec. 19.
The nascent alliance brings together groups from New York City, Washington, D.C., Portland, Oregon, and New Jersey still trying to keep up momentum from protests that erupted right after Donald Trump won the presidential election — sparking the hashtag and chant "not my president." Since Sunday evening, most demonstrations have been student walkouts and demonstrations, though there is currently a march in San Francisco and a student walkout in D.C.
The alliance wants to call on members of the Electoral College to "right its wrong" and elect a "more responsible candidate than Donald Trump." The idea that the electors will vote for another candidate is far-fetched.
Maddie Deming, a strategist for the group, said they are targeting which specific members to appeal to and shed "light on some of the key laws governing the electoral vote, which actually make this a very practical and possible thing to get done." The group is calling for more nationwide peaceful protests to put electors in the spotlight and "to hold them accountable for their decision."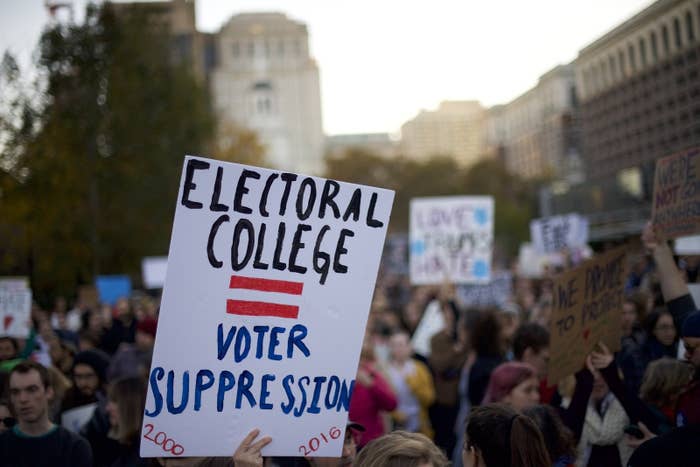 Organizers from New York and D.C. began having discussions about a larger, long-term strategy within 48 hours of the election, Jon Gedney, who is from New York City and started the city's #NotMyPresident division, told BuzzFeed News. On Saturday, the conversations also included organizers from the Portland's Resistance.
Despite the joint effort, Greg McKelvey, leader of the Portland's Resistance and member of the alliance, told BuzzFeed News that his group's main focus is on protecting the city's residents from a Trump presidency. "If someone has a gun to your head, you have to run. You don't have the luxury of looking down the barrel to see if it's loaded," he told BuzzFeed News.
While it's not his groups's first priority, he said, "We support the electoral college reversal strategy."
Some organizers of the earliest protests — widely organized on Facebook and to a lesser degree encrypted communications — have roots in the 20th century's radical left. Portland's Resistance says it does not have an ideological affiliation and it's not yet clear if the New York, New Jersey, or Washington DC protesters in the alliance do.

The alliance said it aims to disprove the misconception that the movement is run by democrats who are just upset that Hillary Clinton lost the election, Gedney said. Trump on Sunday said, "I think in some cases, you have professional protesters."
"There are people from all walks of life out here on the streets, petrified of the myriad implications of specifically a Trump regime," Gedney said in a statement, adding that movement is comprised of anti-Trump conservatives, anti-Clinton liberals, as well as Hillary supporters.

The alliance also said it is also planning mass mobilizations and marches for Inauguration Day in January.