NYPD Fires Partner Of Officer Convicted Of Killing Akai Gurley
Their emotional statement — and list of the demands from the NYPD — comes one day after former Officer Peter Liang was convicted of manslaughter. Meanwhile, Liang's lawyer said they will seek to reduce his sentence or appeal.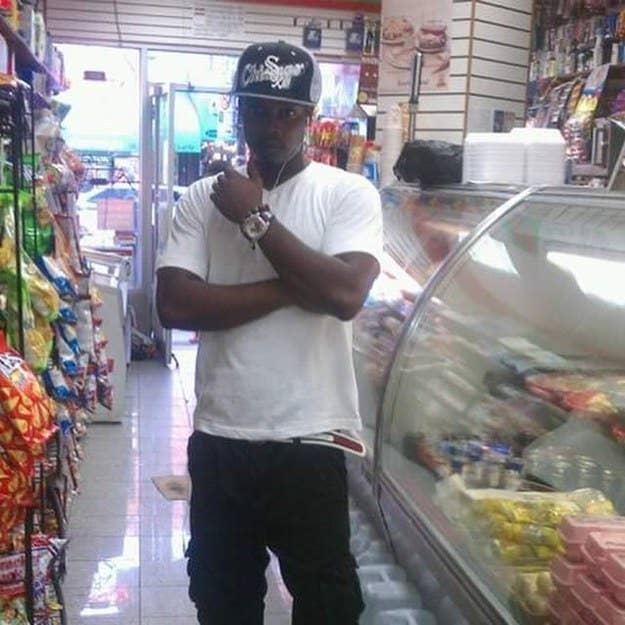 One day after an NYPD officer was found guilty of manslaughter in the fatal shooting of Akai Gurley, an unarmed black man, the victim's family and their supporters held a rally outside police headquarters and issued an emotional statement and list of demands to the department.
Meanwhile, lawyers for Peter Liang, who was officially dismissed Thursday after his conviction, said they plan to file a motion to set aside guilty verdict, if that doesn't work they will appeal. They may also try to reduce his sentence to probation.
And on Friday afternoon, the NYPD fired Liang's former partner, Shaun Landau — fulfilling one of Gurley's family's demands.
Liang was convicted of firing a single bullet in a dark Brooklyn housing development stairwell that struck a wall, ricocheted, and tore through the left side of Gurley's chest in November 2014.
The jury deliberated for more than 17 hours. Liang faces up to 15 years in prison when sentenced. He testified in his own defense, saying he fired accidentally in the dark stairwell after hearing a sound.
"The prosecutor, the jury and the judge brought the truth that Akai was somebody. We have come one step closer in getting justice for Akai," the family said in the statement. "Nobody deserved to die like Akai did, and no verdict in this world can heal our heartache or pain in losing Akai."
"We loved Akai. He was a good man, had a good heart and it hurts so bad to know he is gone. He was not just a statistic. He was more than a hashtag, and more than an example of police brutality. Akai was our father, partner, boyfriend, son, nephew, cousin and our friend," the family said.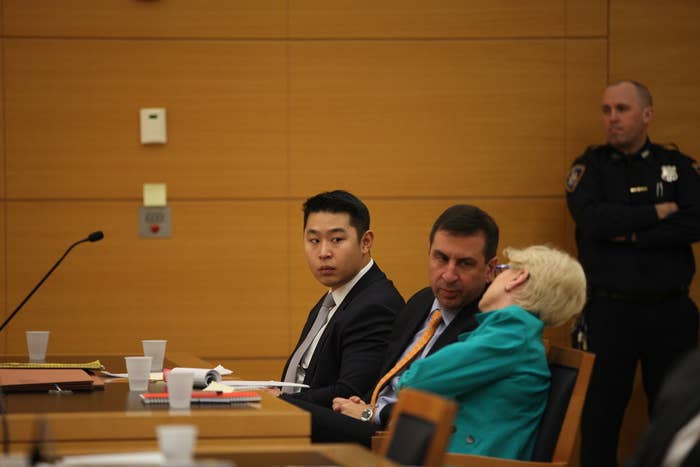 They also issued a list of three demands:
First, that the NYPD fire Liang's partner the night of the shooting, Shaun Landau, "with no financial payout or pension." Landau testified for the prosecution under an immunity deal and was fired on Friday, the NYPD confirmed. The Patrolmen's Benevolent Association did not respond to a request for comment.
Second that the "NYPD permanently end all vertical patrols." Liang was performing a vertical patrol the night of the shooting — where officers ascend to the top of a public housing development, and then walk down the stairs and check each floor.
Third, that the city "divert the funds that paid for an additional 1,400 NYPD officers in 2016 and invest in critical resources into real affordable housing for the working-class, community centers, and after-school programs."
A rally for Gurley is planned for Friday at 5 p.m. outside police headquarters in downtown Manhattan.
At a news conference Friday, Liang's lawyers said they were "absolutely shocked by this verdict."
Liang attorney Robert Brown said he apologized to the family after the verdict on behalf of Liang, and received a positive response. He is also asking the community to write letters to the judge on Liang's behalf.
Liang's lawyer also brought up his partner, Landau, saying he didn't call 911, radio a supervisor, or perform CPR. "He's still on the payroll," Liang's lawyer said.

Brown also read a letter from the NYPD Sergeants Benevolent Association, who are standing by Liang after the guilty verdict.
"This incident, which everyone acknowledges was an accident, has left Officer Liang as a convicted felon," the letter reads. "The unequivocal message sent to the rank and file of the NYPD is now "Stand down and let those unfortunate residents who have to live in that awful violent place fend for themselves."
Liang's lawyers echoed the SBA's sentiment, saying that while the NYPD was not on trial in this case, the guilty verdict "handcuffs" police officers across the city.
Brown said that Liang's post-verdict motion to have his conviction set aside will focus on a number of evidentiary issues that the defense objected to at trial, including, for example, the judge allowing the jury to handle the gun that Liang shot Gurley with.
After the news conference, Liang's mother spoke to reporters with the help of an English interpreter.
She said that she believes her son did everything right and she "feels the prosecutor twisted the facts" in Liang's case.
"He is a good person as a police officer, as a son, as a husband," Liang's mother said. "He is very upset. But we believe in the system."
She added that she believes that ultimately her son and her family will see "true justice."
Gurley's name was synonymous around the nation with other unarmed black people who were killed by police officers — such as Ramarley Graham and Eric Garner — a point the family referenced in their statement.

"Too many parents, grandparents, partners, children and siblings in America know this pain that we have come to know," the family said. "There are many more police officers who need to be held accountable, and we hope this case will send a message to all NYPD officers and police departments around the country and around the world that they can't kill and get away with it anymore."
"The people being brutalized and killed are Black, Latino, working class, LGBTQ, homeless, immigrant, Muslim, Arab, South Asian and enough is enough. We want justice beyond the courtroom," they said.
"To all officers who have killed, to all police unions and attorneys who protect those officers, to all prosecutors who have failed to indict those officers, to all elected officials who have ignored this crisis: our grief, our demands for justice will not end. We will continue to fight for justice beyond this courtroom," the family said.
Later on Friday, a crowd of about 50 people amassed outside the NYPD headquarters in Lower Manhattan. Braving the freezing cold, they chanted slogans familiar from the large protests that paralyzed the city in December 2014 and January 2015.
"The whole damn system is guilty as hell!" the protesters chanted. "Indict, convict, send those killer cops to jail!"
The protesters included some of Gurley's family members, activists with organizations ranging from Desis Rising Up And Moving, Communities for Police Reform, and Brotherhood Sisterhood Solidarity. Some of the younger protesters were eager to share their policy proposals with reporters.

The mood at the rally was subdued but celebratory.

"How many of you would have thought a year ago that we would ever be in a place where we could hold a rally from a happy place?" an organizer asked over a loudspeaker.
As the activists took turns to speak, a line of police officers stood between the protesters and the headquarters of the department. They were somber and did not say a word.