A topless woman with the phrase "Women's Lives Matter" written in red ink across the front her body was arrested Monday after she ran in front of Bill Cosby outside a Pennsylvania courthouse.
Nicolle Rochelle, 39, wearing only black pants, jumped a barricade and ran toward Cosby, chanting "Hey hey hey, women's lives matter." She had the names of Cosby's accusers written in blank ink on her torso.
"The main goal was to make Cosby uncomfortable because that is exactly what he has been doing for decades to women," Rochelle told reporters following her arrest, adding that she wanted him to know there were people against him.

Rochelle appeared in four episodes of The Cosby Show in the 1990s when she was 12 years old. She said she never had any bad experiences with the Cosby while on the show.
Rochelle was standing outside the courthouse as an observer. Right when Cosby exited his vehicle, she ripped off her jacket and rushed toward the actor.
Police quickly tackled Rochelle into a bush, handcuffed her, and walked her into the courthouse. Police did not immediately respond to requests for additional information.

Rochelle was charged with disorderly conduct. If convicted, she will be required to pay a fine and court costs.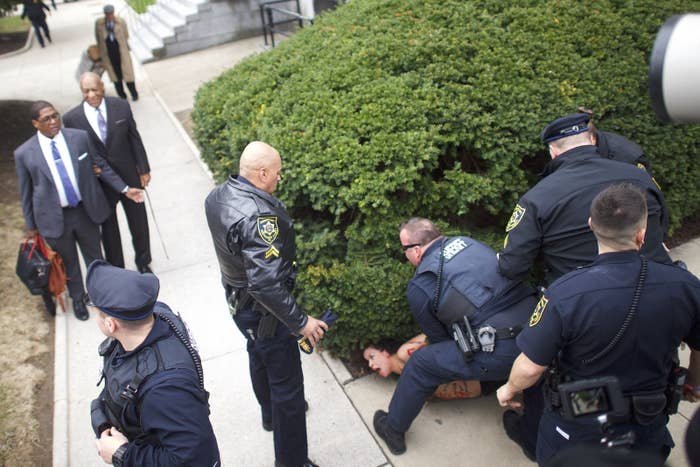 Early Monday, Rochelle uploaded a photo of herself wearing a sweatshirt with the phrase "Hello Friend" on it — a shirt Cosby has often been seen wearing, including during his first comedy set since the first sexual assault trial. The signature phrase refers to something his late son, Ennis Cosby, would say.
In her photo, Rochelle crossed out the word "friend" and replaced it with "rapist."
"In honor of the first day of the Bill Cosby retrial, I went by the address where they filmed The Cosby Show exterior in New York City...LET'S HOPE JUSTICE WILL FINALLY BE SERVED !" she wrote as a caption to the photo.
Following her arrest, Rochelle said that with her protest she "wanted to express the anger that the victims could not express."