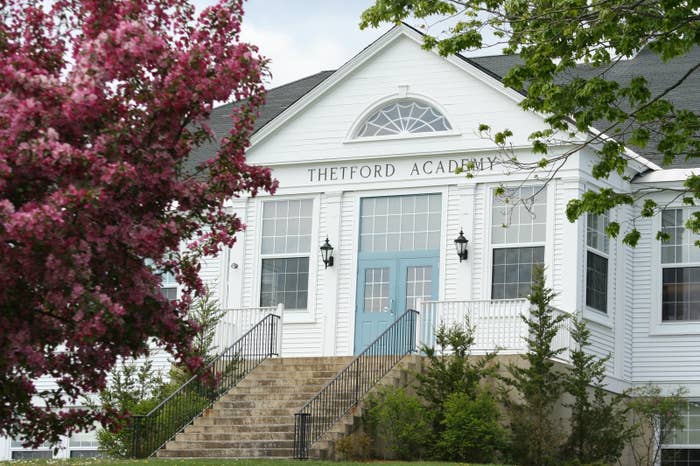 A 16-year-old student has been charged with seven counts of felony sexual assault after five female classmates decided to come forward as a group to detail how he allegedly sexually abused them on several occasions while on their Vermont private school campus.
Conner Tatro, who is being charged as an adult because of the severity of the allegations, is accused of forcing the five female students to perform sexual acts at several locations on the Thetford Academy campus in 2016 and 2017. He has pleaded not guilty to the charges.
Detectives began investigating after the girls came forward as a group to a school administrator to report the alleged sexual assaults, which range from groping to forced sexual intercourse. The girls told investigators that Tatro used physical force to coerce them, on some occasions trapping them in spaces they could not exit, including the dugout on the school's baseball field. Other alleged assaults occurred in a school bathroom, hallways, and a wooded area near the campus.
"Each of the charges involved the allegation that the defendant approached a female acquaintance at school and coerced her into a sexual act without her consent," Assistant Orange County State's Attorney Dickson Corbett told the Valley News. "I'm sure that many are struggling to understand the nature of the allegations and what it all means."

Tatro has been released into his mother's custody. Calls to their home went unanswered Tuesday. He has been ordered to not contact the girls, and school officials told the Valley News he has been banned from campus.

"There are some very, very serious allegations," Tatro's public defender, Catherine Dux told the Valley News. "But that is all they are." Dux did not immediately respond to BuzzFeed News' request for comment.

According to an affidavit filed with Vermont's Orange County Superior Court, the female students told investigators that they were afraid of Tatro, who they claimed would physically assault them when they rejected his advances.
One 15-year-old girl accused Tatro of grabbing her neck and choking her after she refused to perform oral sex on him. According to the affidavit, the girl said Tatro then pulled her into a men's bathroom where she "went along with it" because "I was scared of what he might do next."

The girl told investigators that every time she said no to Tatro, he would tell her, "You know you like it."

All of the girls told investigators they had sexted with Tatro, who would allegedly "use the messages for sexual favors," according to the affidavit. Some said they dated Tatro, but broke things off after he pressured them sexually.
One girl, another 15-year-old, told investigators she first ended her relationship with Tatro in January 2015 after an incident in the school's science building, when he allegedly pinned her to a wall after she refused to have sex with him. They later got back together, she said, and in February 2016 he allegedly pushed her to the ground and forced her to perform oral sex.
According to the affidavit, the girl said "he was holding both her hands and hair and 'moved' her around to perform this act." He later forced her to have sex while "holding her down," she said, until she stopped fighting and "let things happen." She told investigators it was the first time she had had sex.
Other allegations include those from a teenage girl, also 15, who said Tatro picked her up and carried her into a wooded area near the school where he started kissing her neck. The affidavit claims the girl said she tried pushing him away, but that Tatro bent her over onto a tree, holding her down by the back of her neck, pulled her shorts down, and had sex with her.
On a different day, he allegedly "dragged" the girl into a closet inside the dugout of the school's baseball field, and stood in front of the exit — blocking it — as he bent her against a wall and had sex with her.
The girl said she initially didn't come forward to report the incidents because she "didn't want people to think she was raped."
At the end of her interview with investigators, the girl was asked what she thought should happen to Tatro.
"Whatever it takes to get him to stop," she said.