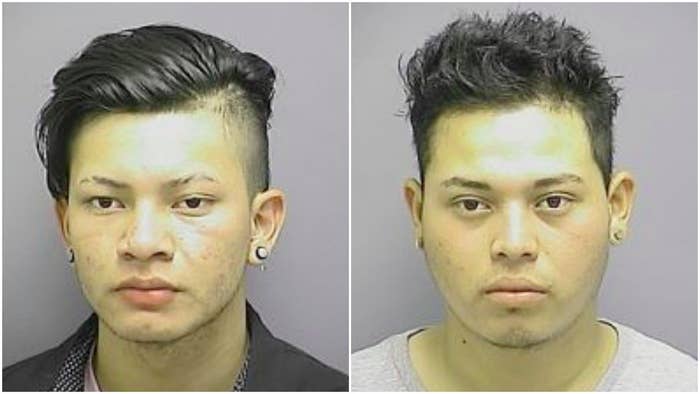 Two teenagers in Frederick, Maryland, were charged with allegedly kidnapping a female classmate, holding her captive for several hours, and raping her while a third suspect filmed the assault — and police believe the whole thing was orchestrated by a 13-year-old acquaintance of the victim.
The high-school-age female victim told police that she was grabbed from behind by three men while she was opening the door to her house on September 2.
The men then struck her, pulled her hair, forced a rag into her mouth, and placed her in a vehicle and transported her to an unknown apartment in the area where they held her captive for several hours as two of the men raped her, police said in a statement. A third, unidentified suspect allegedly filmed the attack on his cell phone.
She identified two of the suspects as her classmates Edgar Chicas-Hernandez, 17, and Victor Gonzalez-Gutierres, 19. The victim told police she was unable to identify the third suspect — who remains at large — because he had his face covered.

Before releasing her, police said the suspects threatened her with additional harm if she reported the incident to police.
"This was not a case of mistaken identity or random attack," Detective Sgt. Andrew Alcorn told WBAL. "This was definitely — they knew each other. As to their motive, we don't know the answer to that question."
According to charging documents obtained by the Frederick News-Post, the victim told police that the alleged assailants told her they were acting on orders from a 13-year-old girl.

Police said in a statement that messages sent on a social media site indicate the crime was planned by a known acquaintance of the victim.
"We believe that the younger acquaintance did know that this was going to occur," Alcorn told WBAL.
According to the charging documents, the younger girl allegedly contacted a man and offered to give him footage of the assault in exchange for "[one] night of pleasure," the Frederick News-Post reported.
The younger girl denied any involvement in the crime, according to the charging documents, stating that there were several fake social media accounts in her name.