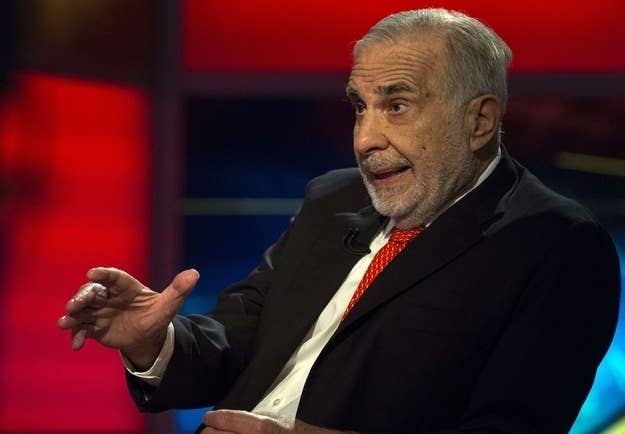 Sometimes, it pays not to listen to Carl Icahn.
While the billionaire hedge fund legend generates a lot of headlines for his proxy fights, public data compiled by BuzzFeed suggests that in some of his more recent activist campaigns, companies have performed exceedingly well by rejecting his strategic changes and pursuing their own courses of action.
Take, for example, his 2012 battle with truck manufacturer Oshkosh, where Icahn was pushing for the company to sell or spin off one of its units. Shareholders fought back against Icahn's proxy battle, rejecting his tender offer. The company's stock has since gained 63.3% in value.
"He's good at creating value but not change," said an analyst who requested anonymity because he covers companies Icahn has campaigned against. "He is very good at identifying undervalued companies, and he's very much a master of tactics. He has a thesis, and he's got a real sharp nose for value, but how he gets there is different from what he proposes."
Icahn did not respond to an interview request for this post.
Netflix is perhaps the best recent example of a company creating value by rebuffing Icahn's demands for change. Icahn bought into Netflix during its lowest point — following its disastrous attempts to raise prices and separate its DVD business — and demanded that the company pursue a sale. But Netflix's management and investors rejected that idea and forged ahead with its own course of action, albeit after a period of retrenchment. The result: last year Netflix finished as the best performing stock in the S&P 500 index, with its stock gaining more than 505% per share than the price at which Icahn wanted to sell the company.
There are other, similar examples, among them Lionsgate and Clorox, where shareholder rejection of Icahn's proposals have since resulted in stock price appreciation of 318% and 6.3%, respectively.
Icahn does, of course, have more than his fair share of undisputed wins throughout the course of his more than four-decade career.
When, in 2011, Icahn waged a proxy battle with electronics and engineering firm Mentor Graphics, shareholders aligned with him and elected all three of his nominees to the board, much to the dismay of CEO Wally Rhines. Two years and record sales and profits later, Icahn and Mentor Graphics appear to have made peace, with the company renominating its entire board, including an Icahn representative, and stating it was happy with the way business had gone. Even more indicative of the truce was Icahn's lack of dissent during the process.
Four years earlier, in 2007, Icahn scored big proxy fight wins when he advocated for the sale of biotechnology company Medimmune, which was bought by AstraZeneca for $15.2 billion, and software firm BEA Systems, later acquired by Oracle for $8.5 billion.
Further, Icahn is like the John Legend of the hedge fund world: even when he loses he wins. Despite being rebuffed by Netflix, for instance, he could still claim a not insignificant victory in the fight, eventually walking away with a cool $800 million in profit.
"[Shareholders] have benefited overall, because he's been the rising tide that lifted all boats," said Mark Stevens, CEO of marketing consultancy MSCO, who wrote a 1993 biography of Icahn after shadowing him for months. "Shareholders tend to benefit in tandem, so when he walked away enriched, so did the shareholders."
Mark Chen, associate professor of finance at Georgia State University's Robinson School of Business, adds, "As far as whether he adds value, he has been accused over the years of focusing too much on short term profits, but he often holds his share positions for a long period of time. Shareholders, when he announces he is involved with a company, they seem to respond in a positive way."
Small wonder, then, that lately Icahn has begun to couch himself more as a shareholder advocate, which may or may not be his true intention. "Over time his modus operandi has changed," Chen said. "Early on he was a corporate raider, and now he's turned his attention to corporate governance."
Lately, Icahn seems to be focusing his campaigns on tech companies, possibly an indication of the influence of his son, Brett. Icahn was not shy about voicing his contempt for Michael Dell during his losing campaign to prevent him from taking Dell private. He was noticeably more cordial to Apple CEO Tim Cook while prodding him to increase that company's share buyback program, however.
Most recently, Icahn has launched a proxy battle against eBay, nominating directors for board seats and calling for the company to spin-off PayPal, a move its board and executives are against.
"I think he's delivered value, certainly," said University of Delaware professor of finance Charles Elson. "Any time someone forces management to reexamine dogma, you've done the right thing. The process is valuable."
Not to mention lucrative for Icahn, whether companies he is campaigning against take his advice or not.