People who've noticed their flights getting more minimalist by the year—first the free food goes, then the drinks, then the movies, then the checked bags—may have noticed a similar trend playing out, albeit in a quieter way, in their hotel rooms.
Just as airlines got savvy to what many of their customers weren't willing to pay extra for, so too have hotel operators. More new hotels are ditching room service, valet parking, bell services and more, replacing them with basics like free Wi-Fi and breakfast, which you often don't get at pricier chains. The result has become one of the most profitable and fast-growing segments of the hotel industry.
Operators have dubbed these lower cost, amenity-light hotels "select service." Industry watchers say they represent the future of some of the world's biggest hospitality brands as they chase after younger travelers, who often have different priorities when it comes to spending their travel budget.
"Millennials consider it a God-given right to go on vacation and travel," said Bill Duncan, head of Hilton's focused service group. "Airlines have become more affordable. They're growing up traveling and they're not willing to compromise. They want hotels they can get into and out of quickly, and are affordable. Recent college graduates who stay there feel like they've made it — they feel good about staying here."
Ryan Meliker, a hospitality analyst with MLV and Co., said he's "probably the biggest bull on the Street when it comes to select service hotels," in an interview with BuzzFeed News. "Demand is up 239% versus 89% [for full-service properties] and select service hotels run margins that are about 10% higher because the expenses are more fixed. Without food and beverage you're generating much more cash flow to the bottom line, even if you're running at a lower rate than the full-service hotel next you."
Demand for these kind of rooms is driving new hotel developments. The U.S. supply of select service properties grew 3.5% last year, nearly four times the total hotel industry supply growth of .09%, according to a report compiled by hospitality consultancy STR Global.
Hilton Worldwide CEO Christopher Nassetta recently told analysts that select service projects represent 50% of Hilton's total deal pipeline for new builds in 2015. At Starwood, former CEO Frits van Paasschen said in February that the company's new build pipeline's focus has shifted to the select service segment for the year ahead.
The model has also, somewhat inadvertently, become the hospitality industry's answer to Airbnb, allowing a place for travelers to stay relatively cheaply, with threadbare amenities that encourage exploration of the surrounding area. Industry-wide, these hotels — brands like Hampton Inn, Courtyard by Marriott, and Holiday Inn Express — are gaining favor among younger travelers who want to spend less money and time in their hotels, putting the priority on their destinations rather than the properties in which they stay.
As demand for select service continues to rise, the corporate giants that own these brands are happy to keep building given how quickly and cheaply new properties go up and become profitable. This proliferation has in turn created fierce competition among the major select service parent companies, and, as a result, the hotels themselves are beginning to get nicer and nicer.
"What has happened is the nature of the select service segment used to be thought of as the seedy low-budget hotels, and that phenomenon has been turned it on its head and the hotel companies have made it a real value play, both for the consumer and the owner and operator," said Nikhil Bhalla, a hospitality analyst with FBR Capital Markets.
"The reason this has been so successful is that the room product has been improved substantially," he told BuzzFeed News. "If you go in today and someone asked you in the room whether it's full service, upscale luxury, or select service, you wouldn't be able to say."
In 1983, Bill Marriott took a major roll of the dice when he opened what was then an experimental breed of hotel: the very first Courtyard by Marriott in Atlanta. The idea was to offer a hotel with the kind of quality standards synonymous with the Marriott brand, but light on amenities like room service, valet parking, and banquet space.
"Mr. Marriott said it was his gift to the hospitality industry, because it was his biggest risk and biggest reward," Marriott public relations director Nina Herrera-Davilla told BuzzFeed News on the eve of the opening of the 1,000th Courtyard by Marriott in Walla Walla, Washington, at the end of last month.
"It makes more business sense, and their popularity has grown through the years with business travelers," added Janis Millham, a senior vice president at Marriott overseeing a number of the company's select service brands. "It's in a lot of markets, where you want to be."
In opening Courtyard, Bill Marriott, who still serves as executive chairman of Marriott International, ignited the select service movement. Now, 32 years later, it is the most profitable and important part of every major hospitality company's slate of properties. Brands like Hilton's Hampton Inn and Homewood Suites, Starwood's Four Points by Sheraton, and Intercontinental's Holiday Inn and Holiday Inn Express have been linchpins in the portfolios of the biggest players in global hospitality.
And it becomes even more important as each of those global giants wages an all-fronts war with Airbnb, which is quickly capturing market share, especially among younger customers who may be forming lifelong travel habits.
"The next-generation traveler and the millennial traveler, what they value beyond new design and technology is they're not interested in paying a lot for a hotel; they want to experience the environment around them," said Dan Wasiolek, a hospitality analyst at Morningstar. "They want to explore outside the hotel room, they want cool design, a cool room, cool lobby where they can work and socialize and have a drink. The select service brands of Marriott equal about 49% of their total rooms. Courtyard has 21% of their rooms, and by the end of the year, 90% of those rooms will be renovated. In general they have a lot of exposure to this."
One of the reasons? Select service hotels are extremely profitable, cheap to operate, and easy to build, Wasiolek added.
"The operating costs are a lot lower at select service," he told BuzzFeed News. "At Hyatt, what they have noted is that their select service hotels have operating margins that are 5 to 10% below their full service, you don't have restaurants and all of the amenities."
Analysts told BuzzFeed News that select service hotels tend not to require a lot of investment over time, and they're relatively easy to build, driving their prices down and their profits up, even if it means stealing away business from full-service hotels often operated by their parent companies.
"The value play is quite strong and that is what attracts a lot of people who may not be traveling on someone else's dime," Bhalla said. "These are independent owners or ownership companies building these hotels, and these hotels are clearly proving to be far more profitable, they're proving to be successful in their own right. They are easy to build, easy to finance, with margins of 500 to 1,500 basis points higher than typical full-service hotels."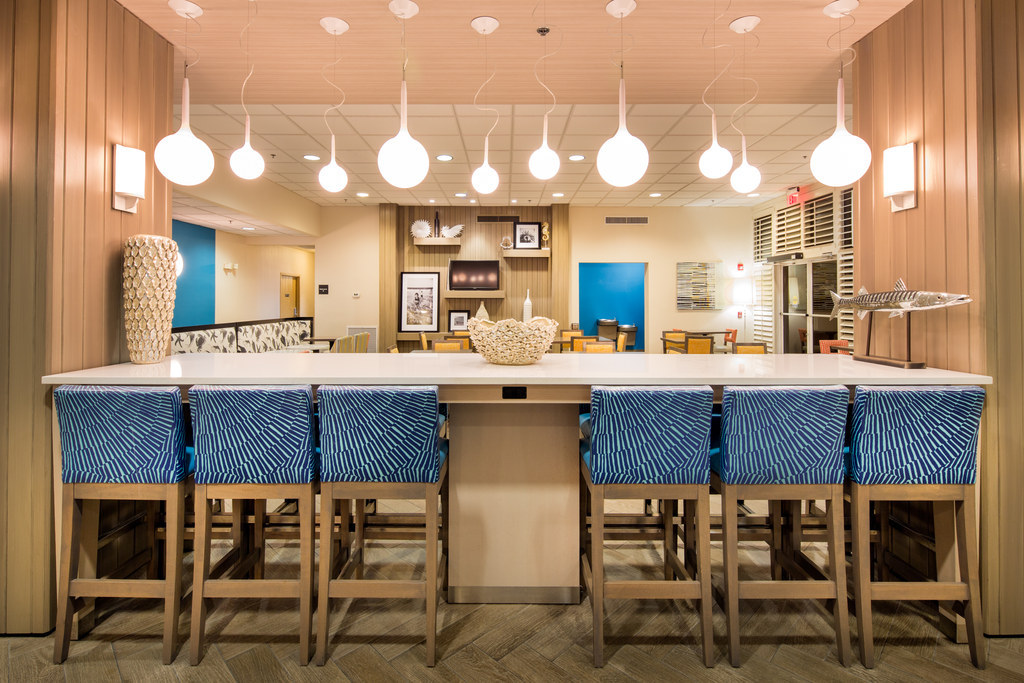 Hilton seems to be the company that takes the most chances when it comes to letting franchisees have relative free rein to design and operate their properties, especially among owners of its Hampton Inn & Suites hotels. "We work with a variety of design firms; by and large franchisees hire a local designer," said Kurt Smith, vice president of product and innovation for Hilton's focused-service brand.
It has led to some storied and stellar Hampton Inn properties, like the one in downtown Austin, Texas, that is rated the number one hotel in the entire city on TripAdvisor, and which has impressive design features including a large graffiti mural in the two-floor lobby, old western-style chandeliers, and an intricate wrought iron balcony on which guests can sit and look out over the Austin skyline.
"Austin is the success story," Smith told BuzzFeed News, adding that every Hilton brand should try to incorporate a local element or two. "We have iconic elements in all of our hotels as requirements, like the large community high table for Hampton. All of our focused-service brands now have more social spaces."
Smith works out of Hilton's Memphis Commercial Services Center, which houses various model lobbies, dining rooms, breakfast buffet setups — even window treatments — across a vast three building campus east of downtown. Nearby is the lone corporate-owned Hampton Inn, out of a total 2,000 properties worldwide. Hilton uses the hotel, which is fully operational and open to the public, as a laboratory of sorts, changing lobby designs and tweaking breakfast menus or in-room features every month or quarter.
When BuzzFeed News visited, a group of a few dozen Chinese Hampton Inn franchisees was in town, staying at the property to learn the ropes of Hampton and absorb the various standards Hilton has set for all of its properties.
Among the Hampton requisites: a lap desk for guests who want to work on their beds, six or twelve towels depending on the room type, two pieces of artwork, preferably by local artists, and a breakfast buffet with at least one local item (in Memphis it was peanut butter and banana toppings for the oatmeal, a favorite snack of rock 'n' roll royalty and Memphis resident Elvis Presley). The same goes for the free snack at check-in for members of the rewards program — in Memphis, it was a MoonPie. Another Hampton requirement was also present: the long bar table in the lounge area, which encourages guests to use the communal space and socialize (and not feel cooped up in their room).
The push for socialization among select service guests is ubiquitous among all the major players. Residence Inn by Marriott is launching a new happy hour program called Mix that will include food and beverages, from local street carts to barbecue, on weeknights in a mixer format that encourages guests to hang out with each other and not alone in their rooms.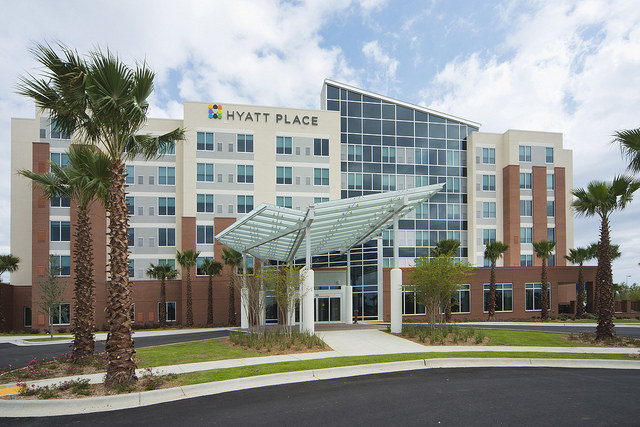 The lifestyle focus comes through loud and clear in how executives talk about their hotels. In 2006, Starwood announced it would expand its select service portfolio, which then included Four Points by Sheraton, to include the lifestyle brands Aloft and Element.
"Aloft is high-fashion spirited, it's like a martini," said Brian McGuinness, head of Starwood's select service and lifestyle brands. "Element is our green brand, LEED certified; it's about staying fit, doing right by Mother Nature — it's like a glass of wine. And Four Points is about comfort and so it's like watching sports and having a beer. All have good quality design, a good sleep experience, dynamic bar scene, and good music."
Starwood has fallen short on its goals for Aloft and Element, having opened roughly 100 properties so far, when the company said it had planned for twice that many by 2010.
The lesson? "Don't launch a hotel brand into one of the worst economic downturns in history," McGuinness told BuzzFeed News. "That's just a result of capital markets drying up and people weren't traveling. The good news is Aloft and Element made it through the downturn, unlike other brands that launched with us." And he insists the deal pipeline for future hotels is strong.
"Select service always looked like sort of an apology to me, like you had to stay there," he said. "We're not taking away services, we're bringing back a hotel brand and a segment that caters to the need of today's travelers. They are interested in fashion, in design, staying on trend but not necessarily trendy, completely wired for the internet age. It's not just young people, but the silver surfer — someone in their sixties who drives a Mini Cooper to go surfing and who listens to really cool music. Lifestyle is part of our brand."
Time will tell if Starwood can right its select service ship, but staying competitive in the segment will not be an option in the coming years as select service gains major favor with the newest generation of travelers.
"Destination becomes very important from a leisure perspective," Hilton's Duncan said. "Going with a friend or a couple of friends is more affordable, and you want to do more of those trips in a space that allows that in a comfortable, respectable way — a more adult version. People who choose these brands like the easy in-and-out, no frills. With those things [room service, valet parking] people are going to be paying for it. There are brands for people who love that."