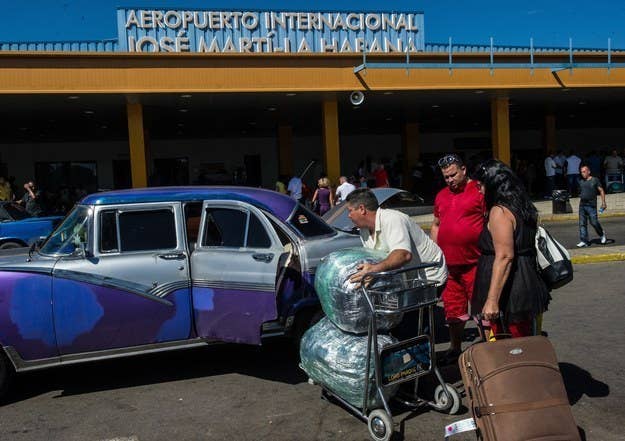 JetBlue has big plans for Cuba as relations between the U.S. and the island nation thaw, and those plans go well beyond its weekly flights from New York to Havana that begin on July 3. According to one executive, the airline intends to be the biggest U.S. carrier flying into the country.
"If Cuba opens up, we will put as much supply as possible into the market and the most seats into the market," Scott Laurence, its senior vice president of airline planning, told BuzzFeed News. "We went into this decision with an eye on the open market; we wanted to establish not only getting into it the market but being the leader there."
For now, the weekly New York route and JetBlue's other Cuba operations — two routes from Tampa, Florida, and one from Fort Lauderdale — are the result of a joint partnership with Cuba Travel Services, a local Cuban charter operator that can legally operate in the U.S. despite long-standing sanctions.
President Obama recently amended those sanctions, making travel to and from Cuba somewhat easier, although visits for tourism purposes are still not allowed.
But plenty of Americans would consider a holiday there if and when it becomes possible — some 30%, according to a recent YouGov poll conducted on behalf of Airbnb. When that potentially huge tourism market becomes a reality, JetBlue plans to be front and center.
That will take time, and changes to U.S. law that could be tricky to move through a gridlocked Washington. A bill currently making its way through Congress has called for the lifting of the embargo imposing sanctions on U.S. citizens and companies doing business in Cuba. Congress can only lift the restrictions, according to the Helms-Burton Act of 1996, if Cuba holds fair elections and guarantees free speech and workers' rights to all of its citizens.
But if lawmakers can engineer an opening for U.S. companies, airlines will be among the first rushing to do business there. American Airlines already operates numerous charter flights to Cuba and has said it will begin full service as soon as it's legally allowed. Delta and United have both said they are watching closely for opportunities.
And JetBlue seems among the most hawkish. "We will be very aggressive in trying to get as much service as we can to Cuba," Laurence said. "We are the largest carrier to the Dominican Republic and Puerto Rico, so we don't want to be in a situation where when Cuba opened up, we were the ones that didn't go to Cuba. We don't want to be the grocery store that doesn't sell milk."
JetBlue, which will operate a 150-seat Airbus A320 every Friday between NYC and Havana, has seen demand grow, especially after Obama eased restrictions on travel for authorized purposes.
"We've seen a lot more requests for service, and it appears the business has been very good given the charter service's desire to expand," he said. "The flights are very full; we are seeing a lot of potential and excitement."