Investors In Olive Garden's Parent Company Have Suffered Long Enough Declares Hedge Fund As Annual Meeting Is Delayed
The parent company of Olive Garden, Longhorn Steakhouse and other fast casual dining chains delayed its annual shareholder meeting amid allegations it was giving different information out to different classes of investors regarding the sale of Red Lobster. Activist investor Starboard Capital isn't happy with the move.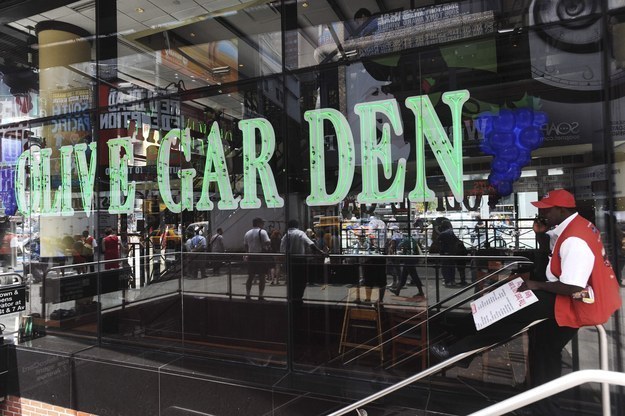 Darden Restaurants announced today that it was delaying its annual shareholder meeting, less than two weeks after internal documents leaked showing that it had been telling investors two different stories about the rationale for its sale of Red Lobster.
Originally scheduled for September 30, Darden said in a Securities and Exchange Commission filing that it would now hold the meeting on October 10, citing a delay in the preparation of its final 2014 proxy statement, which provides investors with an overview of the company's financial health. Darden is desperate to present itself in the best possible light to its shareholders to help stave off an attack from Starboard Value — one of two activist investors that had opposed the Red Lobster sale — to replace its entire board. Starboard has nominated 12 representatives that shareholders will vote on at the gathering.
Darden, in a move that caught investors flat-footed, announced in May the sale of Red Lobster for $2.1 billion. But documents that surfaced last week show that prior to the deal closing Darden management sent a memo to a group of investors stating, in part, that, "The management team believes that each of these issues are temporary in nature, correctable, and that they have plans in place to return the business to historic levels of profitability." Put another way, the memo seemed to be saying that Red Lobster could be fixed and didn't need to be sold.
The memo, obtained by CNBC, is dated June 2014 and stands in stark contrast to what Darden was publicly about the Red Lobster sale. Publicly, Darden's management was telling investors that the sale was the right choice for the company, as it saw a long-term decline in Red Lobster's business and its didn't have the time to spend fixing.
Simultaneous with the Red Lobster sale's closing a month later, in late July, Darden's chairman and CEO Clarence Otis announced that hewould resign and the company conceded to giving Starboard three of the 12 seats on its board.
Starboard said in a statement that it "is extremely disappointed that [Darden] has unnecessarily delayed" its annual meeting and that it "believes the board's
actions represent yet another attempt to manipulate the corporate machinery and further solidifies Starboard's belief that change is immediately needed at Darden."
Starboard further said that it believes Darden "shareholders have suffered long enough," a clear indication that it is likely to continue to press the company's entire board despite the previously mentioned concessions from management.
A Darden representative did not return a request for comment.