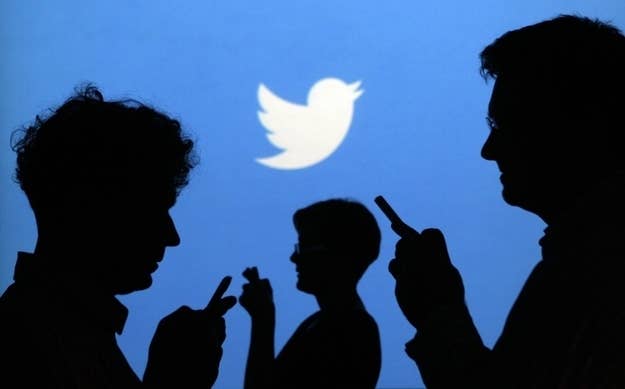 Twitter's IPO roadshow pulled into New York's posh Mandarin Oriental for a lunchtime presentation to a group of investors Wednesday — and the media was distinctly unwelcome.
By 9 a.m., representatives of Twitter — otherwise the media's favorite social network — and hotel security were already on the lookout for journalists trying to crash the party, hoping to avoid the mass hysteria that surrounded Facebook's IPO roadshow, where hoodie-wearing Chief Executive Mark Zuckerberg was greeted by throngs of bystanders and fans on his way into Manhattan's Sheraton Hotel for a similar presentation.
While television crews and photographers began gathering early in the morning for Zuckerberg's presentation, a lone CNBC truck parked at the curb was the only indication that something business-related was happening at the hotel this morning.
One hotel employee told BuzzFeed that Twitter executives and the company's bankers planned to be at the Mandarin until 5 p.m. And though this employee said some attendees had already arrived, the 36th floor where the presentation was supposed to take place was still and empty. A coffee bar sat undisturbed. The only clue that anything was going on were printed signs telling A–M to go left and N–Z to go right.
We weren't on the 36th floor for long, however. A blonde woman sitting behind a desk with a laptop spotted us and, after we informed her that we were there for the roadshow, demanded that we leave immediately.
"You can't be here!" she shouted while calling for security.
Security arrived and, along with the Twitter representative, escorted us to the elevator, where two much larger members of the hotel's security staff appeared to assist with our ejection.
Later on, as the lunchtime presentation drew nearer and the crowd swelled, the security increased proportionally. No fewer than five security guards worked the lobby — three at the door, one in front of the elevator, and one in front of the hall leading to the fitness center. A gaggle of reporters from other outlets — The Wall Street Journal, Bloomberg, Reuters — sat around in comfortable-looking chairs.
A steady stream of attendees began to flow around noon, some with name tags featuring Twitter's signature bird logo. They were directed to a sign-in table, where they had to provide a business card and show a photo ID that matched with the picture on a corresponding file. Upon admittance, each investor was given a prospectus.
By 12:35 p.m, the guests were seated at round tables. The doors closed at around 12:45 p.m. and security began turning people away, saying registration was closed.
The whole thing was over less than an hour later. Attendees dined on chicken and drank iced tea or coffee while Twitter CEO Dick Costolo and Chief Financial Officer Mike Gupta made their pitch, a source said. The source, who spoke to BuzzFeed before exiting, said the pitch lasted about 30 minutes.
After the luncheon presentation, dozens of bankers left the Mandarin and made beelines away from the reporters outside, saying "no comment" and "I can't talk about it," or just crossing the street when approached by BuzzFeed.
From here, Twitter executives will conduct similar presentations in Boston, Chicago, San Francisco, Los Angeles, and Denver before returning to New York next week. The company priced its shares between $17 and $20 and plans to sell at least 70 million shares, which would raise about $1.6 billion in the IPO and equate to a total value of around $11 billion for the company. Twitter shares are expected to begin trading on the New York Stock Exchange under the ticker symbol "TWTR" on Nov. 6.