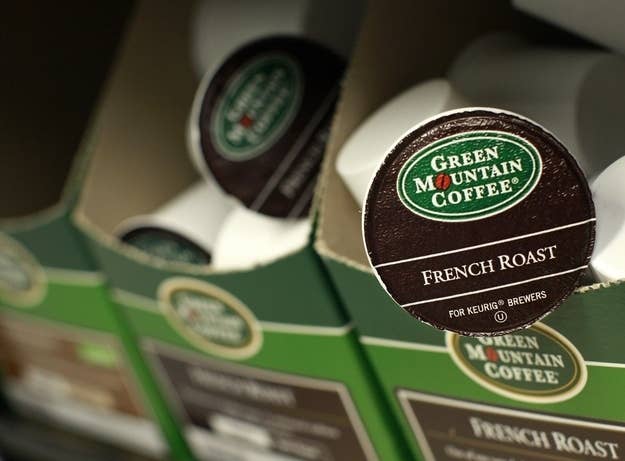 When Green Mountain Coffee Roasters' patent on the K-Cup industry expired last September, few investors believed the company could continue its reign atop the single-serve coffee market.
Unsure of whether competitors, now free to enter the market, could be kept at bay, investors sent Green Mountain's stock down to a low of near $20 per share from $70 per share just six months before. And though the stock has steadily risen in the months since, reaching nearly $90 per share last month in part due to a lucrative five-year licensing contract with Starbucks, some high-profile hedge fund managers are unrelenting in their shorting of Green Mountain stock.
"The company is right now in the early stages of a tsunami of competition that has already, the evidence is now clear, caused Green Mountain's unit growth rate to shrink dramatically," said Whitney Tilson, hedge fund manager and head of Kase Capital. "Secondly, [take] that [coupled] with collapsed pricing for K-Cups, and the result is the company will miss earnings expectations over the next year by a mile."
Unlike hedge fund investors, however, analysts are optimistic about the company's outlook. A note from eConsumerEdge Research last week said it was initiating coverage on Green Mountain with an Outperform rating, believing that Green Mountain could double earnings over the next five years due to the projected growth of the single-serve coffee sector. The report did acknowledge, however, that it thinks that market share from unlicensed competitors will jump to 20% by 2018.
That's way behind schedule, according to Tilson, who pointed to Nielsen data that indicates non-licensed brands are already approaching 20% market share this year, despite the fact that Green Mountain's stock is up markedly from a year ago and its earnings outperformed Wall Street's expectations. Still, it's difficult to know just how much market share Green Mountain may be losing, as it does not disclose the number of K-Cups it sells, a practice started in 2010 when it decided to only disclose sales percentage changes to investors.
Perhaps more importantly, both Tilson and fellow hedge fund manager David Einhorn of Greenlight Capital say Green Mountain's books contain some fuzzy math.
Einhorn earlier this month blasted Green Mountain CEO Brian Kelley for not getting into the company's numbers at a recent investor conference.
"The numbers they're reporting don't make sense," Tilson said. "I think they're stuffing the channel and have a supply issue. They're going to get clobbered."
Green Mountain did not return multiple calls requesting comment.