Mac 'N' Cheese, Other Packaged Foods No Longer Being Bought In Bulk
Instead of stockpiling pantries, consumers are now buying for just one week at a time. The effects are being felt in the earnings of packaged foods companies like Kellogg and Kraft.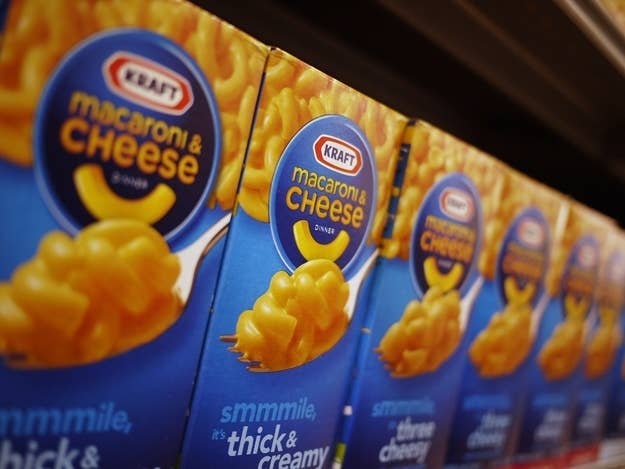 Grocery shoppers are cutting back on bulk purchases of boxed macaroni and cheese and other packaged goods. Now major players like Kellogg and Kraft are starting to feel the effects of this shift in consumer behavior.
After a surge in stock prices in the packaged goods sector earlier this fall, a lull has hit the industry and analysts are struggling to figure out why.
"We talk about this every other day here," said Brian Yarbrough, consumer research analyst at Edward Jones. "What we can't figure out is, if the consumers are not eating at restaurants, they should be buying more food."
It would be one thing if packaged goods sales were being hit by an increase in dining out or a rise in private-label food sales (i.e., store-branded products). But that's not the case. Despite a belief that the private label sector was growing, spurred in part by ConAgra's purchase of Ralcorp Holdings last year, making it the largest private-label food company in the country, that part of the food industry has also experienced weak performance. ConAgra, Treehouse, and others in the sector have been struggling of late, analysts said. In the second quarter alone, ConAgra saw its profit fall 42% this year.
In the packaged goods side of the industry, recent earnings reports from companies like Kraft, Kellogg, and Smucker's are similarly depressed, underscoring a failure to keep the market's confidence from earlier this year going. Smucker's stock has fallen from around $109 per share at the beginning of the month to $103 per share on Thursday. It's a similar story for Kraft — down from above $55 in early November to $52.37 on Thursday — and Kellogg, which started the month above $64 per share and Thursday was at $61.90. Moreover, in the case of the latter two companies, the last two quarters have shown little to no volume growth.
Analysts say Wal-Mart could be partly to blame for the packaged food industry's recent sluggish performance. The big-box retailer, which typically ranks as the biggest customer of the packaged foods giants, has itself been lagging in terms of grocery sales, Yarbrough said.
"Wal-Mart has been struggling in groceries for the last two quarters," Yarbrough said. "For most of these brands, that's their biggest customer, so that is having an impact, since it's so large in influence, on packaged foods' anemic growth throughout the year."
Another contributing factor is that consumers aren't buying packaged foods in bulk the way they used to. This is in part due to a larger amount of people living from paycheck-to-paycheck.
"Kraft said they're just not seeing consumers stocking their pantries like they used to," Yarbrough said. "When people went shopping for grocers, it was that they'd buy 10 boxes of mac 'n' cheese, and now they're buying only for the week. They're just not buying the volume they used to, and this is heavily skewed to the lower- and middle-income consumer that's still struggling in this economic environment."
The impetus for the initial boost in packaged goods stocks earlier this year stemmed in part from investors looking for dividend yield. Another contributing factor was Warren Buffett's Berkshire Hathaway and investment firm 3G Capital's acquisition of Heinz, which industry observers believed suggested future mergers and acquisitions activity in the packaged foods space. But neither of those beliefs has come to fruition, further depressing enthusiasm for stocks in the sector.