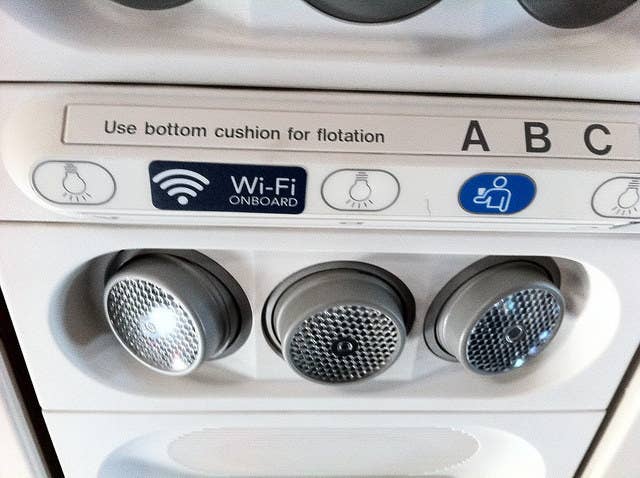 The Gogo in-flight Wi-Fi service offered on the majority of U.S. domestic flights will soon get dramatically faster, the company has told investors, with speeds ten times faster than today expected to arrive in the coming five years.
The company's current service isn't fast enough to handle things like streaming video, and can only work over land, not water — and even when it's working, it can slow to a crawl if too many users sign in. But that, the company says, will change as it transitions to satellite antennas and ditches its old air-to-ground technology. That transition, and other lofty goals Gogo has for its service, are planned to be completed in next five to 10 years, according to the presentation, which was filed to the SEC on Monday.
On its mission to conquer what it calls the "last frontier of internet connectivity", Gogo has had its fair share of challenges.
There were accusations that the provider—the largest by far in the U.S. aviation market—held an illegal monopoly due to lengthy contracts with the country's largest airlines. Not to mention a barrage of customer complaints over the years that Gogo was too expensive, too slow, and too spotty.
Gogo costs around $16 per day or $59.95 per month if you purchase ahead of your flight. The price jumps to $19.95 per hour and $39.95 per flight if you purchase on board, and Gogo is currently available on most of the 80% of domestic flights that have Wi-Fi capability. The company said the satellite system will be much cheaper to operate than current services, but did not specify whether those cost savings will ultimately be passed along to air travelers in the form of cheaper inflight Wi-Fi service.
Among the promises Gogo's CEO Michael Small and CFO Norman Smagley made in their presentation, prepared for their address at the NASDAQ Investor Program, is Wi-Fi speeds of 100Mbps (up from today's peak of 10Mbps) rolled out within five years. Gogo expects those higher speeds, and the higher demand that will come with them, to be the platform for huge growth: it expects the number of planes using its service will rise by 150% by 2033.
Some smaller airlines, like JetBlue and Southwest, have already installed satellite-based internet systems similar to what Gogo plans to roll out. But Gogo's upgrade will bring the broadband speeds to many more fliers thanks to its contracts with United, American Airlines and Delta, among others.
Gogo has long contracts with those carriers—around eight years in some cases—and according a timeline it included in the presentation, all have signed new deals with the company in the last year, with Delta awarding a new contract this February.