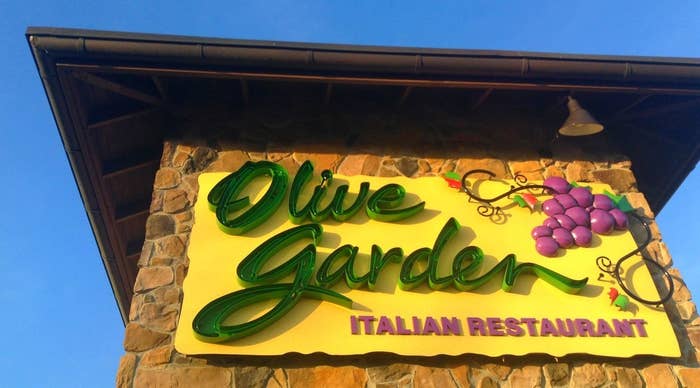 As the $2.5 billion activist hedge fund Starboard Value prepares to face off against the board of Darden Restaurants at the company's annual shareholder meeting in Orlando next Friday, an Olive Garden server in Monroeville, Pennsylvania, has been building his own movement.
Steve Gazzo, a 30-year-old six-year Olive Garden veteran is trying to carve out a place for Darden restaurant employees in the Starboard-Darden battle, rallying thousands of the workers who are in the trenches of Darden's restaurants every day to make their voices heard by both their parent company and the activist hedge fund trying to shake the ground beneath them.
The petition Gazzo started a little over a month ago, titled "Darden: We Want a Seat at the Table," has already garnered more than 7,000 signatures, and built a group of employees who plan to march in protest on Starboard Value's New York headquarters, as well as Darden headquarters. These employees are also sending a delegation to the annual meeting as part of their efforts to voice concerns over issues like tip sharing, auto-gratuity, and the general hurdles to making a living wage Darden corporate has put in place over the years, as well as their fears over what Starboard's recently released 300-page proposal for change at Olive Garden and other Darden restaurants could mean for them.
Gazzo spoke exclusively to BuzzFeed News about these and other issues, including what it's like to work at Olive Garden these days.
What moved you to start this petition now?
Steve Gazzo: It was a bunch of little hits that we had to take that made me realize that they're going to continue to take from us what they can unless we do something about it. The petition all came from ROC [Restaurant Opportunities Centers: United, a workers advocacy group]; they approached me at the beginning of the summer and they kind of appeared at just the right time. We started talking about what's going on in the restaurant, and they started telling me about Starboard's makeover. I have very little to risk here, so I decided to be the one to do it.
What are some of the issues and policies you and your fellow Olive Garden employees take issue with at the Darden corporate level?
SG: Getting rid of auto-gratuity [for large parties], and forcing servers to tip out the bussers and bar staff based on their total sales, which isn't an accurate representation of their tips. That way they could drop the way the management had to pay servers, bussers, and bartenders. It turned out that everyone was making less after that move except for Darden.
It used to be that I could make a living, not a good one, but a living. But since the tip share changes and because there's no way to increase the number of tables you have, that has changed. You can't do extra credit here to get ahead, unfortunately, and the nature of the restaurant is that three tables is plenty to do.
So Darden's move to eliminate auto-gratuity has impacted your tips?
SG: I hate to trash talk our customers, but the average tip hovers around 10%. It's part of a bunch of little things that snowballed.
What do you think of Starboard's proposal?
SG: I'm frankly not concerned with whether we salt the pasta water, but there are things in there that do concern me, like [Darden] trying to eliminate full-time jobs, and trying to replace servers with tablets — that to me would be really detrimental to the overall customer experience and eliminate our ability to make a living. The real estate deal also really frightens me.
What kind of response have you gotten, from fellow employees, Darden corporate, and Starboard?
SG: Universal support, the vast majority of my co-workers have signed the petition. Darden has been wonderful so far in terms of respecting my right to do this and not trying to retaliate in any way. Their response has been minimal, but upper management within Darden itself met with me for 15 minutes, and asked me, "What are you concerned about and what we should do about it?" They haven't acted on that yet, but it was nice that they did that.
Starboard originally said they would meet with us, but we haven't heard back from Starboard in over week, so I think we can officially write that off as they are no longer interested.
You mentioned in your petition that you and a group of employees would threaten "direct action" if your concerns are not heard. What kind of things do you have planned?
SG: We have a delegation, including some people from my store, going to the shareholders meeting. And a bunch of people that are going to show up at Darden HQ and walk with signs there and make our voices heard, try to draw attention to what we are doing. We're going to try and put together a community event around Pittsburgh; there are more things in the works. The day before the annual meeting, we're going to protest in front of Starboard headquarters in New York.
What would you say to [Starboard founder] Jeff Smith if you got the chance to meet with him?
SG: There are a couple of things that I agree with, in particular, when they were critiquing the menu. We started off as relatively authentic Italian, and we've gotten away from that. Like, what is hummus doing on the menu of an Italian restaurant? There are things that need to change, like that; we're open to reasonable proposals.
I would tell him there are a lot of us and we are going to stand together against anything that they're going to do that is going to hurt the employees. We are getting together and we have a voice and we will be heard.
What is working at Olive Garden like compared to your other serving jobs?
SG: This is the hardest serving job I've ever had. Any other place I've ever worked, servers dealt with at least five tables at a time. At the Olive Garden, your section is three tables, and I assure you [due to the refillable nature of the salad, breadsticks, and other items] three tables is plenty. It's overwhelming because we're running the Never Ending Pasta Bowl right now, and so everything on the table is refillable.
It seems like you really are committed to the Olive Garden? Why?
SG: It is the people — the people are wonderful. My co-workers, I see them more than my family; I like them at least as much as my family. And we're in a fairly small community. People will stop me on the street and tell me, "You were our server at Olive Garden — you were wonderful," it warms my heart. It's an amazing sense of community and I love it there. I've stayed there for six years. Any other job I've had I haven't been more than two. I'm not going to try and find a better job; I'm going to make this a better job.
An earlier version of this post misidentified the Restaurant Opportunities Centers: United, they are a workers advocacy organization.