Billionaire Hedge Funder Slams Dell Board, Says He's Ready For A Proxy Fight
Activist investor and hedge fund billionaire Carl Icahn launched his final campaign to keep Dell a public company during the CNBC Institutional Investor "Delivering Alpha" conference in New York. The contentious and close vote between Icahn and founder Michael Dell over ownership of the computer giant is scheduled for tomorrow.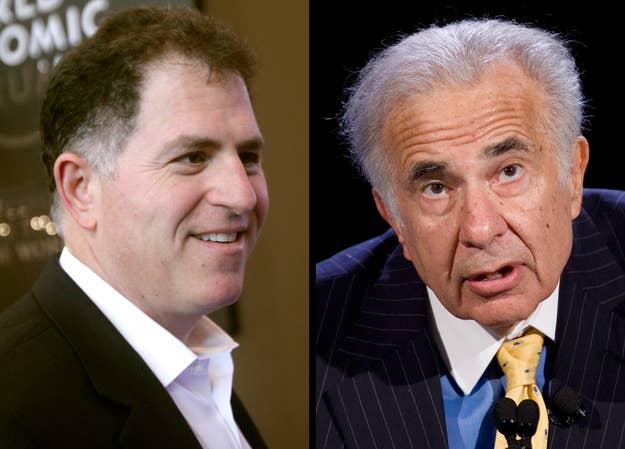 With the Dell shareholder vote on whether to approve a deal from founder Michael Dell and private equity firm Silver Lake to take the company private scheduled for tomorrow, activist investor and hedge fund billionaire Carl Icahn is throwing as many punches as he can.
"Corporate boards, I've never seen as bad as this, they go out and they scare shareholders. These guys, they're the problem we have in America that we have boards like this." Icahn said at the CNBC Institutional Investor Delivering Alpha conference in New York, on the eve of the scheduled vote that could potentially turn Dell into a private company. "The whole situation is, in my mind, a complete travesty... Now, they may put the darn thing off again, it should be over."
His comments were the latest jabs in a sparring match that has heated up in recent days, with high profile investors publicly coming down on one side or another of the argument, and both sides throwing bombs to try and derail the opposition. The deal has been surprisingly contentious, and following reports that Dell and Silver Lake Partners may delay the vote scheduled for tomorrow, there is still no clear outcome.
That hasn't damaged Icahn's confidence in his proposition, though.
"I want to own this company. I'd be thrilled to own this company... I believe this will go to a proxy fight, and I will go to that proxy fight," he said. "We have some insights and we're feeling pretty good... I think I'll have them by the time we have the annual meeting. We definitely have a CEO candidate in mind. You're looking at history."
Dell and Silver Lake Partners seek to take the company private by buying it at $13.65 a share. Doing so would remove public scrutiny of the company as it goes through a major transition amidst a rapid decline in the PC market — and would make it easier to retain key customers and employees without constant worry over a stock price, Dell and Silver Lake Partners have argued. Meanwhile, Icahn and Southeastern Asset Management are pushing to replace Dell's board, borrow money and give stockholders an option of selling some shares back to the company.
"We wish to note that it is unfortunate Mr. Icahn continues to conduct his campaign by trying to discredit the Special Committee and accuse it of frightening Dell stockholders. Such accusations do a disservice to all of you," the special committee said in a note to shareholders Tuesday. "The Committee has studied a complicated situation with great care, balanced risks and rewards in a dispassionate manner and concluded the transaction you are being asked to vote for on July 18th is in the best interests of stockholders. It would be irresponsible if we did not share with all stockholders the reasons for our conclusions."
After the giant corporate governance consultancy Institutional Shareholder Services came out in support of the Dell/Silver Lake proposal, Icahn hit back hard. He sent a letter to investors that accused Dell's board of using scare tactics after it issued statements calling Icahn's proposal "highly speculative" and warning that rejecting the LBO could cause Dell's stock to fall before an annual shareholder meeting.
And when Dell proposed delaying the vote as reports surfaced that it may not have enough support to get it's deal passed, Icahn again went on the attack, imploring shareholders not to delay the vote and recognize the legitimacy of his and Southeastern Asset Management's assertions that the LBO offer of $13.65 per share would substantially undervalue Dell.
"We think that if the company wishes to be true to the Special Committee's undertaking to 'leave the final decision with disinterested stockholders,' then the company must allow a final vote to be completed on July 18, and not try to postpone the vote to a later date," Icahn said in a letter to shareholders.
Both sides have garnered support from heavy hitters at the "Delivering Alpha" conference, with Jim Chanos saying that a rally in HP's stock — which Icahn and his team have held up as evidence Dell and Silver Lake Partners' deal undervalues the stock — won't be sustainable, and Nelson Peltz, a prominent hedge fund manager, siding with his "buddy" Icahn.
Icahn, to his credit, had some choice words for Chanos.
"I like Chanos, I think he's a smart guy, but there's a lot of things he doesn't get. I think I have a much better record than he has. Here's what Chanos misses, these companies can be turned around if you put the right management in and the right board in."