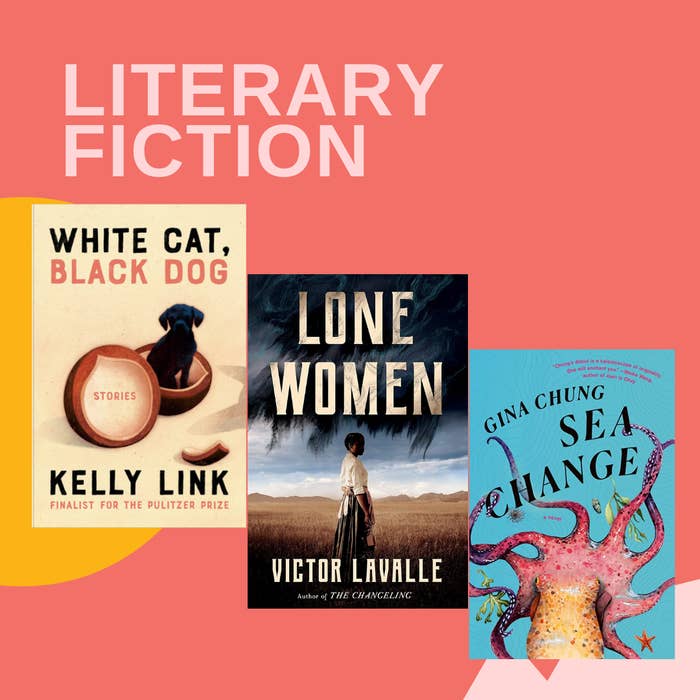 White Cat, Black Dog by Kelly Link
Link has already proven herself the fairy godmother of fairy-tale retellings in her previous four short story collections, expertly updating and humanizing them into enchanting, perfectly contained vignettes. Her latest collection so seamlessly entwines the real with the surreal that the stories threaten to slip into reality, resonating long after reading. Each story, set now or in the near future, grapples with mortality and the nature of love. In her opening story, "The White Cat's Divorce," a wealthy father, annoyed by his three sons and haunted by dreams of death, bids his sons to go out into the world on yearlong quests to compete for their inheritance. In "Prince Hat Underground," a retelling of "East of the Sun, West of the Moon," a 57-year-old happily married gay man journeys to hell to rescue his husband. A struggling grad student who agrees to house-sit a remote cabin for the summer finds himself entertaining guests from another world in a retelling of "Snow White and Rose Red," while a girl longs for an ageless man who can only appear on snowy Christmas days in a "Tam Lin" spinoff. All seven stories are thought-provoking and wonderfully told. The full-cast audiobook is mesmerizing. —Margaret Kingsbury

Lone Women by Victor LaValle
This tightly written horror novel occurs in the early 20th-century American West. Thirty-one-year-old Adelaide Henry has had a relatively sheltered though hard-working life on her parents' California farm in one of the few all-Black settlements in the US. Her parents' gruesome deaths upend her quiet life, and she's forced to flee her childhood home with nothing but a tightly locked, surprisingly heavy trunk beside her. She decides to escape to Montana, where she claims a remote homestead. She allows no one to touch her trunk but her, though some hear whispering from within when they get too close. This absorbing, powerful horror novel has one of the best endings I've read in a while. Joniece Abbott-Pratt's audiobook narration is spot on. —Margaret Kingsbury

Sea Change by Gina Chung
Set in a near future wrecked by climate change, this novel follows Ro, a woman in her 30s working at the local aquarium her marine biologist father used to love. The aquarium's prized possession is Dolores, an enormous octopus born in the Bering Vortex, a heavily polluted, mysterious area of the ocean where Ro's father went missing. But the aquarium auctions off Dolores to a private buyer while Ro is still reeling from a breakup with her boyfriend, who was sent on a mission to colonize Mars, and her estrangement from her childhood best friend, who has been outgrowing Ro ever since she got engaged. As Ro tries to rescue Dolores, she finds herself grappling with decades of piled-up grief. —Izzy Ampil
Chlorine by Jade Song
Chinese American Ren Yu's fascination with mermaids began as a young child, when her mother checked out a collection of mermaid folktales for her from the library. When she tries out for the swim team, despite having little experience with swimming, she's a natural and immediately catches the coach's all-consuming eye. She becomes obsessed with swimming, constantly working out and training so her body can transform into the perfect swimmer's physique. She only makes a single friend during her childhood and teen years, Cathy, a fellow swimmer whose only passion is watching Ren. Both girls experience the coach's abuse, but whereas Cathy cringes from it, Ren relishes in it. However, even more than becoming a perfect swimmer, Ren longs to become a mermaid. This fantastically strange, explosive debut novel entrances even as it unsettles. It's so brilliantly written. The audiobook, narrated by Catherine Ho and Imani Parks, is excellent. —Margaret Kingsbury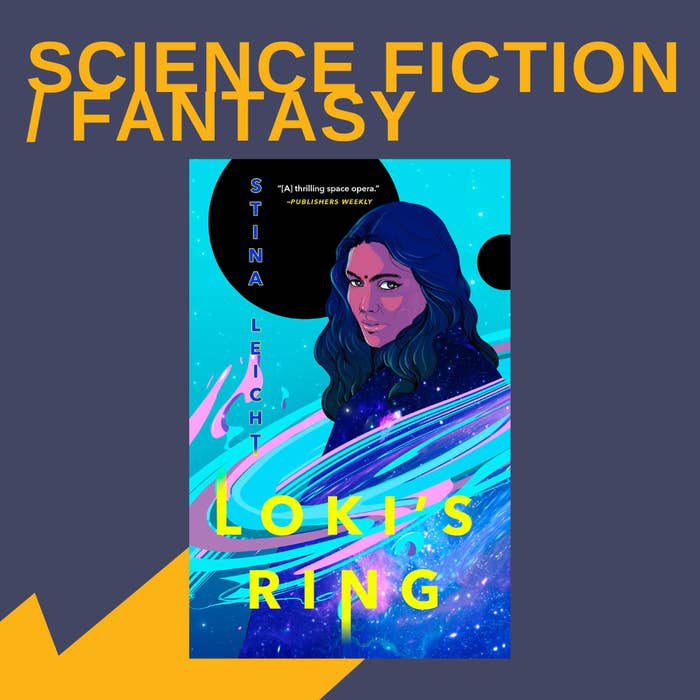 Loki's Ring by Stina Leicht
I fell in love with the diverse cast in this entertaining space opera by the author of Persephone Station. When Gita Chithra, captain of the spaceship The Tempest, receives a distress call from her AI daughter Ri, she immediately starts planning her rescue. However, Ri is working as an undercover operative on a ship that's traveled to Loki's Ring, an alien-made solar system that's off-limits to travelers. The humans on Ri's ship have come into contact with some kind of virus that makes them act erratically and violently. Little does Chithra know that trying to rescue Ri will set off an intergalactic power struggle. With action-packed, high-stakes scenes and memorable characters, this gripping novel is a must-read for space opera fans. —Margaret Kingsbury

The Last Catastrophe by Allegra Hyde
I'm currently halfway through listening to this speculative short story collection on audio, and it is amazing. It takes place in a near future devastated by climate change. In the opening story, a caravan of RVs that travel all year round aimlessly find themselves stalling in Galveston, Texas, when they can't find any gas. In another story, a zookeeper struggles to keep his zoo open as animals begin killing guests. Other stories explore an intergalactic academy for girls, a family attempting to save the last moose, and a treatment facility for technological addictions. Each story presents personal catastrophes amid the larger, more cataclysmic catastrophe of climate change. The full-cast audiobook is riveting. —Margaret Kingsbury
A House with Good Bones by T. Kingfisher
Kingfisher's newest horror novel is an eerie Southern gothic that still has her trademark humor. Sam Montgomery studies bugs from ancient civilizations in Arizona, but after finishing a recent dig, she decides to visit her mother, Edith, in North Carolina and stay for a while to enjoy the house's cozy charm. However, when Sam arrives, she finds the house much changed — starker, colder, reminiscent of when her grandmother lived there — and her mother is noticeably frightened, but of what Sam can't figure out. Sam decides a little redecorating is in order, but what she discovers could leave the house, and their family, in ruins. —Margaret Kingsbury

Order on Amazon or Bookshop.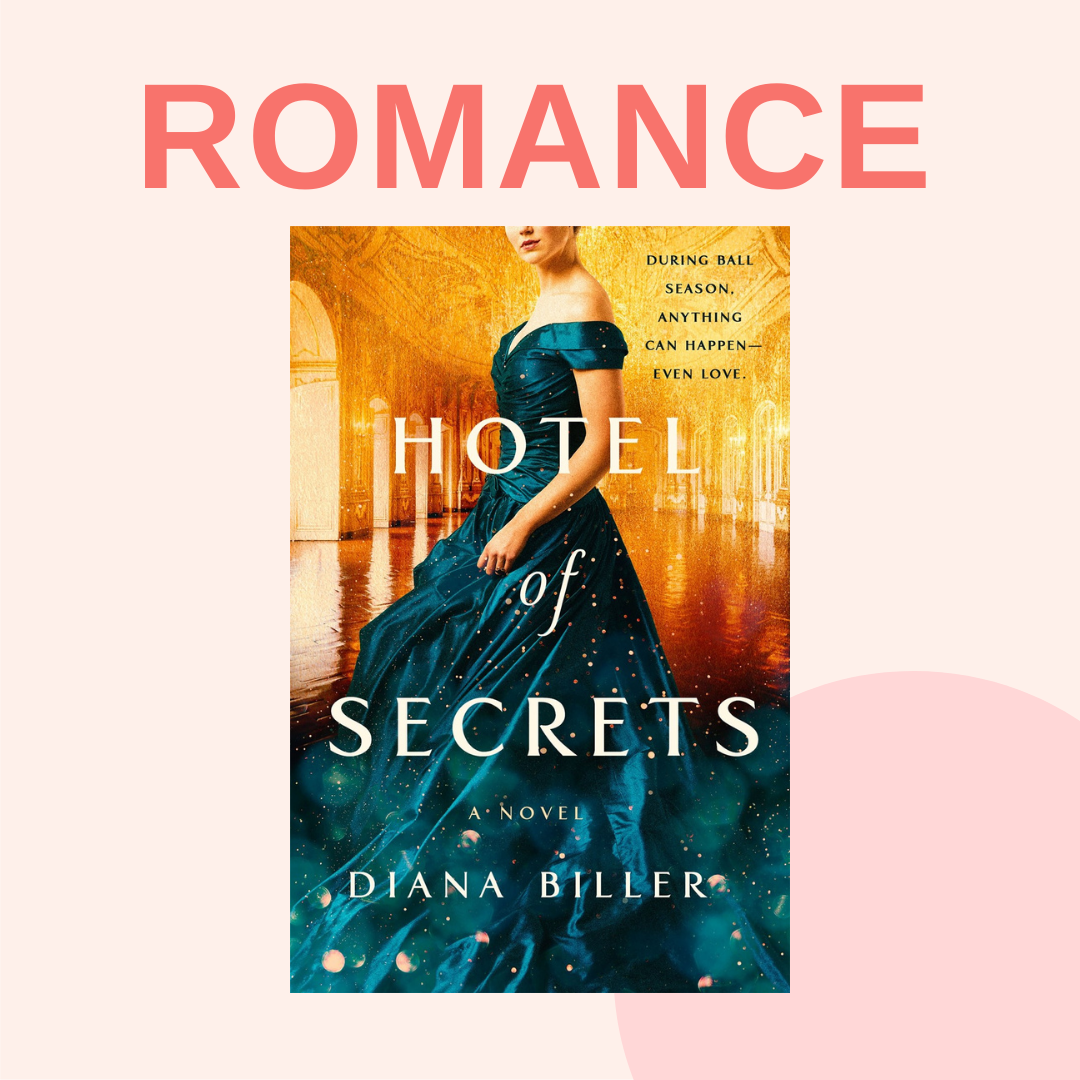 Hotel of Secrets by Diana Biller
This Victorian-era romance is set within a Viennese hotel and follows Maria Wallner, who wants to restore the place to its former glory. Nothing will stop her, not even being attacked by masked assassins, and she certainly won't be distracted by an attractive American foreign agent who's already saved her life — twice. Eli Whittaker is tracking a criminal believed to be selling American secret codes across Europe, and the one lead he has is a letter sent from a Viennese hotel. The last thing he expects is to be swept up in Maria's chaos...not that he minds much.

Order on Amazon or Bookshop.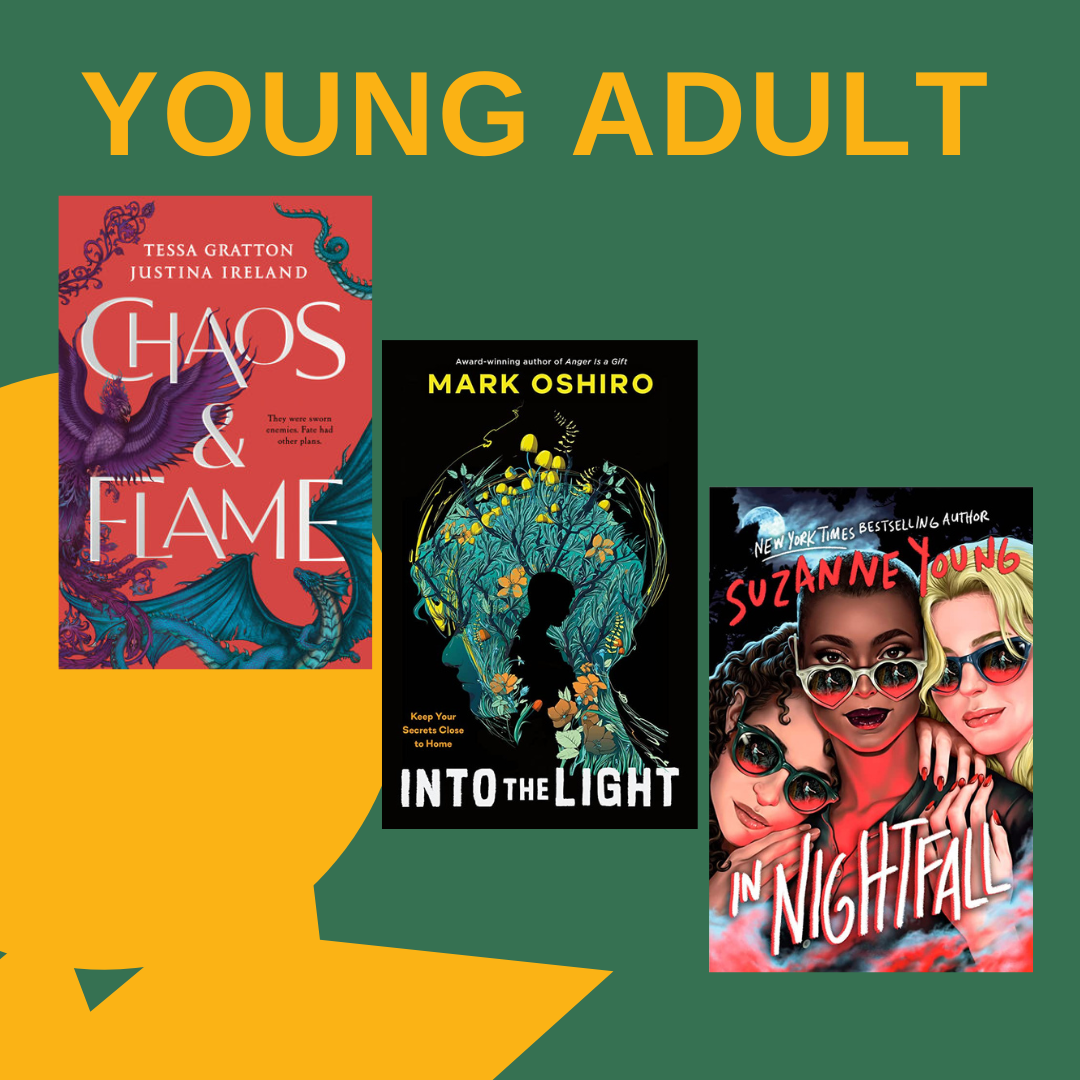 Chaos & Flame by Tessa Gratton and Justina Ireland
Darling Seabreak has vowed to rescue her adoptive father after he was captured during battle, but she may need to take down every member of House Dragon, who were also responsible for the murder of her family. Talon is a War Prince, leading troops of House Dragon on behalf of his brother, whose erratic behavior has begun to threaten their legacy. As Darling collides with Talon, the two will need to band together to stop the threat Talon's brother poses to the world. —Rachel Strolle
Into the Light by Mark Oshiro
Mark Oshiro can do no wrong in my eyes, and this new YA is truly a roller coaster of emotions. There's a body in the hills, and no one knows who it belongs to. Manny has been in the wilderness for a year, staying alive through a series of strict rules after being cast out of his family. Eli lives in Reconciliation, a secluded community where he must follow all the rules set out for them…but he can't remember his past. Reports of a body will force both of them to confront the truth about their lives. —Rachel Strolle
In Nightfall by Suzanne Young
This fun YA thriller is perfect for fans of Fear Street. Theo and her brother Marco are banished to a small Oregon beach town for the summer. The pair ignore the rules their stern grandmother sets for them, striking up friendships with the popular crowd and staying out after dark. Theo and Marco quickly regret befriending the cool girls, because their friendship is literally one to die for. —Shireen Hakim
Order on Amazon or Bookshop. ●

BuzzFeed may collect a share of sales or other compensation from the links on this page if you decide to shop from them.